I have walked the Yorkshire Three Peaks on four occasions. Each time I have taken the traditional anti-clockwise route . The first three trips started at Horton-in-Ribblesdale going up Pen-y-ghent first followed by Whernside and finally Ingleborough. It was walking this route in 2018, a couple of weeks before my sixtieth birthday, that I clocked my personal best time of seven hours and forty four minutes. I will never try and better that time so have since taken a more leisurely approach to the walk.
The last time I took on the Three Peaks I started in a lay-by just up from the Old Hill Inn. That day I stuck with the anti-clockwise route, tackling Ingleborough first and then Pen-y-ghent before finishing with Whernside. I found it enjoyable because I was behind those who started at Horton and had the walk almost to myself. I plan to walk that route again next week with my walking buddy. It will be her first time around the Peaks.
In 2016, my first time doing the walk, I met a chap part way round and we walked together for the best part of an hour. He had done the walk a number of times and mentioned how enjoyable it was to do in a clockwise direction. The conversation has stuck with me so today I am going to see what it is like.
I park at the small parking area just north of the Old Hill Inn on the Ingleton to Ribblehead road. Ingleborough looks almost clear as I set off and it appears I am in for a cracking day.
Leaving the car I have a short section on the road heading south and soon pass the Old Hill Inn. I don't plan to describe the route in detail because it is well way-marked. I leave the road and follow the tarmac Philpin Lane soon passing the farm with its barns and campsite. This section of the walk is one of the easiest and I strike out at a reasonable pace to warm my legs up in anticipation of the steep ascent of Whernside that is coming soon.
Heading towards Bruntscar there is a cracking view of the Ribblehead Viaduct. I am not sure I have ever looked at it from here. Usually when I am walking along this lane I am focused on the ascent of Ingleborough or looking at my watch to check the time I will record for the Three Peaks.
After passing Bruntscar the first ascent of the day starts. I have walked this route up Whernside many times, but always as a circular walk from Ribblehead when only going up this one peak.
Initially this is a gradual ascent interspersed with flagstone steps. It then becomes ferocious, but has been made easier in recent years by the addition of new rocks replacing the old steps which were narrow and sloping the wrong way. It is warm as I go up and I am soon shedding a layer. As I reach the top of the scar I meet a couple walking the anti-clockwise route from Ribblehead.
I still have some ascending to do to reach the summit of Whernside, the conditions are perfect for walking and the visibility is far better than I have ever encountered before on this peak. Down to my right the Settle to Carlisle Railway looks stunning.
Soon I am on top of Whernside and stop at the trig pillar. This is looking a bit worse for wear with the spider at the top exposed. I hope this is because of the adverse weather it faces for most of the year rather than folk wanting to take a souvenir home with them.
Leaving the trig I start to pass walkers who are heading in the opposite direction and soon realise that I am destined to spend most of the day saying hello to folk. I always find it amazing how people might walk by you in the street without any acknowledgement, but once out on a walk everyone wants to say "Hi". I find it refreshing and only wish they were friendlier in normal day to day life.
The views are truly stunning. I have often seen Morecambe Bay and the Lake District from Ingleborough, but never from Whernside before. I am pleased I am not out to set a good time, but can just enjoy the day's walking. Heading down there is a great view of the tarn on Greensett Moss.
Walking in this direction it is a long steady descent down Whernside. I have been walking this peak for over thirty years and in that time the path has been improved significantly. There was a time when even during a dry spell of weather a boggy section would be encountered. Now it is almost guaranteed to be firm underfoot all year round.
Going down Slack Hill there is a steady stream of people passing me. Not all looking in great shape, I can only assume they had a very early start from Horton-in-Ribblesdale and are now feeling the pressure. One of my favourite architectural features on this walk is the aqueduct carrying the water flowing from Force Gill across the Settle to Carlisle Railway.
The path starts to level and I am soon passing Bleamoor signal box then soon after the Ribblehead Viaduct comes into view.
As usual close to the viaduct there are a lot of people about. I just hope a few of them take time to think about the lives of the workers that built this impressive structure. It would have been extremely bleak during the winters and in the shanty towns where the 2,300 workers and their families lived, they were rife with disease. In the construction of the viaduct over 100 men lost their lives, but a similar number of women and children died of smallpox and other diseases.
The next section is beside the road before turning off and passing Ingman Lodge and continuing on to cross the River Ribble which is very low after the recent dry spell.
This is such a well-marked route that in good weather conditions like today you do not need to be constantly looking at a map. After passing Nether Lodge I head on towards Birkwith.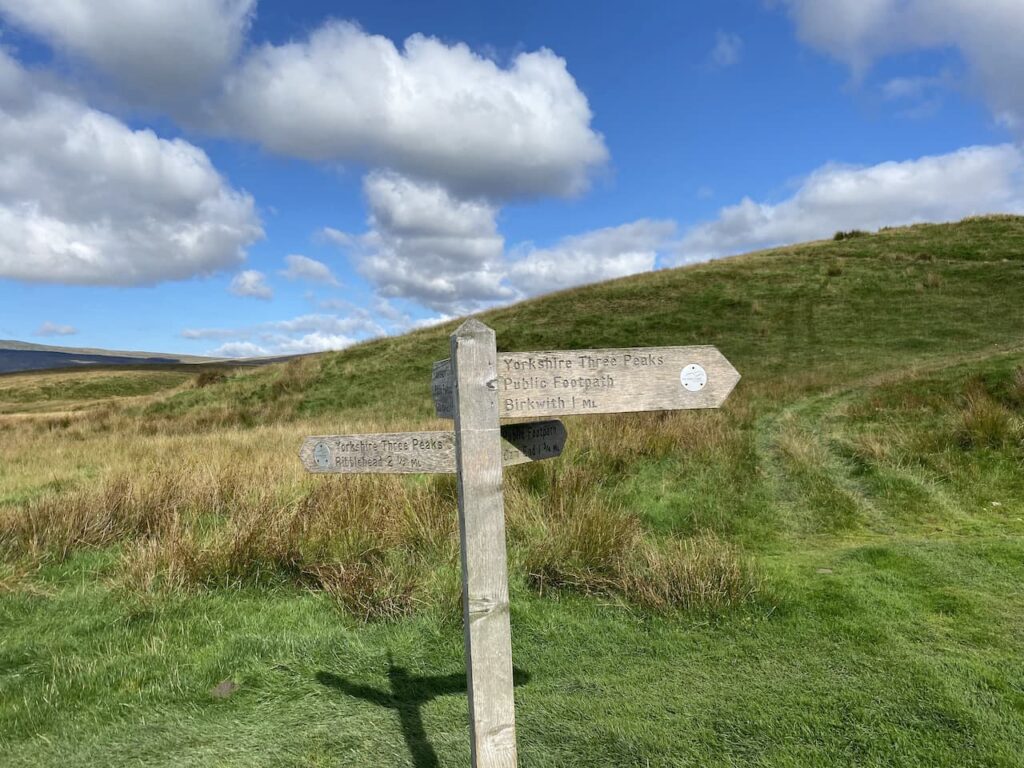 After the earlier sections where I was frequently passing people walking in the opposite direction I have a few quiet miles. The Three Peaks Path joins the Pennine Way for a while and I get a good view of Pen-y-ghent. I always thing this mountain looks more challenging than it actually is.
The Three Peaks path leaves the Pennine Way and heads over Sell Gill Hill and Whitber Hill before starting the long steady ascent of Pen-y-ghent. I have walked up this path many times and it is a long steady slog. I soon catch up with a group of junior school children who are out on an adventure walking to the summit and back from Horton-in-Ribblesdale. It is great to see these young people being introduced to the pleasures of being out walking. Although some of the stragglers don't look as if it is something they are enjoying.
I am soon at the trig point on the summit and pause to take the obligatory picture of the trig before starting my descent.
I have been down the steep side of Pen-y-ghent on a few occasions. Today there is a steady stream of people coming up and one or two are in danger of becoming rock fast. I am not keen on heights but the section here does not worry me but I can understand why if someone is approaching it for the first time they might get concerned. The initial steep descent is not a place to hurry, the rocks are worn smooth and it is not a good place to take a tumble so with so many people coming up I proceed with caution.
At the foot of the steep descent I turn to the right to follow the flagstone path downhill. Over recent years this path has improved significantly and it makes the going much easier.
Going around Brackenbottom Scar I see posts have been erected to try and keep folk on the main route, gradually over time the volume of foot traffic here has spread the path. Hopefully people will respect the notices and prevent further erosion.
After the long drag up Pen-y-ghent it is pleasant heading downhill into the village where I cross the River Ribble again.
After crossing the Settle to Carlisle railway line at Horton Station I start my final ascent of the day. There are a steady stream of people heading downhill, many of whom I recognise from passing earlier. As I head towards Sulber Nick it is clear that significant work has been done to this section of the route since I was last here. What was once a boggy difficult area has now been laid as a clear path.
Heading up Ingleborough I come to the conclusion that walking the peaks in this direction is harder than doing it anti-clockwise. I had thought the long steady ascents of Pen-y-ghent and Ingleborough would make things easier, but the opposite is true. Added to which I am expending further energy acknowledging everyone passing in the opposite direction.
Near the summit of Ingleborough I pass a group of guys I met earlier as I was descending Whernside. One chap is particularly pleased to see me because he has had a bet with his fellow walkers that I was doing the Three Peaks the "wrong way". He is confident that he is going to be drinking free beer when they reach the pub!
Even though I was on Ingleborough yesterday I still walk over to the trig point. Failure to do so would mean that I would not be able to count today's walk as a successful circuit of the peaks.
I make my way off the summit and due to the volume of walkers coming up Ingleborough decide it is safer not to try to pass them on the steep path. Instead I follow the path along the top of the escarpment towards Simon Fell.
At a junction of paths I turn left and make the steep descent towards Humphrey Bottom. I have come up this path many times and over recent years it has obviously been used a lot more. What was once a faint route is now well-worn and in parts eroded away.
At the foot of the hill I turn right and follow the path past the Great Douk pothole. From there it is only a short walk back to my starting point. The 25 mile route has taken me 9 hours and 9 minutes, which is almost an hour and a half slower than my quickest time on this challenge. However, today was never about trying to record a spectacular time, it was more about being out for the pure pleasure of being able to undertake this walk again.
You can view this 25  mile walk on OS Maps and download the GPX File Here
To follow our walk you will need Ordnance Survey Outdoor Leisure Map 2 – Yorkshire Dales Southern & Western Area
15th September 2021
© Two Dogs and an Awning (2021)
All information on this site is provided free of charge and in good faith and no liability is accepted in respect of damage, loss or injury which might result from it.  To the best of my knowledge the routes are entirely on public rights of way or within areas that are open for public access.
Walking can be hazardous and is done entirely at your own risk.  It is your responsibility to check your route and navigate using a map and compass.