After a night of strong winds things have calmed down a bit by the time I take the dogs out for their morning walk. It is then a few hours work for me before we can go walking.
When a site is so conveniently located for good walking it seems a pity to get into the car, so we decide to walk from Seabreeze CL. We leave the site and head toward Appledore on the coastal path. It is low tide and after yesterday's storms all is very calm as we walk into Appledore.

As we pass the Hocking's Ice Cream van I enquire if Lynnie wishes to partake, she declines! I am not sure if this is because it is too early in the walk or if she has gone off ice cream. Only time will tell.
Our route takes us along the bank of the River Torridge, which we leave to go around behind the dry docks, we are still on the coastal path but this section follows a road up behind the shipyard. There is a long tradition of ship building in Appledore going back to the 1850's and today Babcock Marine are still a major employer fulfilling contracts for the Royal Navy.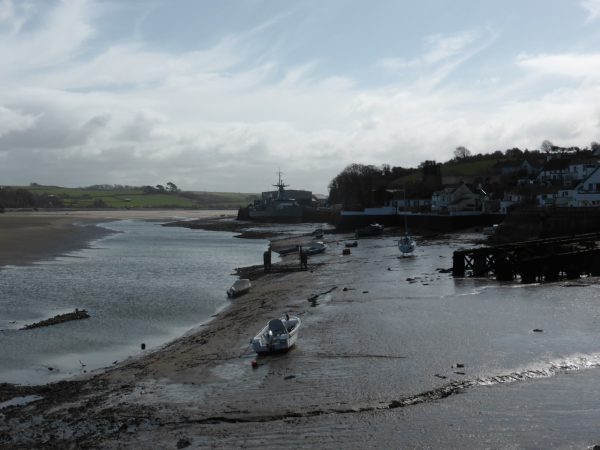 After passing Babcock's shipyard we take a footpath on the left down to the banks of the River Torridge. The view in front of us is dominated by the Torridge Bridge.
The route is easy to follow, it is clearly marked and the River Torridge is always on our left. After passing Cleave Quay we go under the Torridge Bridge and enter a housing development, but still on the coastal path.
We pass the Council Offices, in a prime location on the River bank, and then walk alongside a park. All of a sudden Lynnie's pace has quickened and she is like Crosby when he gets the scent of a pheasant, ears pricked, nose up sniffing the air. It is a look that suits a Labrador. Then she, metaphorically, slips her lead and is off oblivious of cars and small children; she has spotted another Hocking's van. Eventually she returns with a smile on her face clutching an ice cream.
The usual etiquette when we have an ice cream is that the boys sit patiently and watch without breaking their concentration until the cone is half consumed and then they get to share the rest. But for some reason today Lynnie breaks with tradition. Dexter and Crosby look at her with disgust and they contemplate the risks of being charged under the dangerous dogs act if they were to seek retribution. I mediate with the promise of something special later.
We walk down towards Bideford Bridge turning up into the town to amble about a bit. Bideford is a labyrinth of lanes and we work our way back towards north. As we pass The Strand, Lynnie stops and says that her mum lived on the Strand nearly eighty years ago, she thinks it was number 12, (later to be confirmed by Lynnie's Uncle Derrick).
Suddenly we realise that our ambling has left us a bit short of time, we are meeting Lynnie's Uncle and cousin later for a meal and we need to press on so we take the quickest route back. This is alongside the main A386 back to Northam. Entering Northam we carry straight on where the A386 turns right to Appledore, taking the next right to walk through Northam. On the way we pass the house that Lynnie's Uncle Eddie lived in for many years. As you will have gathered we are very much in Lynnie country.
Our route now takes us down to Diddywell and from here we take the lane down to Long Lane and the caravan site. The Suunto Traverse says we have covered almost seven miles. It has been a fascinating wander.
In the evening we walk down to The Beaver Inn, in Appledore to meet up with Lynnie's cousin David and his partner Caroline and Lynnie's Uncle Derrick and his friend Betty.
Whilst the relatives catch up on old times Betty and I get to know each other. She is a fascinating lady, the previous day she was at the hairdressers when it caught fire and was a right off. I would be in shock, but Betty gives an amusing account of the excitement, including how her handbag was in the fire.
Betty then tells me about her relatives being fishermen and about her grandfather hailing from Buck's Mills and what a fascinating place it is.
Both Derrick and Betty have lived all their lives in Bideford, they first met at Sunday School aged five, the best part of eighty years ago. They lost contact but have become friends in recent years. To hear two locals talk with first hand knowledge of the history of this area is priceless.
I talk about our walks in the area and mention the plaque that we had seen a couple of years ago on the Tarka trail commemorating three Canadian Airman who lost their lives when there plane crashed in 1945. To my surprise Derrick tells us he saw the plane come down. He had just come out of the snooker club (aged fifteen) and he and his mates saw the plane in trouble before crashing on the other side of the River Torridge.
We have a fantastic evening, lots of catching up and learning new things. The food has been excellent (I save some steak for the dogs – compensation for not getting their fair share of Lynnie's ice cream earlier.) I have sampled a couple of pints of Bays, a fine ale and well worth seeking out.
To view this route in OS Maps Click Here
To follow this walk you will need Ordnance Survey Explorer Map 139 – Bideford, Ilfracombe and Barnstaple. 
7th April 2016
© Two Dogs and an Awning (2016)