When we abruptly ended our grand tour last year, due to a minor health scare which at the time was, quite scarily, suspected Lyme's disease, we had reached a cracking site just outside Dolgellau. So having decided to take to the road once again it seemed logical to return to Abergwynant Farm to commence this mini tour.
The drive from Much Wenlock to Dolgellau through the Cambrian Mountains is outstanding. For too many years I have avoided visiting Wales, following a most inhospitable experience over 30 years ago. But last year the locals were very welcoming everywhere we visited and the scenery was superb.

During our travels we have stayed on many different Caravan Club CLs and received a number of warm welcomes, but none more so than that extended by Mrs Jones when we arrived back at Abergwynant Farm. It was nearly a year ago that we upped sticks and left in such haste, but she remembered. It is no wonder that that this is such a popular site.
We are soon pitched up and ready to take the boys for a walk and source a pint of ale. It is a stunning evening and from here there is a walk to a boozer that is hard to beat.
We leave the site to follow the path alongside the Gwynant taking us onto the Mawddach Trail alongside the Afon Mawddach. We turn right and head towards the George III at Penmaenpool. I have previously blogged this walk and mentioned the tragedy that occurred in the river opposite the inn (see http://twodogsandanawning.co.uk/afon-mawddach/ for details).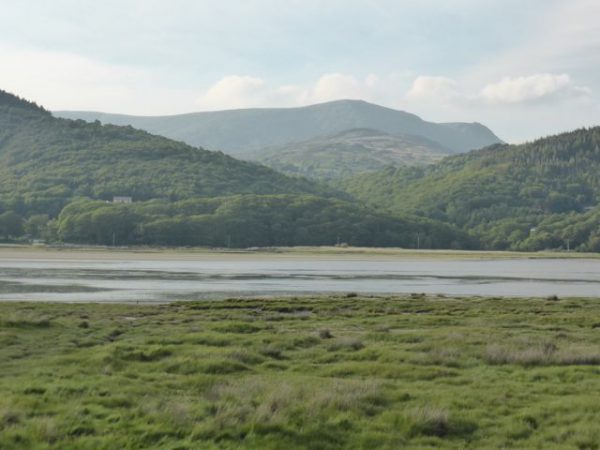 This is a cracking stroll, the scenery is breathtaking and our walk takes longer than usual because of the constant photograph stops. Eventually we arrive at the George III and enjoy a good pint sat outside on the terrace.
As you look out over the estuary from this pub it is hard to think of a better spot to be. I could easily have been persuaded to have another pint, but I am told that we need to get back to the Unicorn to feed the boys and cook our evening meal.
As we leave we spy a range of vintage cars in the car park, some steam powered. I have a slight hankering for a soft top (Lynnie says it's an age thing) but I am not sure where the boys would sit if I had one of these, or how it would perform towing the Unicorn.
Back at the on the caravan site the evening sun lights up Cadair Idris, what a fantastic spot this is.
15th June 2015
[To follow our walk you will need Ordnance Survey OL Map 23 – Cadair Idris & Llyn Tegid]
© Two Dogs and an Awning (2015)