We are heading back home today after a great week walking in the Pewsey Vale. Usually on the day of our departure I take a short early morning walk with Crosby and then get busy packing. Over the years of caravanning we have worked out how long it takes us to be ready to leave a site and I know if I make an early start I will have plenty of time today to sort things out before our scheduled departure.
It is another cracking morning as I leave Charlton Manor CL, turning right to walk towards the village. Soon after crossing the River Avon I take a lane on the right and then after a couple of hundred yards fork left to head uphill on a footpath to reach the Charlton Cat Cafe. This dates from the 1820's and used to be a pub. Apparently, it was originally called the Red Lion, but by the 1920's it had become known locally as the Cat due to the poorly painted lion on its sign, so the name was changed.
I cross the A342 to join the track opposite, this is Charlton Drove and I follow it on a long steady ascent.
The track passes barns and continues on to pass the Charlton Clumps trig pillar. I have bagged this trig on a number of occasions. I continue along the lane towards a junction of paths.
At the junction of tracks I turn right to follow a path besides the edge of the Ministry of Defence danger area. It was back in 1898 that the army first conducted training exercises on the plain and started acquiring land. This continued until the 1940's and now there is about 150 square miles of land with restricted access, or in some parts no access at all because of live firing.
It is a cracking morning to be out walking. My route follows the path keeping the fence for the firing range on my left.
There are a number of paths on the right which lead downhill into the Vale of Pewsey. I ignore three paths choosing a path that leads towards Marden Copse.
The path soon goes steeply downhill with cracking views.
At the bottom of the hill I join a track and continue heading north towards the A342. It is a stunning place to be walking, if we were not heading back today I would be thinking about extending my morning walk, but unfortunately I need to take the awning down and pack the car.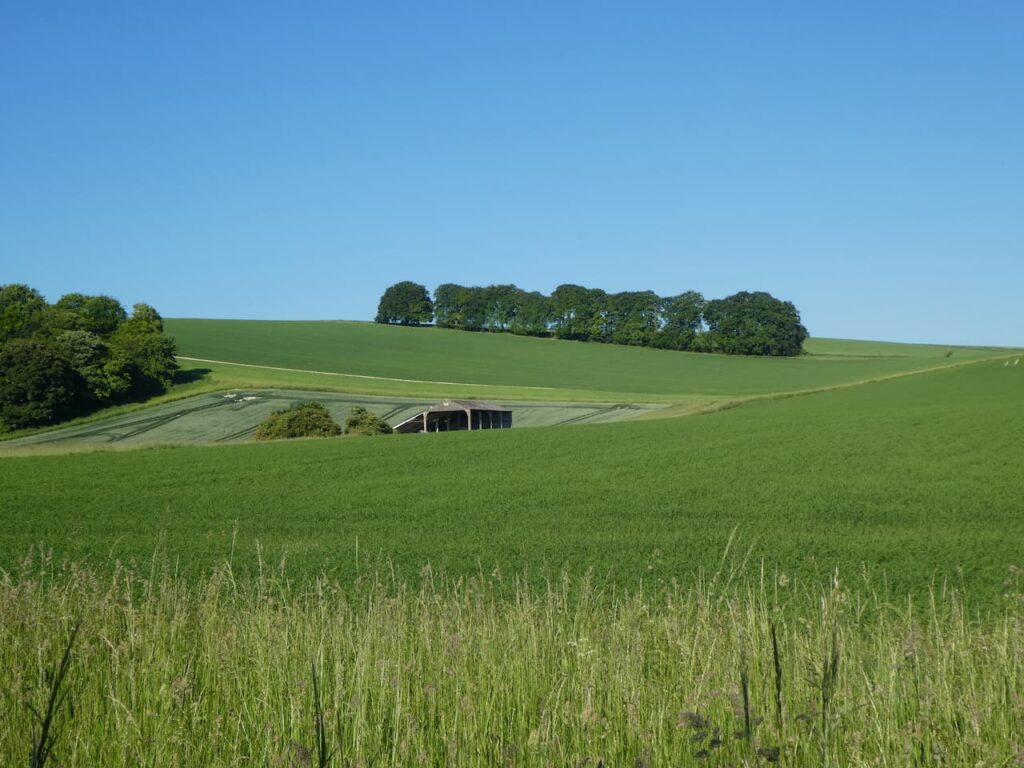 At the A342 I cross and continue along the road heading for Marden. When this straight road starts to bend to the left I take a track on the right passing a recently converted barn and Marden Cricket Club. I now follow this track heading east. I cross another track and then reach a minor road where I turn left and in just over a hundred yards I take a turning on the right and follow the path between fields.
The path leads to a minor road where I continue straight on and then at a junction turn left and then soon take a footpath on the right.
As I head along this path I get a good view of the medieval Strip Lynchets field system to my right.
At a junction of paths I go straight over heading east, soon the Charlton Cat is on my right.
I keep following the path as it heads towards Charlton St Peter and then in the village turn left to cross the River Avon and return to the caravan site. It has been worth getting up early to experience such a wonderful morning, I have covered just over 7 miles. Now it is time for breakfast and a quick pack so we can head home.
You can view this 7 mile walk on OS Maps and download the GPX File Here
To follow my walk, you will need Ordnance Survey Maps: OS Explorer Active Map OL130 – Salisbury and Stonehenge
13th June 2021
© Two Dogs and an Awning (2021)
All information on this site is provided free of charge and in good faith and no liability is accepted in respect of damage, loss or injury which might result from it. To the best of my knowledge the routes are entirely on public rights of way or within areas that are open for public access.
Walking can be hazardous and is done entirely at your own risk. It is your responsibility to check your route and navigate using a map and compass.