There are days when our planned walk is scuppered even before we start and today seems to be such a day. I planned today's walk to start at Avebury from the large National Trust car park in the village. However, arriving at Avebury I discover the car park closes at 17.00 which I find a bit odd when we are only a few days from the longest day of the year. I can only assume they don't want people to visit the famous stone circles in the evening.
I quickly look at the route of our planned walk for an alternative starting location and identify Cherhill as the best option. So we set off west along the A4 and then turn into Cherhill and find a parking area outside of the village church.
After checking to ensure there are no notices of planned services in the church we head off through the village heading east. At a road junction we turn left into Park Lane heading downhill to reach a fork in the lane, we go to the left to continue along the tarmac lane which is shown as a dead end. Soon we get views across to the Monument and White Horse on Cherhill Hill.
We stay with the lane to pass barns on a farm and then just before reaching the farmhouse, at a crossing of footpaths, we go right on a path heading north, very soon at a fork in the path we go right to head along the edge of a field with Mount Wood to our left.
We reach a junction of paths and turn right along a hedge-lined a track heading east to reach a crossing of paths where we turn left onto the route of the White Horse Trail and head north.
We keep on the White Horse Trail as it heads along the top of Compton Hill ignoring paths on the left which lead off the hill. At a T-junction of tracks where the White Horse Trail turns left towards Highway we go right and head along a track in a south easterly direction.
At the next junction of tracks we turn left and follow a track (Yatesbury Lane), as it goes through the edge Yatesbury Withybed. A withybed was an area of woodland where willow withies, thin rods of willow were cut to be used in basket making, fish traps and a range of other items. Willow grows fast so the main stump of the tree would be left and the withies harvested every year ensuring a regular crop.
After passing the withybed we reach a junction of tracks and turn right to head south east and follow a track through open farmland heading towards Windmill Hill in the distance.
We follow the footpath to Windmill Hill, the site of the largest Neolithic causeway enclosure in Britain . The site covers 21 acres and was first occupied in 3800 BC which is a very long time ago.
It is an amazing site and we are the only people here, whereas nearby Avebury was busy when we drove through earlier today.
The OS map shows a Boundary Stone on the site and I go off in search of it whilst Lynnie takes in the view.
The White Horse Trail runs through Windmill Hill and we follow this route heading east. Away to our right is a good view of Silbury Hill which is the largest artificial prehistoric mound in Europe. It was built between 2470 and 2350 BC though it's purpose is unknown.
As the path descends it leaves the Windmill Hill open access area going through a stunning area of wildflower meadow.
At a crossing of paths we turn right, to stay with the White Horse Trail, and head across fields towards Avebury.
On reaching a lane we turn left and wander into Avebury and stop to have a look at St James' Church. Much of this church was rebuilt in 1879 but some parts from previous centuries remain, the oldest dates from the 10th century. We had hoped to look inside but unfortunately it is locked.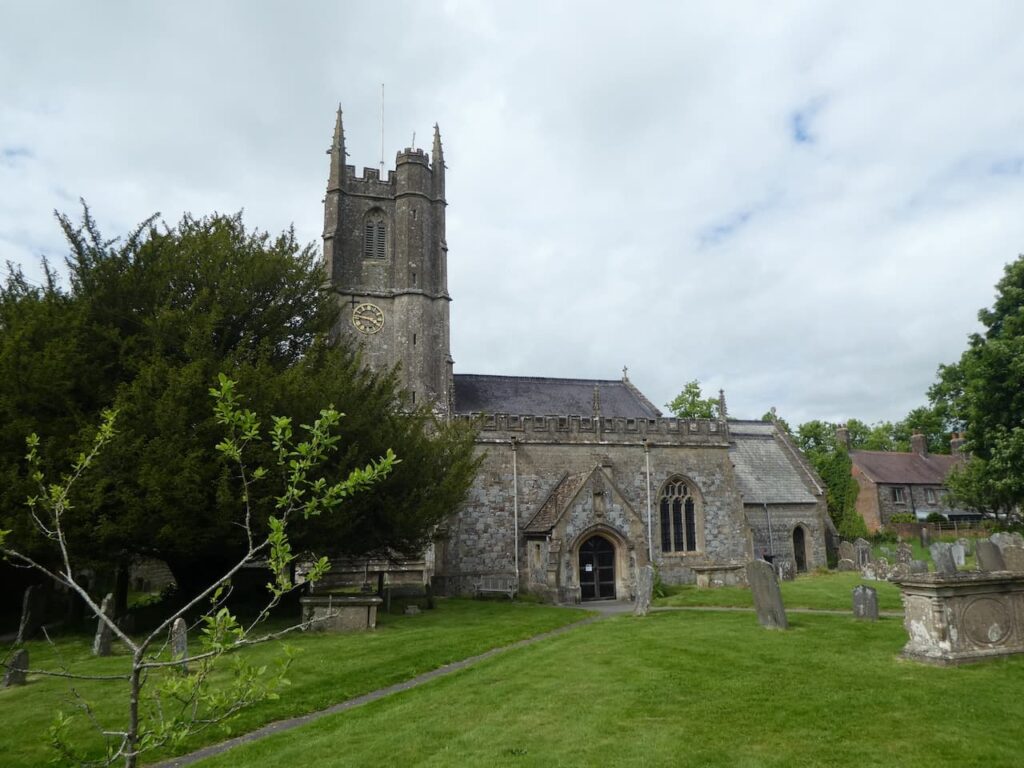 We decide to have a wander around and visit the stone circle, Lynnie is also on the lookout for an ice cream but has no success as most of the shops seem to be closing up. It seems I was right in my earlier assessment about Avebury.
After a good wander about we head out of the village on the route we came in on and at the edge of the village continue along the lane heading west. This soon becomes a minor road, Bray Street, and passes houses. At a junction of tracks close to barns and silage clamps we continue straight on along a track.
We stay with this track as it continues in a westerly direction to reach a minor road on the outskirts of Yatesbury. Here we turn left and follow the road, The Avenue, and then take a detour along a minor road on the right to visit All Saints Church which has 12th century origins with the tower and nave roof dating back to the 15th century.
In the graveyard there are a number of Commonwealth War Graves relating to airmen that were based at the nearby RAF Yatesbury which opened in 1916 as a Royal Flying Corps training school.
Leaving the church we head back to The Avenue and turn right. When we reach a T-junction we turn right and then after a couple of hundred yards turn left along Juggler's Lane. After passing through woodland we pass the redundant hangers of the RAF airfield. The Flying Training Corps operated for three year from 1916 and then the airfield returned to farmland. From 1936 the site once more became an airfield and pilot training resumed. Apparently Guy Gibson who led the "Dambusters Raid" trained here.
In 1939 the RAF took over the site for the training of wireless operators and this continued until its closure in 1965. The hangers here are listed but apparently there have been attempts to turn the site into housing. Not much can be seen from the track but the World War II pillboxes alongside are evidence of wartime activity.
Our route is now very straightforward as we stay with this track heading back towards Cherhill, to our left are good views of the Landsdowne Monument on Cherhill Hill. The monument stands at 125 feet high and is a clear landmark. It was erected in 1845 by the 3rd Marquis of Lansdowne to commemorate his ancestor Sir William Petty (1623-1687) and was designed by Sir Charles Barry, the architect of the Houses of Parliament. Petty was the son of a cloth maker and studied to become Professor of Anatomy at Oxford. He served as Physician General in Oliver Cromwell's Army in Ireland and whilst there reportedly conducted the first land survey of the Country. After the restoration of the Monarchy he was appointed a Commissioner of the Royal Navy by Charles II. He was a founding member of the Royal Society and accumulated great wealth.
The track leads to the outskirts of the village and we retrace or steps back to the church car park. Our wander about has covered just over 14 miles and we have walked some interesting tracks with the stand out feature being the stunning wildflower meadow near Windmill Hill.
You can view this 14 mile walk on OS Maps and download the GPX File Here
To follow my walk, you will need Ordnance Survey Explorer Map 157 – Marlborough & Savernake Forest
10th June 2021
© Two Dogs and an Awning (2021)
All information on this site is provided free of charge and in good faith and no liability is accepted in respect of damage, loss or injury which might result from it.  To the best of my knowledge the routes are entirely on public rights of way or within areas that are open for public access.
Walking can be hazardous and is done entirely at your own risk.  It is your responsibility to check your route and navigate using a map and compass.