The weather has been decidedly dull on this tour.  The sun has rarely appeared and the sky seems to have adopted a permanent grey hue.  I need a bit of sun on my back to put a spring in my step.  Prolonged grey periods gradually wear me down.  I can cope with the odd day, but weeks of it drag depressingly by. My early morning walk today starts overcast but misty, so I am hopeful that things might pick up.

For the next couple of hours I begin to doubt the sun even exists and then as if by magic it appears. We have plans to visit Bury St Edmunds later but first need to get out into the sunny woods and top up our vitamin D levels.
The King's Forest has a huge network of pathways around the plantations. There is no chance of me describing our route, or indeed following it again.  The link to the OS Map below will give you an indication, but this walk is all about jamming about and following paths that look promising and wherever possible keeping on the sunny side of the street.
In the few days we have been here I have really appreciated the diversity of the plantations. It is not all pines; there are copses of deciduous trees, including plenty of beech. A beech copse is one of my favourite types of woodland and it is not too long before we are walking besides a great example.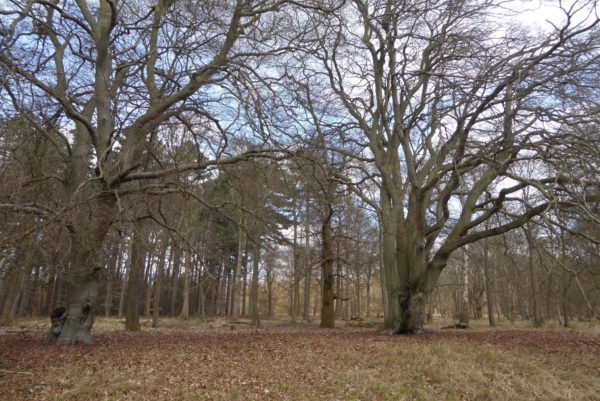 It is amazing what some March sunshine can do, as we continue we see our first butterfly of the year.  I am not a lepidopterist, in fact I struggle to name anything other than the most common butterflies, but I have a book that helps identify the unknown ones I come across . I am pretty certain this little beauty is a Comma.
A little bit further on I glance to the right and eight feet away staring at us is a Muntjac deer, I am not sure who is more surprised, but one thing for sure he was not hanging around to have his picture taken.  We then spot some fungi, this is the sort of nature I like photographing; it sits still and allows you to get close.  My fungi knowledge is very limited too, but I do know I have not seen any like this.  I am not sure if the holes in the top are meant to be there or if some little critter has bored its way in.
After emerging from a couple of plantations of pines we are amongst Silver Birch, there is a copse of saplings and then more mature trees.  These are splendid woodland tees and so many in the dappled sunlight is stunning.  We are now walking parallel to the Weststow Road along the edge of the Newstow Belt.
We pass a number of tracks to our left and then take one that heads towards Weststow Long Plantation. Then we turn right and left again, as we know that an easterly direction will lead us back to Hall Farm.
It is a cracking afternoon, and it is tempting to extend our walk around the forest.  However, we plan to visit Bury St Edmunds later so wend our way back to the caravan site.  Our wander has covered five and a half miles and it certainly has been a welcome novelty to be walking with a shadow.
To view this 5 mile route on OS Maps Click Here
To follow our walk you will need Ordnance Survey Outdoor Explorer Map 229 –Thetford Forest in The Brecks
25th March 2018
© Two Dogs and an Awning (2018)