It is a welcome change to wake up to a clear blue sky, overnight there was a sharp frost so it is a bit fresh as I head out with the dogs for a morning walk in The King's Forest. Getting Dexter to walk far before breakfast is usually a challenge, but today the sun seems to have encouraged him so we spend an hour wandering around in the woods.

We are keen to explore a bit more of the Suffolk countryside.  So opt for a short drive to the village of Lavenham a few miles south of Bury St Edmunds.  I have read that this village has sought to become a World Heritage Site and pictures suggest it is a fascinating place.
One of the things we find interesting as we travel around is the unusual names of villages we pass. Today one that catches our eye is Bradfield Combust an intriguing name and we make a mental note to pay a visit in the future to see what it is like.
Arriving in Lavenham we park close to the Guildhall.  According to the National Trust, who run the site; this is one of the finest timber framed buildings in Britain.
Built around 1530 by local merchants it reflected the wealth in the town created from the production of the local blue woollen cloth.  Apparently in the16th century the village was more prosperous than York and Lincoln. But around the time the Guildhall was constructed the cloth trade went into decline and there was mass unemployment in the village.
Then for almost a hundred years from 1689 the building was used as a prison, later it became a workhouse and Almshouse.  In 1887 Sir William Cuthbert Quilter, a stockbroker and MP, purchased and restored it. During World War II it was used to support evacuees and had a restaurant and nursery. Then in 1946 Quilter's son passed the property to the local community with the National Trust taking it over in 1951.
Leaving the Guildhall we walk down to the High Street and turn left continuing through the village. It is soon clear why this village is seen as somewhere rather special; apparently there are over three hundred properties of historic significance here.
The High Street leads into Church Street and we are soon outside the impressive church of St Peter and St Paul.  This was built between 1485 and 1525 and is striking both inside and out.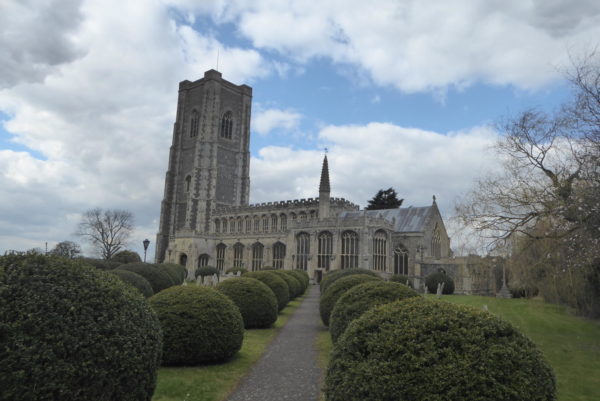 From the church we join Portland Lane following this around the remains of Lavenham Hall and then turn left along Park Road to head away from the village.  After a couple of hundred yards we take a footpath on the left to join the St Edmund Way trail, which goes through Lavenham Nature Reserve.
This path follows the route of the old Lavenham to Long Melford railway line.  It is easy going and a clear route.
As usual when walking old railway lines there are sections in deep cuttings, but these are brief and we are soon in open countryside walking besides Lineage Wood.  This is a tranquil spot, but back on 20thOctober 1891 this was the site of a rail accident.  A passenger train travelling at speed left the tracks on a sharp bend reportedly the engine detached from the carriages and somersaulted down into a field landing on it's funnel.  Fortunately the driver and fireman were thrown clear whilst the carriages ended up on their side.  Remarkably there were no reports of death or serious injury.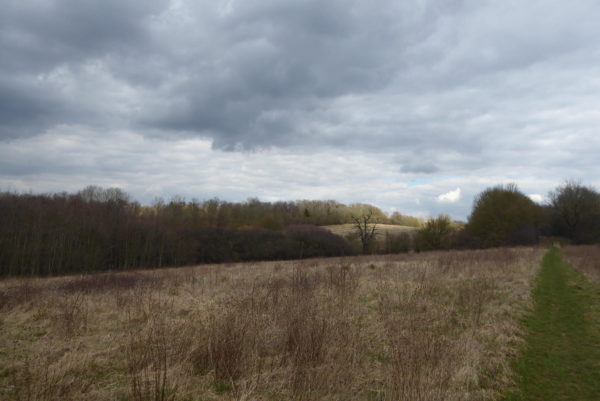 We continue at a steady pace, the last thing I want to do is leave the path and end up beak first in a field!  St Edmund Way passes Crabtree Wood and then turns right to cross a stream, at a junction of paths we turn right, leaving St Edmund Way to walk besides a field.  We soon reach Chad Brook and continue on the footpath following the course of the brook through Queech Plantation, and then on to Bridge Street village..
We stop to look at the Rose and Crown pub; unfortunately this has ceased trading and is currently on the market.  It is a pity when such establishments close, they should be at the centre of local communities, so hopefully it will be up and running again soon.
Our route continues on the footpath as it heads north besides the brook and then  besides fields heading uphill towards Church Lane. This is the first incline we have encountered for weeks, it is ages since we last walked uphill and this is not really much of a hill.
On reaching Church Lane we turn right and walk into Alpheton and then by the village green turn left along the pavement besides the A134.  Soon we cross and fork right walk along a road.  Within a couple of hundred yards we turn right on a footpath heading towards the Old Rectory and follow this path to Clapstile Farm.
After passing the farm we re-join the St Edmund Way and follow the way markers as the path runs besides fields.  Part of the route is on old concrete paths and across the fields we can see the remnants of the old wartime airfield that was located here.
Built in 1943 the airfield opened in April 1944 and was used by the United States 8thArmy Air Forces Air Force 487thBombardment Group.  Today few buildings remain and it is difficult to visualise how it may have looked, at its peak there were 2,900 personnel based here. The airfield closed in 1948.
The St Edmund Way goes around an old hill fort, which appears inaccessible and then joins Park Road leading back into Lavenham.  Our walk has covered close to nine miles.  Before heading off we decide to have a brief wander around the village to look at a few of the properties.  This really is an extraordinary place and one we will revisit before too long.
To view this 9 mile walk on OS Maps Click Here
To follow our walk you will need Ordnance Survey Outdoor Explorer Map 196 –Sudbury, Hadleigh & Dedham Vale and Explorer Map 211 Bury St Edmunds & Stowmarket.

26th March 2018
© Two Dogs and an Awning (2018)