After the trauma of yesterday's walk on the Sandstone Trail I am particularly keen to stay on level ground today. It will be a little while before I venture close to a cliff edge again and before we set off on a walk in unfamiliar hills I will do my research. If someone suggested that I stand on top of Salisbury cathedral they would get a very short reply. Being at Raw Head was about the equivalent in height. I envy those not afflicted with a fear of heights it gives them a greater freedom to explore. As for me I am content with walking within my capabilities, there are still plenty of stunning places to walk.

After a trip to Cheerbrook Farm shop, which has an excellent butcher's counter we are ready for the off. We are walking from Swanley House CL again and turn left as we leave the site to walk along to Swanley Bridge, rather than crossing we take the path down to the towpath. Today we turn right under Swanley Bridge (No.8) and soon reach Swanley No.2 Lock.
It is not long before we are passing Swanley Marina. Having never been on a barge I am unsure if a Marina is just for storage or also for overnight mooring. Some later research informs it can be both and a mooring for the night is very similar to the price you would pay on a CL. I prefer walking beside a canal to travelling on it, so it is very unlikely that we will ever venture out on a barge.
We pass under Wrexham Road Bridge (No.6), I am not sure what happened to bridge number seven, and then soon arrive at Platt's Bridge (No.5).
After passing Lee's Bridge (No.4) Lynnie spots a notice for a path to Snugburys Ice Cream Farm. Up until now Lynnie has been bemoaning the boring nature of canal walks. I disagree; I think the engineering is fascinating. But all of a sudden this walk is looking up for her. She is over the stile and heading across the field before I can even ask if she fancies an ice cream (I know it's a silly question!).
Given that the good people of Snugburys want you to visit their ice cream shop they have made access very difficult for those with large dogs. There are a number of stiles to cross and on more than one occasion the dogs need lifting over. It starts to drizzle as we reach Snugburys but this does not deter Lynnie who is clearly focused on sampling the next flavour on her list.
Snugburys Ice Cream Farm started in 1986 with the ice cream being manufactured in the farmhouse kitchen. Now it is a major enterprise and according to Lynnie (and she should know) their ice cream is of the very highest quality. They have an extensive range of flavours, and Lynnie intends to sample as many as possible whilst staying locally!
Whilst Lynnie goes to select her ice cream I wander over to look at the straw sculpture of Peter Rabbit. He is the latest in a number of straw sculptures at Snugburys and was built in August 2016. Then some mindless individual decided that it would be fun to set light to him in February 2017. Thankfully with the support of the local community he was rebuilt.
According to the information board he is 36 feet tall, weighs over eight tonnes and his ears are over 10 feet tall. On the farms website there are pictures of previous sculptures which include a Dalek, polar bear, rocket and Big Ben.
Our walk continues by retracing our steps back to the canal and then turning right along the towpath. We pass under four more bridges: Martin's Bridge (N0.3), Bache House Bridge (no.2); Hurleston Bridge (No1A); and the A51 road bridge (No1) and then arrive at the series of Hurleston Locks.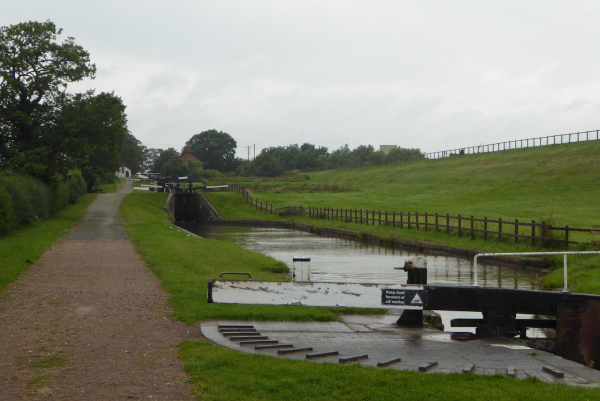 We have now reached Hurleston Junction. This is where the Llangollen Canal meets the Main Line of the Shropshire Union Canal. We cross the canal and then turn right along the Shropshire Union Canal towpath towards Nantwich. This canal runs from the River Mersey and the Manchester Ship Canal at Ellesmere Port to the Staffordshire and Worcestershire Canal at Autherley Junction in Wolverhampton.
The Shropshire Union was an amalgamation of a number of companies that ran the connected canals; Ellesmere Canal, Birmingham and Liverpool Junction Canal, Montgomeryshire Canal who all joined forces with the Shropshire Union Railway and Canal Company. Apparently the original plan was to build a railway between Nantwich and Wolverhampton, but thankfully they opted for a canal instead. We immediately notice that this canal is much wider and busier than the Llangollen Canal.
The persistent drizzle makes us get our heads down and stride towards Nantwich. As we reach the outskirts of the town there is an interesting wooden sculpture of a horse. Apparently two local artists John Merrill and Julian Taylor re-cycled an old lock gate to create this.
The drizzle has increased to light rain as we head to the outskirts of Nantwich, soon reaching the Nantwich Aqueduct, which crosses the Chester Road (B5341). This is a fine structure built by Thomas Telford in 1826.
We now follow the canal as it passes Nantwich and as we reach the southern edge of the town cross Green Lane Bridge to join a track to Marsh Lane where we turn left and after almost half a mile turn right into Dig Lane. We continue on this lane for a mile going straight over at a crossroads with Ravens Lane and carrying on to Swanley Lane. Here we turn right and wander the half-mile back to Swanley Lane CL.
Our walk has covered almost nine miles, including the diversion to Snugburys for Ice Cream; this has been the highlight for Lynnie. I am keen to explore a bit more of the Llangollen Canal tomorrow but Lynnie will need convincing. She still maintains that canal walks are largely boring.
To view this route on OS Maps Click Here
To follow this walk you will need Ordnance Survey Explorer Map 257 – Crewe & Nantwich
21st July
© Two Dogs and an Awning (2017)