The lockdown restrictions on travel were eased yesterday and whilst we are still being extremely cautious I am getting into the car for the first time in weeks and starting a walk from a location other than my home village. It feels really strange driving again and the roads are extremely quiet as I make the short journey to Canada Common on the edge of the New Forest.
The starting point for my walk is the car park on the edge of Canada Common (Grid Ref: SU287177). There are a lot of people sat around the car park, I hope this doesn't mean I will encounter too many folk whilst out walking.
Leaving the car park I head north on a path across the Common and stay with this route until I reach an Ordnance Survey trig pillar. This is the 200th I have bagged.
Like many others concern over the current situation around the Covid-19 pandemic has disrupted my sleep. A few nights ago I was awake during the night and struggled to get back to sleep. Lynnie suggested that a good way to drop off would be to count the trig pillars I have visited. I started in the Scottish Highlands and headed south; I was asleep before I reached the Yorkshire Dales!
The area I am walking is open access land, but where possible I stick to paths as I don't want to disturb ground nesting birds or other wildlife. From the trig pillar I follow a path heading north and gradually descend to join another path where I turn left and head south along the bottom of West Wellow Common.
I stay with this route until I reach a junction of paths; here I turn right and head west across Plaitford Common heading towards Deazle Wood.
The path leads into the woods and then I fork left to head south through the trees to reach a minor road and turn right to follow it. After a quarter of a mile, just after crossing a stream, I turn left and take a path heading south westerly through trees. This track soon joins a gravel driveway and I stay with this until I get to a minor road.
After crossing the road I continue on into Bramshaw Wood. There are a network of paths in these woods and I am glad I brought my map and compass so I can keep heading in the right direction. Before the lockdown I completed the Silver National Navigation Award Scheme course with Nigel from New Forest Navigation. I have walked for years with a map and compass but a mishap in the Yorkshire Dales a few years ago made me realise that I needed to be a lot more confident in navigation. So walking through woods like these are a good test of my contour reading and pacing skills as I head towards Black Bush Plain.
On leaving the trees on the edge of Black Bush Plain I fork left on a track going south across the plain towards the Bramble Hill Walk car park besides the B3078, Roger Penny Way.
I stay besides the road and head to Long Cross crossroads, here I continue by the Roger Penny Way for a couple of hundred yards before turning right to cross the road to take a footpath heading south into woods. Initially the path is not easy to spot, but it soon reaches an inclosure and I keep heading south with a boundary fence to my right.
After going through a gate the path becomes more well used and continues to reach a broad gravel track. I turn left along the track through Salisbury Trench, it is a cycle way so easy to follow and today not a single bike passes me.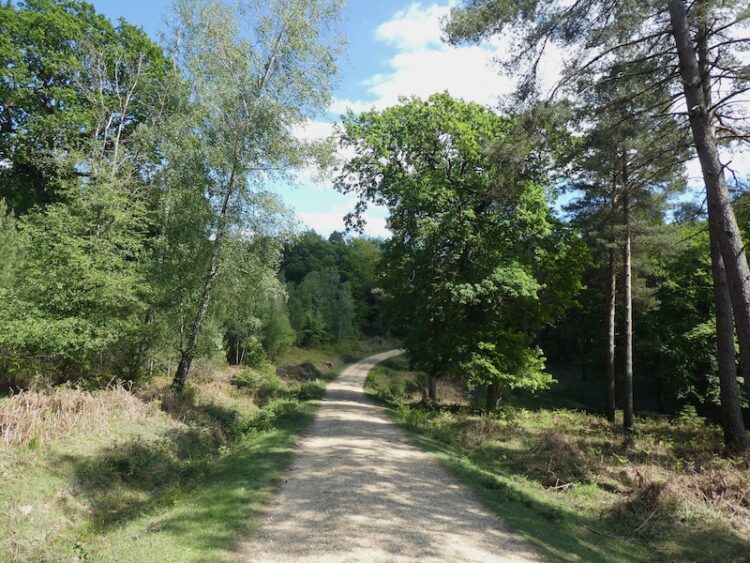 At a junction of cycle ways I turn left and follow the track to a gate leading to a clearing between inclosures. The track now goes through a gate into King's Garn Gutter Inclosure.
At the next junction of cycle ways I turn left and follow a gravel track through the woods to a clearing on the edge of the inclosure. Here I turn left and head east along a path, soon crossing Coalmeer Gutter.
At a fork in the path I go right to continue across access land towards a minor road and the Rufus Stone. The path across this access land is not clear so I take a bearing with my compass to ensure I am heading in the right direction.
As I near the minor road I turn left and soon reach the Rufus Stone. This stone is supposed to mark the spot where King William II, also known as William Rufus, was fatally wounded by an arrow whilst out hunting on 2nd August 1100. The deadly arrow was said to have been shot by Sir Walter Tyrrell and had ricocheted off a tree. By all accounts Rufus was not that popular so few people mourned his death and his body was transported to Winchester Cathedral by a local charcoal burner.
More recently doubt has been cast on whether this is the actual location, historians think it may well have been nearer Beaulieu and it has also been suggested that Sir Water might have actually intended to do away with the King. Within three days William's brother Henry was crowned King.
My route now follows the road to pass the Sir Walter Tyrrell pub. Originally the pub was the building next door which is now a holiday cottage. I have not visited this pub for over forty years, perhaps when things return to normal I will bring Lynnie here. However, her memories of this area are scarred by her coming off her bike in front of the very busy pub garden whilst on a bike ride with the children. She never used the bike again!
The route now follows the minor road through Upper Canterton and when the road bends to the left I take a bridleway on the right heading towards Lower Canterton. Some mindless individual has decided this would be an ideal spot to fly tip. I find this type of behaviour absolutely abhorrent and take pictures so I can alert the Council. Hopefully they will be able to trace those responsible.
Still fuming about the fly tipping I continue along the track and then enter woodland and on reaching a house turn left to follow a footpath that soon joins a minor road. This leads to the B3079 in Brook, where I turn left and then after a short distance cross the road at the pull in for Cedar Cottage and go through a gate to take a bridleway along the edge of a copse. To my left is Bramshaw Golf Club, a course I played once, over forty years ago.
The bridleway reaches a minor road where I turn right and soon pass Warren's Farm. I stay with the road until I pass cottages on the left and reach a clearing. Here I go left to take a bridleway heading north towards Cadnam Common.
On the Common there are a network of tracks and paths, I take a route that continues north towards the prominent Stagbury Hill. This is a cracking common and apart from one other couple in the distance I have the vast space to myself.
I pass a pond and then start a steady ascent to reach the summit of Stagbury Hill. This is such a prominent feature with a commanding view across the common. It also has an Ordnance Survey trig pillar, my 201st bagged.
As part of the navigation course I attended a few months ago we had to locate a couple of boundary markers. I see on the map that there is one on the side of this hill so take my bearing and measurements and pace off to find it. As it happens it is easy to locate and exactly where I expected it to be!
I now follow a path across Furzley Common to reach a crossroads. I turn left and follow the minor road to reach access land on Penn Common.
At a gravel track on the right I walk away from the road and continue to cross a stream at Moor Bridge. The track now leads onto Canada Common where I follow paths heading in a northerly direction to return to my starting point at the car park.
My walk has covered thirteen miles and it has been interesting to explore parts of the forest I have not visited for years; the only downside was the fly tipping but that will be reported as soon as I get home.
To follow my walk you will need Ordnance Survey Explorer Map OL22 New Forest
You can view this 20 mile walk on OS Maps and download the GPX File Here
14th May 2020
© Two Dogs and an Awning (2020)
All information on this site is provided free of charge and in good faith and no liability is accepted in respect of damage, loss or injury which might result from it.  To the best of my knowledge the routes are entirely on public rights of way or within areas that are open for public access.
Walking can be hazardous and is done entirely at your own risk.  It is your responsibility to check your route and navigate using a map and compass.