Today we are walking from Charlton Manor CL again, exploring a bit more of the Vale of Pewsey. It is amazing that we are so close to home, yet until this year hadn't considered walking around here. From now it will be one of my go to locations for a day out.
Leaving the site we turn left to walk up a track following the route of the White Horse Trail.
We stay with this long distance path ignoring two paths on the left and then at a fork we stay with the White Horse Trail heading towards Falkner's Farm.
After passing the farmyard we cross a minor road and continue along a tarmac lane passing old barns that look as if they are no longer used.
We follow the lane to reach St James' Church, apparently there was a church on this site back in 963 but part of the current building dates from the 13th century. The tower dates from the 15th century and the church underwent a restoration in the 1950's.
From the church we head through trees to pass the lakes of Manningford Trout Fishery. I am not a fisherman, many years ago I spent a couple of hours with a friend besides the River Wharfe in the Yorkshire Dales. I found it peaceful sat by the river, but after 30 minutes I was itching to go for a walk. I have never been tempted to try it again. According to this fishery's website it has some of the best trout fishing in the south of England.
We stay with the White Horse trail to reach a minor lane which we cross and then in a field of pasture we leave the trail as forks left to follow a footpath along the edge of the field to reach St Peter's Church, Manningford Bruce.
This church has elements from the 12th century and was restored in 1882. We decide to pop in side, it is a fine building. I later discover there is a plaque on the wall to Mary Nicholas who with her sister helped King Charles II escape after the battle of Worcester in 1651.
From the church we head back to the field and take a footpath that leads by the Manor House and then rejoins the White Horse Trail in the next field.
After crossing a lane we continue on the White Horse Trail and then at a junction of footpaths go across a field to visit the church at Manningford Abbots. Apparently there is no recorded dedication for this church which was rebuilt from 1861-64. On all our travels I cannot recall visiting another church without a dedication.
From the church we head back across the field to rejoin the White Horse Trail and follow it heading north through woods to pass over a stream and under power lines to reach a converted mill.
On reaching a minor road we leave the White Horse Trail and turn right to follow the road northwards and cross a railway bridge and then turn left on a footpath along a track. We stay with this track to reach a minor road where we turn right and then within a hundred yards take a left to follow a track besides arable fields.
At a junction of tracks we continue north to pass the Dovecote at Wilcot Manor. This was built in 1737. Apparently in 1939 the interior was converted to an air raid shelter.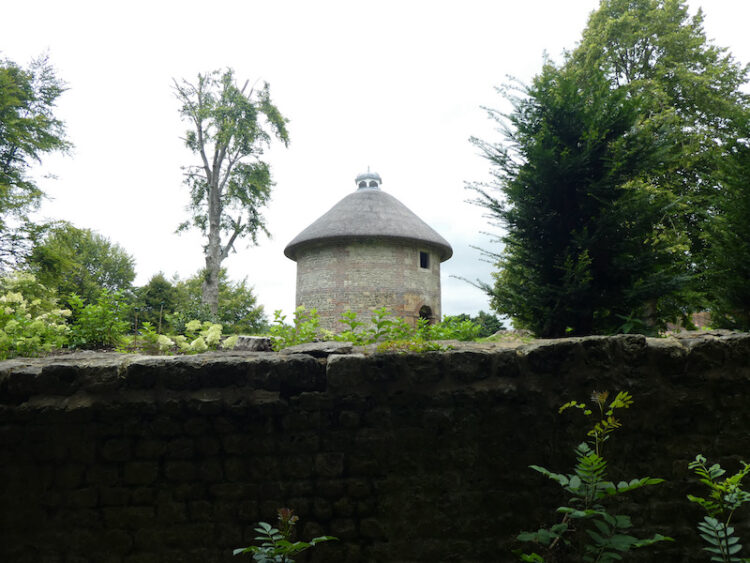 We walk past the Holy Cross Church in Wilcot, it was gutted by fire on 11 April1876 with only the walls and tower remaining. Work immediately started on rebuilding what is now a fine looking church.
We now head through this attractive village to reach the Golden Swan pub. According to Wiltshire Council's History site in 1746 there was a pub called the Swan on the south corner of the village green, however, around 1859 this was replaced by the Golden Swan. It is said that this pub has the steepest thatched roof in Wiltshire.
At the pub we turn left along the road and head northwest through the village to pass the Green and reach a bridge over the Kennet and Avon Canal.
We join the canal and although our route is to the west we first go east for a few hundred yards to look at the Stowell Park suspension bridge spanning the canal. This was built in 1845 as a bridge to provide a private crossing of the canal. It was designed and built by the noted bridge builder James Dredge (senior). Apparently he was a brewer who later became an inventor of suspension bridges of which only a few remain.
We turn and walk back along the canal passing under the bridge at Wilcot before continuing on to pass a wider section with the Wilcot Withy Bed on the far side. A withy bed was an area of willow or ash grown and coppiced for their flexible stems used for thatching. The widening of the canal here was at the insistence of Susannah Wroughton and her family, they lived in Wilcot Manor and owned the land and would only allow the canal to pass through if an ornamental lake was created.
We then reach the ornate Ladies Bridge was built by John Rennie in 1808. The design was also at the behest of Susannah Wroughton and the reference to Ladies refers to her and her daughter, also named Susannah.
This is a very pleasant section of canal to walk along. It is surrounded by open country side.
We leave the canal on reaching Woodborough Fields Bridge, No. 122, and follow the footpath towards Woodborough and enter the village by St Mary Magdalen Church. This was rebuilt in 1850, but apparently has a number of elements from the past including the Royal arms of Charles II over the chancel arch.
We continue south through the village to reach a junction where we turn right and after a couple of hundred yards take a footpath on the left. We now follow this path across a field to reach the mainline railway.
We cross this on a pedestrian crossing so take extra special care to "Stop, Look and Listen", on the far side we cross another field to reach the back of the Seven Stars pub where we cross a stile. Then on reaching a road we turn right to pass the pub. According to its website there has been a pub here for the last 265 years.
We now head west through Bottlesford to reach a footpath on the left which we follow along a track and then go across a field towards a copse. The path skirts the copse and then goes towards a minor road on the edge of Hilcott. We turn left and walk along the road towards Wilds Farm. Before reaching the farm we pass a cottage with a Victorian Letterbox set into the wall.
At Wilds Farm we turn right to take a footpath along a track and follow this south to reach a junction with the White Horse Trail. Here we turn right and retrace our route for half a mile back to Charlton Manor CL.
Our wander around this section of the Pewsey Vale has covered almost 11.5 miles. I cannot recall seeing so many thatched cottages in one day, which is saying something for a native of Wiltshire. We may not have enjoyed far ranging views, but we have had a very scenic day.
To follow this walk you will need Ordnance Survey Explorer Map OL130 Salisbury & Stonehenge and OL157 Marlborough & Savernake Forest .
You can view this 11.5 mile walk on OS Maps and download the GPX File Here
15th July 2020
© Two Dogs and an Awning (2020)
All information on this site is provided free of charge and in good faith and no liability is accepted in respect of damage, loss or injury which might result from it.  To the best of my knowledge the routes are entirely on public rights of way or within areas that are open for public access.
Walking can be hazardous and is done entirely at your own risk.  It is your responsibility to check your route and navigate using a map and compass.