One of the reasons for visiting this area is to walk parts of the Peak District we haven't previously visited.  Over the years we have stayed in this area a few times and whilst enjoying the walking I have always thought it comes a poor second to the Yorkshire Dales.  However as so many others rave about it I have obviously been walking in the wrong places.

After spending some time looking at the map I opt for starting our walk from Hathersage I have read this is a mecca for walkers and a good starting point for a walk to Stanage Edge. We start from a car park on Oddfellows Road near the centre of the village and take a cut from the car park to walk through to the main road and then turn right to walk uphill taking a footpath sign on the left that leads along Baulk Lane. We follow the track away from the village and continue as it turns into a grassy path that  passes Brookfield Manor.
On reaching a gate we go through and cross a road, Birley Lane, and head through a gate on the opposite side.  We are now getting a good view of Stanage Edge to our right.  It looks quite formidable from here.
After passing through fields we reach woodland and continue besides a stream until we get to a footbridge. Here we meet some tourists from what was once called the Orient who are clearly not dressed for walking in the Peaks so are presumably just taking a stroll from Hathersage.  We wait whilst they take the obligatory selfies on the bridge. I am at a loss to understand the selfie craze, okay, if you are on your own I appreciate you might want a picture of yourself at a location, but when your mates are standing ten feet away why not ask them to take your picture? Also why walk along looking at everything through your phone attached to a stick rather than just appreciating everything around you?
We have taken a couple of selfies to see what we are missing out on.  The result is an odd looking couple with big beaks.  Perhaps that is what we really look like, if so I would rather take pictures of the views without my proboscis getting in the way!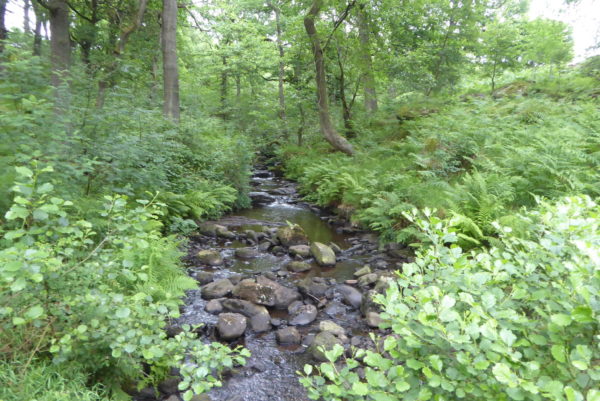 We now follow the way-marked path in a northwesterly direction towards Green's House where we join a track and turn left for a few yards and then take a turning on the right through a gate.  We head uphill pausing to admire the view behind us.
The path is clear and signed.  Reaching a minor road, we turn left and pass lots of parked cars, these are the overflow from the small Long Causeway car park.  Usually in these situations Lynnie asks why our walk didn't start from the car park rather than two miles away!
As we turn right along a track there are a couple of blokes on bikes busily looking at their phones, they ask for directions back to Sheffield.  I have no idea which way they need to go, they both look knackered so after consulting my map I point them in the direction of Ladybower reservoir.  Over the last six months I have increasingly used the OS Maps App whilst walking, but there is always a paper map and compass in my rucksack in case I need it!
Walking up the path we are heading straight for Stanage Edge.  I have never been here before and I am starting to appreciate why people rave about the area.
We climb a ladder stile on the left to follow a well-worn path through the bracken that goes uphill under the grit stone edge.  We start to see discarded millstones.  According to the Peak District National Park website this area has a tradition dating back to the 14thcentury of millstones being quarried.  Such stones were used to grind corn for flour. However, the rock in this area discoloured the grain so there was a move to import French quartz stone that left no colour in the milling process.  The stones here were, therefore, discarded and make a stunning addition to the scenery.

We soon realise why the car park was so busy, the rock face is swarming with climbers.  This is a hobby that has never interested me.  I appreciate it may be exhilarating to climb up a sheer face, but it must also be terrifying.  I have spent the best part of the last sixty years trying to avoid terrifying things.  Although I once spent a Thursday night in Wakefield and that was a bit scary!
There are numerous options to head up onto Stanage Edge but we continue on for a bit before picking a route and making our way through the boulders and then turn back to walk along the edge towards High Neb, this is a stunning spot.
There are a number of people wandering around, with more appearing over the top as they complete the climb up the face.  We soon arrive at High Neb trig point (number sixtyeight bagged).
We walk along the edge admiring the extensive views.  Only ten miles from Sheffield this is a popular spot and there are plenty of people about, but it does not detract from our enjoyment.
We turn left at a track to make a diversion to Stanedge Pole, also known as Stanage Pole.  There has been a pole here for centuries marking the boundary between South Yorkshire and Derbyshire and it also served as a way-maker on an ancient packhorse route known as the Long Causeway.
The current pole was erected in 2016 and is made from a local larch tree; it replaces a pole erected in 1915.  Apparently the first record of a pole at this site dates back to the 17thcentury.
The pole is marked on the OS Map as a trig point; however there is no pillar here and there is a debate amongst the trig point community as to whether it really counts as a trig. I take the view it is a trig, because the OS map says so and therefore bag it as my sixty-ninth.
From the pole we were intending to follow a southwesterly route marked on the map across the moor towards Robin Hood's Cave, but a notice requests people do not cross the moor to reduce wear.  Instead we retrace our steps along the track and then turn left to continue along the edge.
Our next stop is at Stanage Edge trig point, number seventy for me.  This is a cracker set into a boulder.
From here we continue on the path descending gradually to a road at Upper Burbage Bridge.  After crossing the bridge we go through a gate on the right and follow a track below Burbage Rocks.
At a junction of tracks we turn right and follow a well-defined route through the bracken to cross a stream on an old bridge.
Then it is uphill to Carl's Wark hill fort.  The exact history of this site is unclear but it is thought to have been a Bronze Age settlement and then adapted in medieval times. Apparently there is limited evidence that it was permanently occupied with suggestions it was either a ceremonial location or a refuge.
It is tempting to stop and explore, however, we have already walked further than intended and the weather is looking a little ominous.  Instead we follow a path heading west and then south through marshy land.  I have made the classic mistake of following an obvious route without checking the map and soon realise we are heading in the wrong direction.  Rather than admit to my mistake I plot a route that sees us circle back.
At a junction of paths we head uphill to Winyards Nick and then at another junction of paths turn right to head north along this clear route to a road.  We cross and take a track almost opposite that leads us downhill around Callow to another road.
There is a footpath on our left, that would take us through Dale Bottom, but it is not clearly marked on the map.  We have been out for over four hours and Lynnie is now keen to take the shortest possible route back so we opt to walk downhill besides the road, The Dale. There is not much traffic and it is not too long before we reach the outskirts of Hathersage and wind our way back through the village to the car park.
We have walked for almost twelve miles, I started the day wondering why some folk are so enthusiastic about the Peak District and have now started to appreciate why.   Time now to return to the Coachman and scour the map for another walk on the moors!
To view this 12 mile walk on OS Maps Click Here
To follow our walk you will need Ordnance Survey Outdoor Leisure Map 1 – The Peak District – Dark Peak Area

17th June 2018
© Two Dogs and an Awning (2018)