Since arriving at Tax Farm we have walked through Matlock a couple of times but not really stopped to have a look around.  I have a few things to do around the caravan so drop Lynnie down into the town to wander around for a few hours.  By the time we are ready to head off for a walk it is mid afternoon so we decide to make the short trip to Chatsworth to have a walk around the estate.
There are two reasons for heading this way; we know it is a pleasant place to wander, and on route we pass an outdoor clothing outlet shop.  When I was working, clothes shopping usually entailed buying suits, ties and shirts. These days it is totally focussed on walking gear and having recently moved into the category of pensioner I have a keen eye for a bargain.  With our reduced price purchases stowed away in the car, we head off to Chatsworth.  By the time we arrive at Carlton Lees car park the attendant has long gone and there is no charge.  A perfect outcome for me, "I am a pensioner you know".
We start our walk by leaving the car park and heading towards the grounds of Chatsworth House by crossing the B6012 and then going through a gate into the estate grounds. We head down towards the River Derwent passing the disused corn mill.  Apparently this was built in the mid eighteenth century and was worked until 1950.  Falling trees, in a storm, damaged it in 1962, but despite its dilapidated state it is a fine building.
Water was provided to the mill by the creation of a weir on the river and through underground tunnels. Nowadays the weir looks decorative and it would be easy to assume this was its purpose rather then industrial.
We stroll by the river, making a slight diversion around a fenced area that was used for an RHS flower show last week.
We walked here a couple of years ago when parts of the house were covered in scaffolding this work has been completed.  Chatsworth House is a very grand place, one of the few stately homes I have visited. Normally Lynnie tours around such houses and gardens whilst I take the dogs for a walk, but many years ago we visited without dogs and were both able to look inside.
For those interested in the history of the house there is loads of information available on the internet, suffice for me to say that work on the original house commenced in 1553 and it has been the seat of the Duke of Devonshire ever since.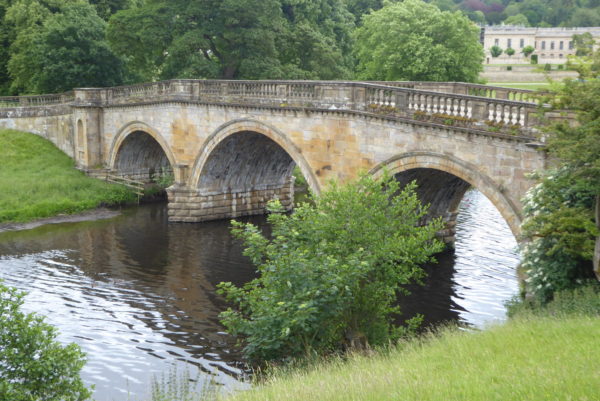 At the bridge over the River Derwent we turn left rather than cross it and walk through the estate to the village of Edensor.  This village has an interesting history.  Originally it stood closer to the River Derwent on the Chatsworth Estate, but this was a bit inconvenient to William Cavendish, 6thDuke of Devonshire, because it spoilt his view.  So he decided to relocate the village over the hill out of his sight!  The result is a picturesque village.
After strolling up through the village we return to the park and head south on a waymarked path that runs close to the B6012 we stay on this route as it veers away from the road to head steadily uphill towards New Piece Wood.  There are fine views from here back towards the house.
We enter New Piece Wood through a high gate.  About thirty years ago Lynnie and I visited the Peak District, it was pre internet days and in those days we did not book bed and breakfast in advance, just looked for signs and knocked on doors.  We had tried a few places without success and were getting a bit worried when we drove by the Monsal Head Hotel.  The Hotel did not appear very open and to be honest looked in decline, but we were able to secure a clean and confortable room with a stunning view down the Monsal Dale. We passed the Hotel the other day and it has been refurbished, a quick check on the internet shows that booking the same room now would cost us about £150 per night!
I digress, on that trip thirty years ago we passed through this gate and Lynnie posed for a picture, in those days we were young and in love, now we are much older, but still in love! (Lynnie edits all my blogs so this might be viewed too soppy to reach the final edition!).
We continue along the track through the woods reminiscing, emerging from the trees we look to our left to see Russian Cottage. This is a Russian style house built by the Duke of Devonshire to signify his friendship with the Tsar. Apparently in 1855 the Tsar gave the 6th Duke of Devonshire a model of a Russian Farm, and the Duke decided to replicate the model by building a full size cottage.
We follow the path downhill and then at a junction of paths turn left passing Carlton Houses and then continuing along the track to Carlton Lees.
On entering the village of Carlton Lees we turn left to walk by the garden centre and then back to the car park.  Our little stroll has covered four and a half miles, which is a short distance for us, but still an enjoyable walk evoking some happy memories.
To view this 4.5 mile walk on OS Maps Click Here
To follow our walk you will need Ordnance Survey Outdoor Leisure Map 24 – The Peak District – White Peak District
18th June 2018
© Two Dogs and an Awning (2018)