I am walking on my own again today, it is Lynnie's birthday and she is out with our daughter Lolli for the afternoon.  My heel was less painful this morning as I went about my duties on Cholsey Grange CL so I have decided to venture a little further whilst still resisting the temptation for a good jamabout.

I head out of Cholsey Grange along the driveway to Ibstone Common, as I pass the cricket field the wicket is being prepared for a game.  I have yet to catch an afternoon's cricket when I could wander up and watch for a couple of hours.
I played village cricket for the best part of thirty years, I was fortunate to play with some cracking cricketers, but as everyone knows you need eleven to make a cricket team.  I managed to get through a career with limited ability, apart from being handy in the field, and even captained the team for a number of years.  A bad back and the realisation that my place in the team would be better served by a much younger player ended my career.
For a while I kept my whites in the hope that I might play again, but after ten years realised this was never going to happen.  Now if I come by a game I can happily sit and watch for a while.  Being part of a cricket team makes great friendships.  At a recent reunion dinner I met chaps I had played with twenty years ago and not seen since, but within minutes the old banter was back.  I do miss it!
Passing the cricket ground I carry on along the lane and after passing Hellcorner Farm follow the bridleway which forks to the left where the tarmac lane continues to a private driveway.  I walk downhill on this broad path before taking a footpath on the right leading off the bridleway.  After going through a gate I enter a cracking bit of chalk downs land.
Continuing over a stile I head across a field and then through a band of trees before crossing a track and entering another field to reach a stile.  Then I head the short distance through the trees to cross a tarmac lane and join a track.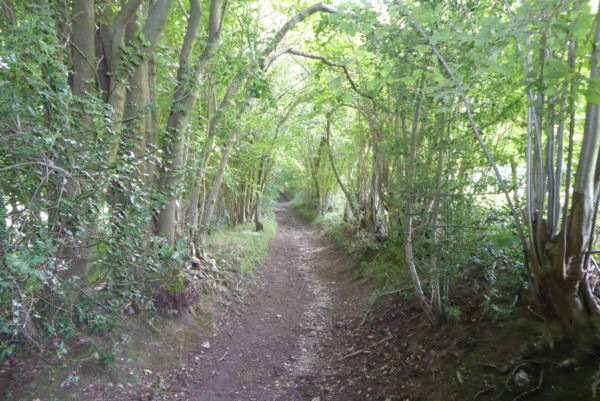 The track climbs steadily, this is an old route cut into the chalk and it goes through a stunning beech copse as it heads towards Turville Heath.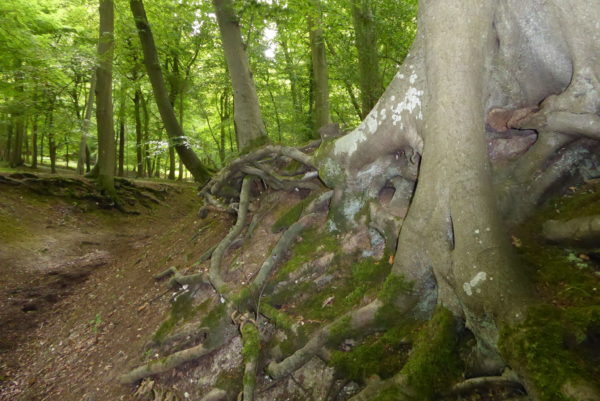 Arriving at Turville Heath I continue straight on, passing a striking dead tree.  Trees, of course, are better alive, but it is good to see dead trees left as they provide great habitat for wildlife and make a magnificent contrast.
At a minor road I turn left, keeping straight on at a junction and then as the road sweeps to the right I carry straight on towards Turville Court.  Where the tarmac ends I take a footpath on the left and after a hundred yards or so take a path on the right leading through Churchfield Wood.
This is a new path for me; it heads through another wonderful bit of woodland as it descends gradually to emerge at the edge of a field.  Looking at the view along the valley I see what, at first glance, looks like dead tree branches in the corn.  But looking more carefully I see it is a herd of deer and the "branches" are actually stag's antlers.
The stags are relaxed in each others company, but come the autumn when the rut starts things will be a bit different.  Although we are standing completely still, at the edge of the woodland, the deer sense our presence and become wary.  It is great to pause here and observe them for a while.
Turning right and following the path along the edge of a field I go through trees and on reaching a tarmac road turn right into Turville.  I will now follow the route that Lynnie and I walked the other day from Turville to Cholsey Grange.
Passing the Church I take a footpath on the left before the Bull and Butcher pub.  This path leads between cottages to a kissing gate; I go through and immediately take another kissing gate on the right.  This clear path leads across Turville Hill downs below Cobstone Mill.
Through another kissing gate and I am on a wooded path leading to a minor road.  I cross joining the footpath opposite to walk through Mill Hanging Wood; at a fork in the path I go left to carry on through the trees.  I descend into the bottom of the valley and turn left following the well-defined path along the valley bottom.
This path abounds with bees and butterflies. I stop and look at a Small White.
Since buying my new Panasonic TZ70 I have spent more time taking pictures of wildlife.  Previously I just looked, but this camera makes it easy to take good quality shots.  I am a total amateur when it comes to photography, so just being able to point and click is perfect for what I need.
I walk into Twigside Bottom and meet two women who have lost their bearings so they join me as we enter Penley Wood.  It is interesting to walk and chat for a while with strangers.  These two are book publishers and I quickly ascertain that writing walking books is a crowded market.  I will stick to blogging.
We take a footpath on the left back towards Cholsey Grange and part company as I turn left to follow the farm track back to the CL.
It has been a cracking little jamabout of just over seven miles, just time to ice my foot (in the hope of walking further tomorrow) before donning my gladrags and taking Lynnie out for a celebratory birthday meal.
To view this route in OS Maps Click Here
To follow our walk you will need Ordnance Survey Outdoor Explorer Map 171 Chiltern Hills West
16th August 2017
© Two Dogs and an Awning (2017)