We arrived at Golden Valley House CL on Friday to a very warm welcome from Vic and Kate. They have great knowledge of the area and were able to advise on some local walks. They suggested a walk from the site covering a couple of miles around local fields.
The weather so far this week has been showery and we have been doing long walks during the day so my morning walks have been brief strolls up the local lane. Today a sunny day is forecast and we have an eight mile walk planned for after lunch, so as it is a cracking morning I decide to do a longer early morning circuit.
I turn left along the lane from the site and continue to reach a bridleway on the right, into Stoneyard Lane.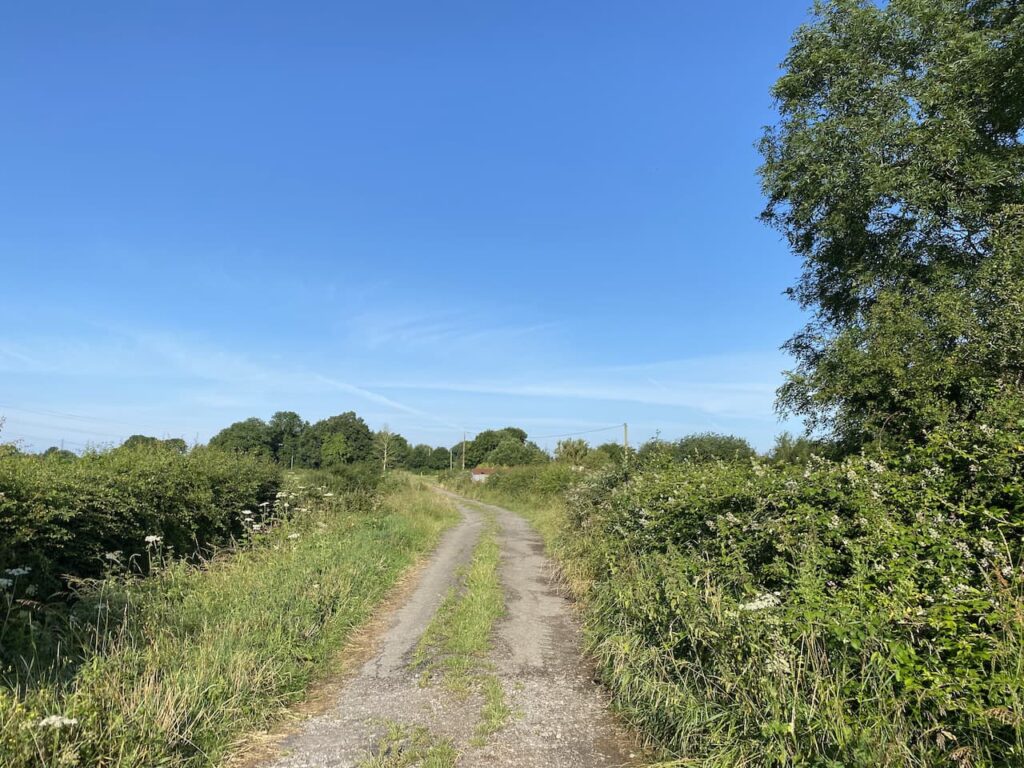 I stay with the lane ignoring footpaths to the left and right to reach a gate on the left with a way marker on the post. From the gate I head across a meadow.
The path goes through another gate and then goes to the right before bending to the left on a farm track. The path continues to the right along a track on the ridge besides Rockhampton Rhine drainage ditch. This is one of the many ditches that keep this low lying area of land drained and suitable for agriculture and habitation.
At a footpath on the right I go through a kissing gate and follow the path along a grass bank, still with the drainage ditch to my left.
I now stay on the grass bank as the footpath navigates a series of kissing gates. It is a beautiful morning and I have not seen anyone. The path leads to two sets of gates and a minor road. Opposite me is the office of the Lower Severn Internal Drainage Board. This is the public body responsible for ensuring the drainage and biodiversity of the flood plains of the River Severn.
I turn right along the lane to reach a crossroads where I turn right into the Naite and walk the few hundred yards back to the caravan. My walk has covered just under 3 miles and has been a cracking start to what looks like a gloriously sunny day.
You can view this 3 mile walk on OS Maps and download the GPX File Here
To follow our walk you will need Ordnance Survey Outdoor Explorer Map
14th July 2021
© Two Dogs and an Awning (2021)
ll information on this site is provided free of charge and in good faith and no liability is accepted in respect of damage, loss or injury which might result from it.  To the best of my knowledge the routes are entirely on public rights of way or within areas that are open for public access.
Walking can be hazardous and is done entirely at your own risk.  It is your responsibility to check your route and navigate using a map and compass.