After yesterday's exertions in the heat Lynnie has decided she needs a day off and declines joining me on my exploration today.  I think it may have been my muttering about walking across a moor and visiting a couple of trig points that put her off!

The starting point for today's walk is the small car park close to the dam of Ramsden Reservoir.  This is a short drive from Holmfirth where I dropped Lynnie.  I leave the car park and take the footpath that heads eastwards uphill besides a plantation.  At a junction of paths I ignore the stile in front of me and turn right and soon join a well-worn track.
This track is obviously a favourite with people using off road vehicles, there are notices prohibiting such use but the way the track is eroded suggests these are being ignored. I drive a Land Rover, which is well capable of going many places other cars cannot. I have been on a couple of Land Rover experience days and know its capabilities, but I would not consider for one moment driving it along old byways.
After going through a gate the track continues between walls, it is now a grassy and at times boggy route.
The views ahead of me up Ramsden Clough are stunning.
The path continues to climb gradually and the Riding Wood Reservoir comes into view below me; this small reservoir was built in 1878.
I now proceed through the remains of a disused quarry.  It is interesting how over time nature resumes control and seeks to repair the scars on the landscape.
For a short section the path climbs steeply besides a fence before turning right to continue along Ramsden Edge to reach Ruddle Clough.
After heading up through Ruddle Clough, I reach a fence with a stile onto the moor.  This is access land but I seek to follow the route others have previously trodden towards the trig point at Snailsden Pike End.  To my left is Snailsden Reservoir; built in the 1890's this reservoir has a capacity of 43,210,503 gallons of water.
Finally reaching the Ordnance Survey trig point I take in the extensive views, it is a fine, clear day and I can see for miles.  This is the fifty-sixth trig point I have bagged.
From here I head west across the moor on a faint path towards the boundary fence. Along the way I bump into a Mountain Hare which sits patiently whilst I take a picture.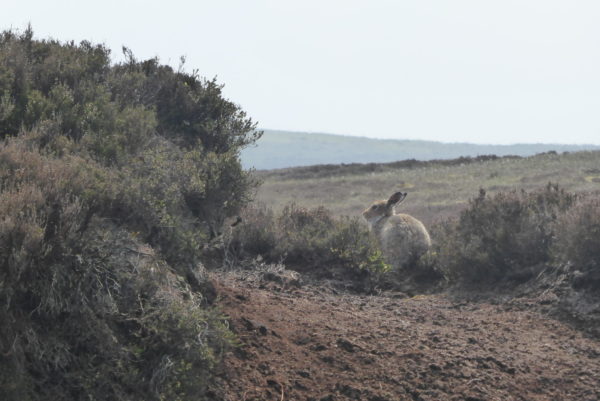 At the boundary fence I turn left and follow it along Withins Edge until I reach the trig point at Dead Edge End, number fifty-seven I have bagged.
The views from this trig are extensive, however, it has turned slightly hazy so I do not get the clear views I hoped for.
My route continues along the pathway besides the boundary fence and then as the fence turns sharply to the right I continue on a path to reach a track running above the route of the Woodhead Tunnels.  From the moor the only indication of the disused tunnels are the air shafts.
I now head east along this track above the significant engineering feat of the three Woodhead Tunnels.  The first tunnel was completed in 1845 for the Sheffield, Ashton-under-Lyne and Manchester Railway at the time it was the world's longest railway tunnel at 3 miles and 13 yards.
The second tunnel was completed in 1852 for the Manchester, Sheffield and Lincolnshire Railway.  Neither tunnel was suitable for electrification so they closed when the third tunnel opened in 1953. This third tunnel closed to passenger services in 1970 and the last train ran through it on 17 July 1981.
The National Grid uses the tunnels for cables, but there have been proposals, yet to come to fruition, to reopen the rail line to provide a much-needed trans Pennine link.  I am sure there are significant costs involved in re-opening a disused tunnel, however, it seems ludicrous not to utilise serviceable infrastructure to benefit the northern economy, whilst at the same time spending billions on HS2 to cut a few minutes off the journey time between London, Birmingham and Manchester.
Following the track I eventually reach a tarmac lane and turn left along it to make my way to Winscar Reservoir, which was built in 1975.  Walking across the dam I meet a woman walking her dog in the opposite direction.  She tells me she has not been here since the 1970's, it transpires that she worked for Yorkshire Water and was involved in the project to build this dam.  The chance to talk to some one actually involved in such a project is too good to miss, she is very happy to talk and I am more than happy to listen.  Apparently in the building of this reservoir the smaller Dunford Reservoir built in 1850 was submerged.  So underneath the water is another dam.
I head on feeling grateful for such a chance encounter; it would have been so easy to pass each other with just a greeting or nod of the head.  By stopping I learnt a lot about the construction of this and other dams I have crossed in recent weeks.
The route continues through the reservoir car park to a minor road where I turn left and head uphill.  There are great views back across the reservoir.
I leave the road at a footpath sign on the left and follow the route through a disused quarry.
Eventually I join another minor road and turn left, now I have moorland on my left and a forest on my right. I stay on this lane until I reach and turn down a track on my left, known as Ramsden Road.  This broad track heads in a north westerly direction.
At a point where the track starts to head more steeply downhill and turns left there are fine views of Ramsden Reservoir. Instead of following the track to the left I continue straight on along a footpath.
My route is now straightforward, following the way markers through fields of pasture.
After a few fields I reach the stile that was in front of me at the start of my walk.  I cross and follow the path the short distance down to the car park.  It has been a stunning walk of nearly eleven miles.  It is late in the afternoon so I need to head back to Holmfirth to pick Lynnie up and find out what she has been up to all afternoon.
To view this 11 Mile Walk on OS Maps Click Here
To follow our walk you will need Ordnance Survey Outdoor Leisure Map  1  –Peak District – Dark Peak Area.

21stMay 2018
© Two Dogs and an Awning (2018)