Whilst staying in Minehead in October last year Crosby and I walked from the site to Dunkery Beacon. I was hoping for a clear day to appreciate the views from the Beacon but as I was walking the weather closed in and I struggled to see as far as the North Somerset coast. I am heading towards Dunkery today but don't plan to go to the summit.
The start of my walk follows the route I took yesterday, leaving the site I turn left and walk uphill along the pavement besides the A39, Hopcott Road. I keep with the road until I reach Periton Cross. Here I turn left and take a bridleway on a track into Periton Combe.
Soon I reach a metal barrier preventing vehicle access to the Combe, it has an information board about Dunster Woods attached to it.
The path follows the track and then starts heading uphill. There are forestry tracks in the woods but I keep with the way-markers for the bridleway as I ascend through the trees.
It is a long steady haul up Periton Hill to reach Wootton Common, I was a bit chilly at the start of my walk but I soon warm up and start shedding layers.
At a fork in the track, as is reaches the edge of open land on Wootton Common, I fork to the left, still going uphill to reach a junction with a track running along the top of the hill where I turn right.
At a fingerpost for Wootton Courtenay I turn left onto a track initially passing through Pine woods which are dark and featureless but at a junction of paths I turn right into a cracking area of Beech woodland.
The path I am now on is marked on the map as Roadway Lane, this soon becomes a stunning sunken track descending steeply into Wootton Courtenay. Such tracks will have been used for centuries and it would have been a challenging journey dragging a cart up this hill to reach Minehead.
The track enters the village and passes the community hall and then reaches a road. Here I turn right and then very soon take a lane on the left which is signposted to Brockwell and Ford. This lane leads to a cattle grid with a gate beside it and then continues on to reach Brockwell. At a T-junction I leave the road and take a bridleway with a fingerpost to Dunkery Beacon.
The bridleway ascends gradually and then goes through an attractive area of woodland.
At a junction of tracks I continue straight on, still going uphill and then emerge from the trees. It had been my initial intention to turn right here and head towards Horner Wood, but it is such a pleasant day that I decide to head further up Dunkery Hill. So I continue straight on making a gradual ascent through the heather.
As I head up I decide that despite my initial plans I will walk to the summit of Dunkery Beacon. This is often a feature of my solo walking, I have a rough idea of a route but at a junction of paths will go wherever the mood takes me. So on reaching a minor road I cross and then pass a metal barrier to continue on towards the beacon.
The ascent is now easier and there is a chance to take in the stunning views. Reaching four Exmoor ponies I realise I have now seen more ponies than people on my walk.
Heading towards the summit I see there are folk up there, but by the time I stop to look at the toposcope near the beacon they have moved on. I do like a toposcope, not as much as a trig point, but they are always an interesting feature on a walk.
In recent times the beacon has been repointed and it looks a bit stark until it weathers in. This is the highest point on Exmoor and Somerset and as you might expect it is a bit breezy up here, but the last couple of times I have been here I have struggled to stay upright against the wind.
Dunkery Hill forms part of the Holnicote Estate which was donated to the National Trust by Colonel W.W Wiggins in 1932. The views from the summit are outstanding and today I can see all the way across to South Wales.
Close to the cairn a chap has what looks like a radio transmitter and aerial. We have a brief chat and he explains he has been there a couple of hours and has been speaking to people in Europe and now is in a conversation with someone on the Brecon Beacons. It must be a chilly hobby to participate in.
I leave the summit following a path downhill heading north towards the coast.
I ignore paths to the right and continue downhill towards a path marked on the map as Dicky's Path.
On reaching the junction with Dicky's Path I turn right to head towards Aller Coombe. I later try, without success, to find the origins of the naming of this path.
I follow the path into the combe and cross a ford around the head of the combe and then continue on to reach Hollow Combe.
From this Combe I stay with Dicky's Path to reach the large parking area at Webber's Post. This is another spot with stunning views.
From the car park I join the Coleridge Way and follow the way-markers for this long distance path as it leads through Horner Wood.
The Coleridge Way is a route based on the path said to have been walked by Samuel Coleridge from Nether Stowey on the west side of the Quantock Hills to Lynmouth. This section goes through attractive woodland reaching a minor road on the outskirts of Horner after going through a deer proof gate.
At the road I turn left and walk through the hamlet, continuing along the road to reach a footpath on the left. Here I take a short diversion to view the pack horse bridge over Horner Water.
Returning to the road I turn left and head north towards West Luccombe. Before reaching the village I take a footpath on the right heading east across a field of pasture.
The way-marked route leads through kissing gates into another field and then follows the fence line to further fields to reach a minor road.
I turn left along the road and follow it to Piles Mill. This is a 16th century corn mill with an overshoot watermill. In the 1930's and 40's it was used as a cider mill and is now a National Trust visitor centre.
After passing the mill I cross the A39 and walk into Higher Allerford and then take a track on the right which leads steadily uphill towards Selworthy. There are great views from the track looking over the route I was on earlier today.
I pass fine old barns on the outskirts of Selworthy and then reach a road where I turn left and head uphill to pass the village church.
After passing the church I continue along the single track lane to reach a crossing of tracks at Dean's Cross, here I continue straight on along the narrow lane to reach a junction of footpaths on the edge of Little Headon Plantation. I go through a gate straight in front of me to walk along the northern edge of the plantation.
Heading along this footpath I get a cracking view of North Hill away to my left.
The footpath leads into a pasture field where I continue with the hedge line to my left until I reach a way-marker which indicates the path goes through a gate and then downhill on a fenced path towards a minor road.
At the road I turn right and follow the lane heading back towards Minehead, soon I pass Bratton Court and then continue straight on to stay with the road to reach housing at Woodcombe. At a road I turn left and then very quickly take a path besides a stream through a park.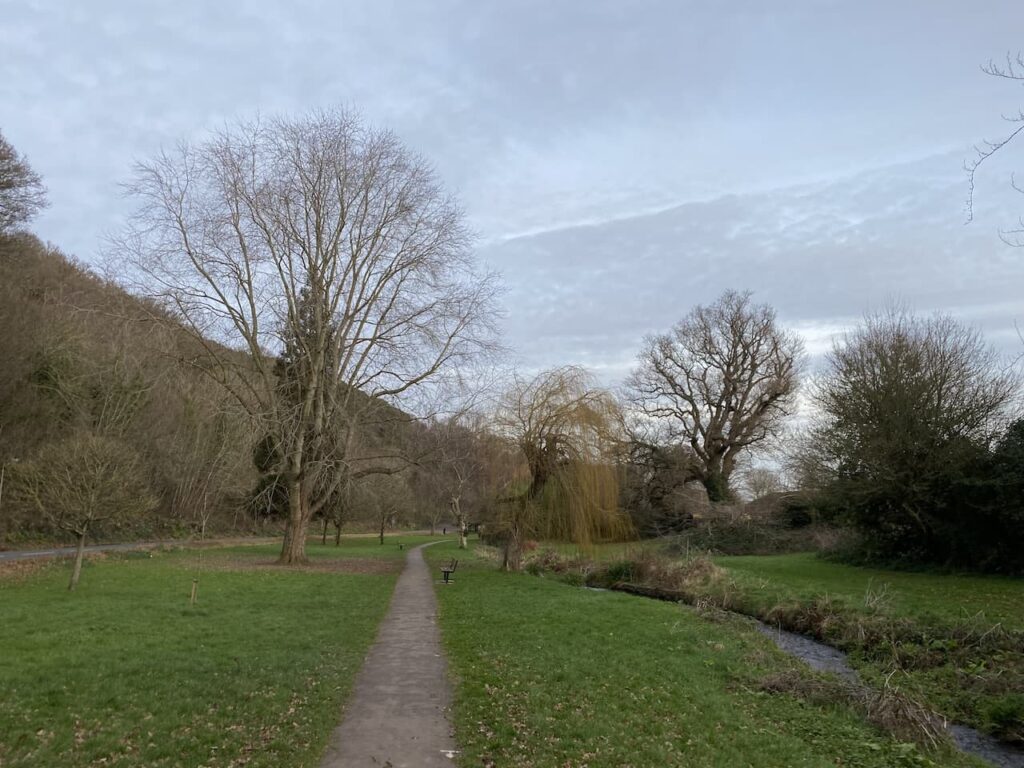 At a road I turn right and then almost immediately left to continue following the stream through another park. The route is marked as the Parks Walk and leads me to the outskirts of Minehead where I turn left and walk into the town centre and then wend my way back through the streets to reach the caravan park.
My walk has covered 17 miles which is further than I had intended when I set off, but it has been a cracking day to be out and I have walked through some stunning scenery.
You can view this 17 mile walk on OS Maps and download the GPX File Here
To follow my walk, you will need Ordnance Survey Explorer Map OL9 – Exmoor
11th February 2022
© Two Dogs and an Awning (2022)
All information on this site is provided free of charge and in good faith and no liability is accepted in respect of damage, loss or injury which might result from it.  To the best of my knowledge the routes are entirely on public rights of way or within areas that are open for public access.
Walking can be hazardous and is done entirely at your own risk.  It is your responsibility to check your route and navigate using a map and compass.