One of the advantages of being in this area is that we are not too far away from our caravanning friends Richard and Trudie.  We first met them a few years ago whilst staying at Cholsey Grange CL and have kept in touch ever since and meet up when our travel plans coincide.  We last saw them in September whilst staying at Brigholme Farm CL, Giggleswick in the Yorkshire Dales.

This morning Richard and Trudie pop over for a cup of tea on their way to Ely and when they leave take Lynnie with them, she is planning to have a wander around the town. I am left to go walking with the dogs, boots on and lunch packed I am soon heading off.
Leaving Heatherbield CL I take a right turn and then after passing the restored windmill take another right turn along Cowbridge Hall Drove and continue along this as it turns into Brick Kiln Lane.  This road skirts the edge of the village at a junction I turn right along California to leave the village.  By California Farm there is an interesting piece of farm machinery, not something I have come across before but I assume it is something to do with harvesting root crops.
After passing Park Farm I follow a footpath on the left opposite the junction with Black Bank Road.  This path soon turns to head west besides a drainage ditch.  I have already sussed out that most paths in these parts follow a drainage ditch.  I ignore a footpath sign on the left and continue straight ahead to a junction of paths where I turn right to join the Hereward Way.  On my left is a major set up for horse jumping with a whole array of different jumps.
After crossing a bridge over the Thirty Foot Drain I continue to reach a minor road at Dunkirk Bridge.
Here I turn right and walk a few hundred yards along the road to re-join the Hereward Way, which is way-marked on the left.  I was previously unaware of the Hereward Way,  a 100-mile long distance trail that links Oakham with the Peddars Way at Knettishall Heath, near Thetford.   It derives its name from Hereward the Wake, the 11th century leader who fought against William the Conqueror; he was based on the Isle of Ely.
The track I am now on is A Furlong Drove, it soon reaches a gate to cross the railway line; Stop, Look, Listen.  Further along in a field to my right a tractor driver is ploughing.  I stop and watch, when I was a nipper over forty-five years ago I worked on a farm and did a bit of ploughing.  That was on chalk downland where you had to be careful because there was only a shallow depth of soil before you hit chalk and flint. Watching this is amazing; it is just rich soil, without a sign of a single stone, let alone huge flints!
On reaching Short Drove I go straight across to join Head Fen Drove and then at Headfen Farm turn left to follow a ditch called Engine Basin towards the Hundred Foot Pumping Station.  Since leaving Little Downham the drainage ditches have steadily increased in size as they head towards the pumping station.
The pumping station is impressive, built in 1830, it was originally driven by steam engines.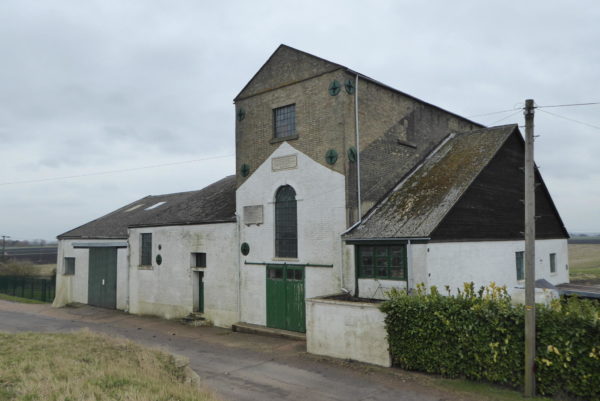 A stone plaque on the front of the building provides a chronology of the pumping on the site.  In 1756 there was a windmill here, then in 1830 the first steam engine was installed, over the years various steam engines were used they had the capacity to discharge 200 tons of water per minute.  If my calculations are correct that is around 44,000 gallons, which is a lot of water.
In 1926 a diesel engine was installed in a separate house as an addition to the steam engine.  Then in 1951 a second oil engine replaced the steam engine.  I walk up the bank of the Hundred Foot Drain and expect to see the Ouse Washes Nature Reserve.  But all I can see on the other side of the drain is water.
It is an amazing site as I walk southwest along the bank of the drain.  There is an incredible amount of water, but I assume that as this is such low lying land the flood plain might not be that deep.  The railway line running across the plain stands high above the ground.
As I head towards Oxlade Farm I see a large flock of water birds in the field to my left.  I initially think they are swans, but there are so many I revise this to geese.  Getting closer I decide they are swans, but different to any I have seen previously.  I start to count them; I get to two hundred and decide that there must be well over a thousand.  Later research reveals they are over wintering Whooper Swans.
I leave the bank at Oxlade Farm taking a footpath on the left towards Pymoor.  As the track approaches Pymoor it joins School Lane, at the corner is what remains of the old Pymoor School.
At the end of the lane I turn left into Pymoor and then right to walk through the village.  After leaving Pymoor I take a footpath leading through Barcham Farm.  The route around the barns is not clear, but by a process of elimination and reading the no entry signs, I find my way along a track through discarded old trailers and other vehicles.  After crossing a bridge that appears to be used infrequently the map shows the path goes straight ahead.  However, the field has recently been ploughed and crossing looks to be virtually impossible so I turn right and then left to follow the edge of the field to reach Adventurers Drove.
Apparently the Adventurers were individuals who along with the 4th Earl of Bedford funded the scheme to create the two cuts across the Cambridgeshire Fens that joined the Great Ouse River to the sea at King's Lynn.  The two cuts were known as the Old Bedford River and the New Bedford River, the later was also called the Hundred Foot Drain.  In return for their investment they received a return on the drained farmland.  These days they would be called Venture Capitalists.
There are three wartime pillboxes situated close to the road.  Seeing so many close together is a bit odd given that I have not seen any others on my walk.
Just after the pillboxes I take a track on the right across Bywell Fen aiming for Bywell Fen Drove, however despite the OS map showing the two footpaths joining I am soon confronted with a drainage ditch.  There is no way to cross so I skirt the field thinking the crossing might be further along, but sadly not.  I head back to join Adventurers Drove and turn right.  On reaching Westmoor Common I turn right and follow the B1411 back to Little Downham and soon see Ely Cathedral in the distance.
Entering the village I pass the Plough pub, it looks like pubs used to from the outside.  I will have to see if I can get Lynnie to venture out later for a bit of refreshment.
From here it is a straightforward walk through the village back to Heatherbield CL.  My afternoon jamabout has covered 12 miles, a few interesting things along the way, but it has been a bit too flat for my liking.
Back at the caravan I check my emails and discover that my recent application to become a Proper Job Ambassador, for Proper Job Ale has been successful.  This role comes with a number of key responsibilities, which include sampling Proper Job Ale whenever the opportunity arises and telling others about the quality of this beer brewed by the St Austell Brewery.  When I go and collect Lynnie from Ely I will have to see if I can source a bottle or two to replenish my stock.  Cheers!
To view this 12 mile walk on OS Maps Click Here
To follow our walk you will need Ordnance Survey Outdoor Explorer Map 228 – March & Ely

10th March 2018
© Two Dogs and an Awning (2018)