We are at the end of our tour, after thirty-one nights we are heading back home tomorrow.  But before we do there is time to fit in one final walk in the Yorkshire Dales.  If I was ever on the walking equivalent of "Desert Island Discs", which I suppose would be "Desert Island Walks," I would struggle to choose my favourite eight walks, but I know which one would top the list; a walk up Ingleborough.

I have walked this peak numerous times over the years, but I never tire of making the ascent. My starting point today is from the village of Clapham. My route from the village is through the Ingleborough Estate Nature Trail.
After passing Ingleborough Cave I continue along the track to go through a gate at the foot of Trow Gill.  Instead of continuing on the track I take a right turn here to follow a pathway besides the dry stone wall.
Staying by the drystone wall I head up a steep short incline before heading diagonally left over a field towards a gate, I am now on the Pennine Bridleway.  Following the track around scars I then take a left fork to join the Dales High Way following the grassy track as it goes through an area of limestone pavement.
I have walked this path many times but I am still amazed that a three trees can have established themselves in the harsh surroundings.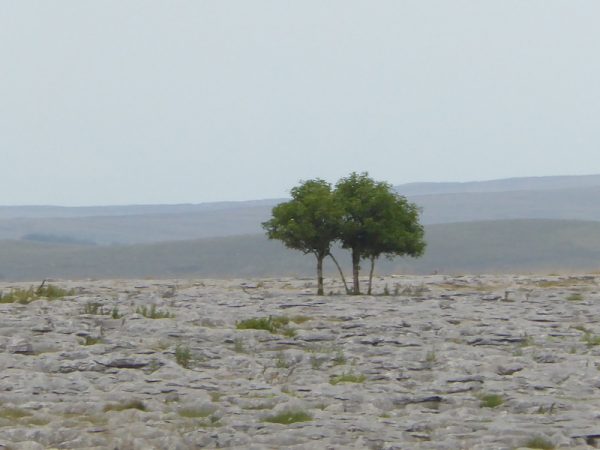 At Nick Pot the Dales High Way joins the Three Peaks Path.  I now turn left and follow the clear route as it starts a long gradual ascent of Ingleborough.
This route up Ingleborough is probably the easiest; apart from the final section there are no steep inclines.
On reaching the plateau on the summit of Ingleborough I wander across to the trig point.  Of the 153 Ordnance Survey trig pillars I have bagged this is the one I have visited most.
It is a clear day and there are some cracking views from this summit.
The route I take down is the clear path leading towards Little Ingleborough.
At the cairns at the top of Little Ingleborough I stay on the main path leading downhill towards Gaping Gill.  Below me the path is clearly visible.
Just before Gaping Gill I fork right and follow the path to reach a gated wall stile.
Through the gate I turn right and follow path which runs besides a drystone wall to reach Trow Gill.
Taking care on the rocks which have been polished smooth by the wear from heavy footfall I descend to the gate I passed through earlier.
My route now retraces my steps along the track through the Ingleborough Estate to reach Clapham.
My walk has covered 10.5 miles, and as always has been thoroughly enjoyable.  Apart from meeting a few people wandering through the Ingleborough Estate I have only seen two others this is surprising given that it is usually such a popular area with walkers.
You can view this 10.5 mile walk on OS Maps and download the GPX file here (Subscription to OS Maps required)
To follow my walk you will need Ordnance Survey Explorers OL2 Yorkshire Dales Southern & Western
26th July 2019
© Two Dogs and an Awning (2019)