It is unusual for us to stay on a Caravan Club main site during the summer. The majority of our stays when travelling are on the Club's network of CL sites. Occasionally during the winter we use a main site because of the hard standing and their location. This stay in Brighton is to enable us attend a friend's wedding party in nearby Saltdean and when booking we decided to stay a few extra days to explore in and around Brighton.
The wedding party is late on Saturday afternoon giving me time to head out for a walk before catching a bus to the party venue. As usual it is my preference to walk from the caravan so I head off from the site and follow the entrance driveway until I reach a car park for the East Brighton Park Pavilion and Cafe.
In 1913 Brighton Corporation purchased 1000 acres of land in the parish of Ovingdean. Sixty acres were set aside to create this park area which has football and cricket pitches. An area is occupied by Whitehawk Football Club and Brighton College also rent an area for playing fields.
I follow a route through the park passing the pavilion cafe and then at a junction of paths turn left and follow a route that gradually ascends the downs. I have views across the cricket pitches and further on towards the sea.
Staying with the path northwards I can soon see the Brighton Racecourse grandstand on the horizon. Racing has been taking place on this course since 1783 when the Duke of Cumberland held the first public race day.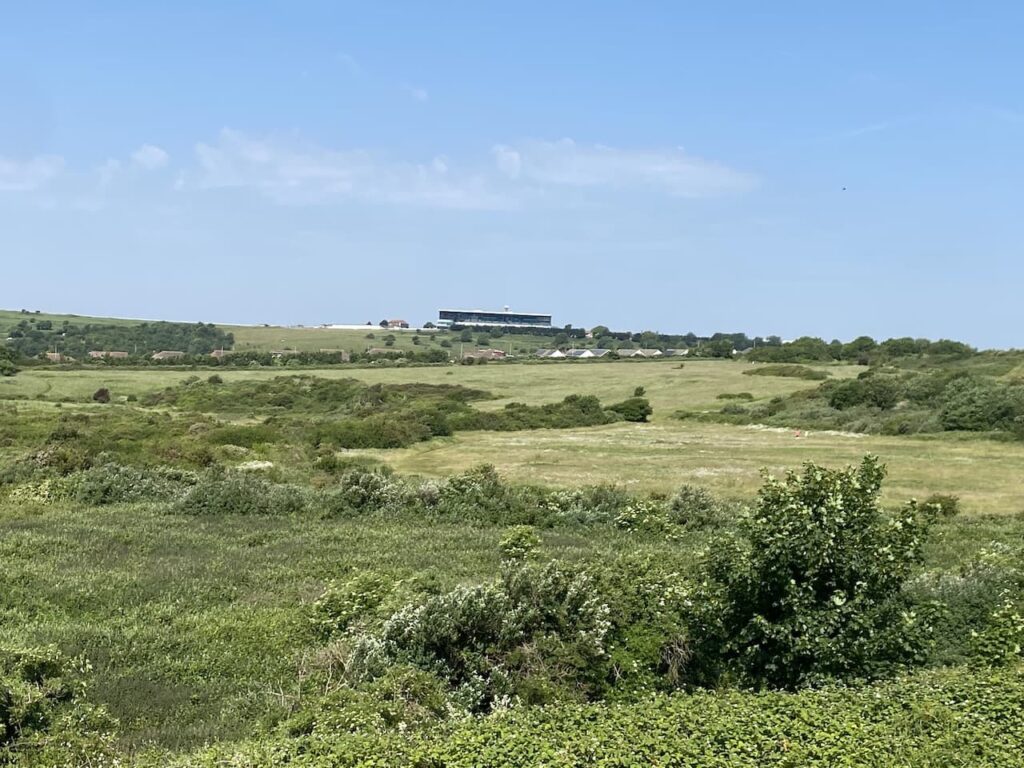 My route continues steadily uphill with houses and the railings of the racecourse in front of me.
At a gate I cross the racecourse, it is all quiet today but when we arrived yesterday there was a race meeting going on and it was a busy scene as we crossed the racetrack on the road leading to the caravan site.
On the far side of the course I turn left and follow a wide grassy margin besides Warren Road and then after a couple of hundred yards cross the road and walk along to Drove Road where I turn right and pass a livery yard. This lane soon becomes a footpath and passes along the back of houses heading towards the B2123.
After crossing the road there is a junction of paths besides a parking area and information board for Woodingdean. I take the path which runs beside the road and soon pass a South Downs National Park sign
This well-made path is shared with cyclists and horse riders. Today I only encounter a couple of cyclists as I wander along.
At a crossing of footpaths I cross the road and join a footpath heading westward along Falmer Hill.
The path follows the field margin and then goes to the right to meet a crossing of routes. Here I go left and follow a track heading west to reach a gate. Here at a fork in the path I go right to follow the fence line heading steadily downhill towards East Moulescoomb.
After going through a kissing gate I follow paths down steps through a housing estate in East Moulescoomb to reach Hodsgrove Lane heading towards the A270.
After crossing the main road at traffic lights I turn right to walk away from Brighton and soon reach an area of grassland in North Moulescoomb. Walking across the grass I reach a small parking area and then take a footpath on the left which goes up steps overlooking a sports ground.
It is a hot day and this is a long series of steps as I head uphill to reach houses on the edge of Coldean. I turn left and follow a housing estate road for a couple of hundred yards to reach a footpath on the left which I take and continue uphill across downland towards Hollingbury Hillfort.
Behind me is the Amex Stadium home of Brighton and Hove Football club since 2011. The story of their departure from the Goldstone Ground, their home since 1901, started when the board sold the freehold of the stadium to a property developer in effect making them homeless. The club then played in various locations including at Gillingham and at the Withdean Athletics Stadium.
For those into their football trivia it was at the Goldstone Ground that David Beckham made his first team debut for Manchester United in 1992 when he came on as a substitute in a League Cup second round tie.
I keep going uphill until I reach a junction of paths besides an information board. Here I turn left and follow a footpath running parallel to the hillfort and then at a junction of paths turn right to head up through the ramparts of the fort and head towards the Bronze Age barrows.
Hollingbury Fort also known as Hollingbury Castle is an Iron Age hillfort with far reaching views across the South Downs and out to sea. It is easy to see why it would her been chosen as a location, unwanted visitors could be spotted from miles away.
I head across to reach the Hollingbury Castle Ordnance Survey trig pillar which sits on the ramparts on the west side of the castle. This is the 385th trig I have bagged.
The hillfort is surrounded by Hollingbury Golf Course which leases the land from Brighton and Hove Council. It looks a pleasant spot to play golf on a summer's day, but I expect it can be pretty bleak up here in the winter.
From the trig I follow the ramparts to the south and then take a permissive path across a fairway to join a waymarked permissive route heading south downhill through the golf course.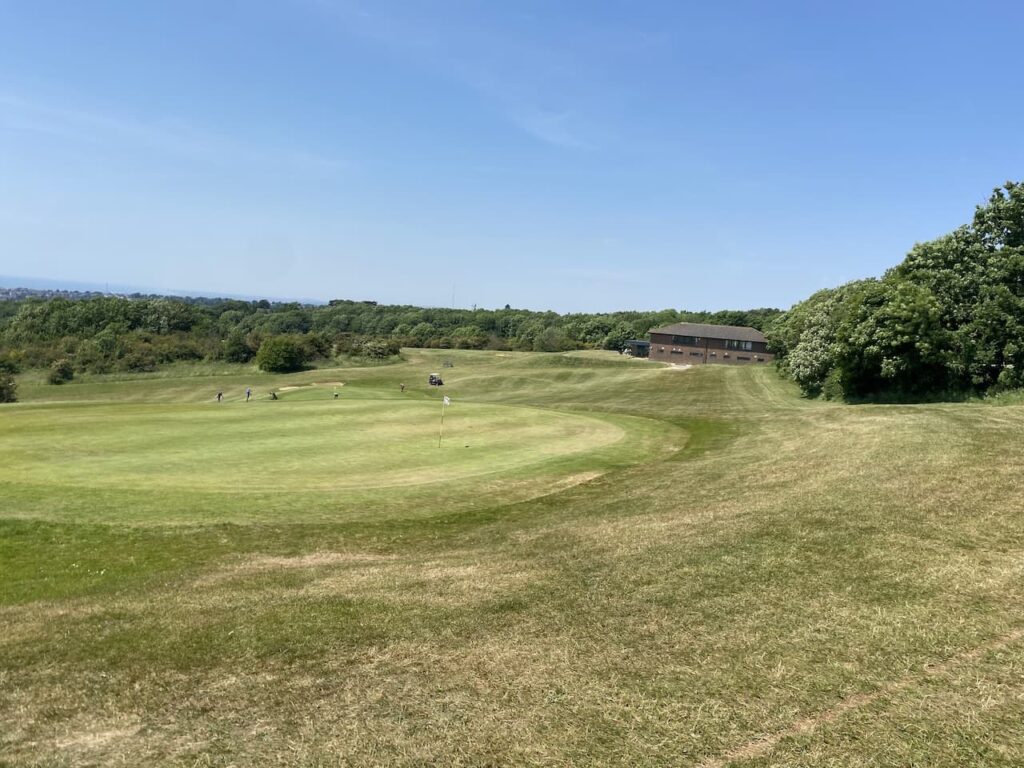 At the bottom of the golf course the path goes to the left and then through trees to reach a footpath. Here I turn right and follow a path leading to a housing estate in Hollingdean.
My route through the housing estate keeps heading south towards a 'B' road where I turn left and pass under the railway line. I continue to a junction with the main A270, turning right to walk through the outskirts of Brighton towards the seafront.
It is rare for my walks to take me through towns but it makes an interesting change to be walking in an urban area. There are plenty of interesting buildings to look at, many of which appear to be owned by the University and of course there is the famous Royal Pavilion.
This is a former Royal Residence and was built in three stages commencing in 1787 for George, Prince of Wales, later to become King George IV. It is a very unusual design and was used by royalty until Queen Victoria, who disliked Brighton, and instead had a seaside residency at Osborne House on the Isle of Wight.
On reaching the seafront at the Pavilion Pier I turn left and follow the promenade. Brighton seafront on a sunny day is too busy for me. Fortunately as I head along it gets less crowded but it is still not my type of walking.
At steps I head up to the main Marine Parade and follow this to Marine Way where I turn left and head north following the road to the entrance to East Brighton Park. From here I walk through the park to return to the caravan site. My walk has covered twelve and a half miles and my timing is spot on to prepare for the party.
You can view this 12.5 mile walk on OS Maps and download the GPX File here.
To follow this walk, you will need Ordnance Survey Explorer Map – OL11 – Brighton and Hove
10th June 2023
© Two Dogs and an Awning (2023)
All information on this site is provided free of charge and in good faith and no liability is accepted in respect of damage, loss or injury which might result from it. To the best of my knowledge the routes are entirely on public rights of way or within areas that are open for public access.
Walking can be hazardous and is done entirely at your own risk. It is your responsibility to check your route and navigate using a map and compass.