After our disrupted week walking the Wayfarer's Way we are off in the caravan for a few days to stay at Rails End Nursery CL in Ashton under Hill. This site is not too far from Goodhleigh Hill CL on the other side of Bredon Hill, in the past we have found that staying close to somewhere we have previously visited opens up a whole new range of walks.
It is our first time on this site. Everything was straightforward from booking through to receiving the helpful directions to ensure easy access. It was also good to meet Andrew ,the site owner, on arrival who showed us where everything was and gave some useful tips on local footpaths.
It doesn't take long to set up and after a cup of tea I am ready to head out for a short walk. I leave the site by the main driveway passing the glasshouses that used to grow tomatoes commercially but these days are let to a couple of people growing garden plants. At Back Lane I turn right and walk into the village.
Turning left at the end of the lane I see the village cross. It is thought that prior to the village church being built in 1627 this cross was used as a preaching place by the monks from nearby Beckford Priory.
I now turn right and head through the village passing the Star Inn, village school and playing field. On reaching Cotton's Lane I turn left and head steadily uphill.
This lane goes uphill out of the village and I ignore a couple of paths to the right and stay on the tarmac driveway with some fine views.
After passing some farm buildings I go through a gate and continue uphill on a track.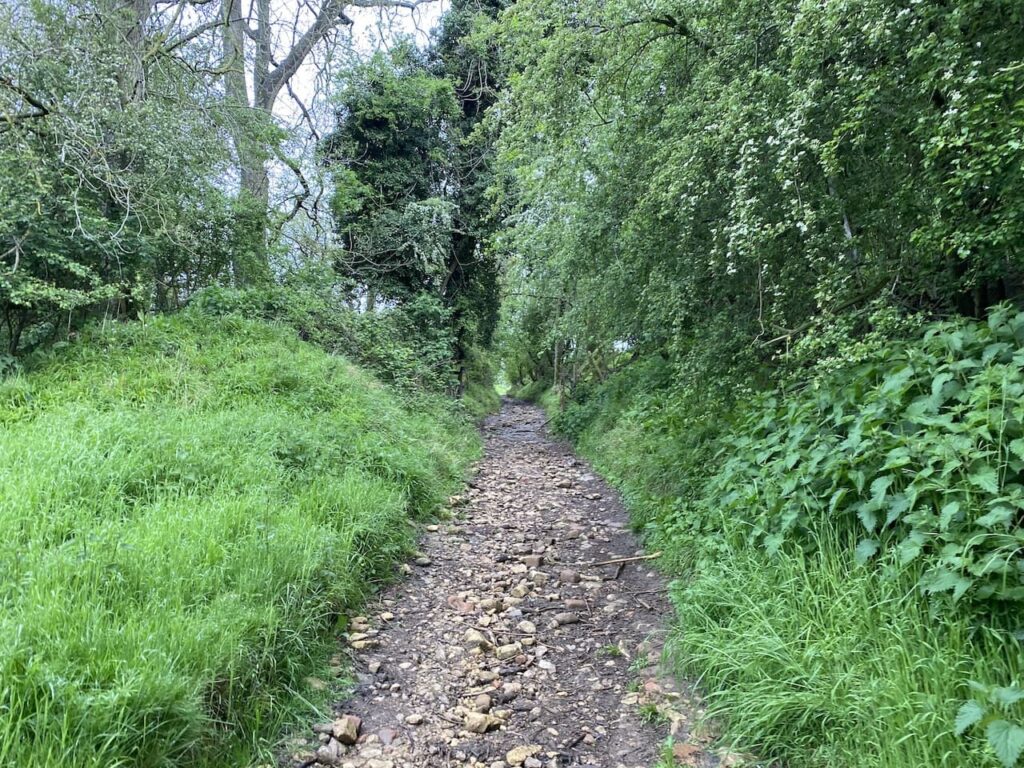 At a junction of paths my route is to the left through a gate, but first I take a diversion following the path to the right to continue uphill and then I briefly leave the path to head across the grassland to bag the Ordnance Survey Holcomb Nap trig pillar. This is the 373rd trig I have bagged.
The trees to the north of the trig block out any view in that direction, but to the south it is open and there are far reaching vistas.
From the trig I retrace my steps to the junction of paths, this time going through the gate to follow the waymarked route through sheep pasture.
After going through another pasture field I reach a junction with the Wychavon Way trail. Here I turn left to follow the Wychavon Way downhill.
The Wychavon Way is a 40-mile route through the Worcestershire countryside between Droitwich Spa and Broadway. The symbol on the waymarkers signifies Bredon Hill above the River Avon.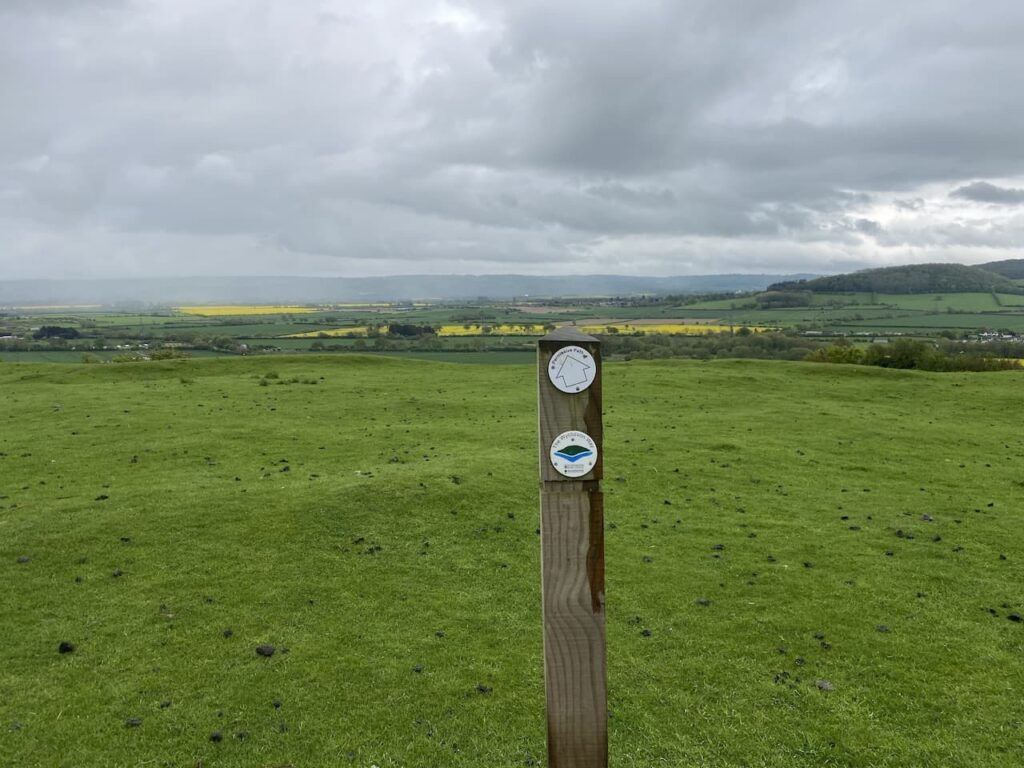 This well-walked footpath is easy to follow over a series of stiles heading downhill towards Ashton under Hill. It is always welcome when stiles have a dog gate. It makes life a lot easier if I don't have to lift a 26 kilo Crosby over every stile.
Nearing the village I keep with the Wychavon Way waymarkers bringing me to field above St Barbara's church. The drizzle that has been with me since Holcomb Nap has finally ceased and visibility has improved.
The path now leads through the churchyard of St Barbara's church. This church was built in the 12th century and apparently retains many interesting features. Before we leave we are sure to pop in and have a look around. The dedication to St Barbara is unusual, apparently there are very few other churches in the Country with such a dedication. It is said that St Barbara lived before the 7th century and was the daughter of a pagan man who killed her for her Christian beliefs. As he beheaded her a bolt of lightning struck him and he was also killed.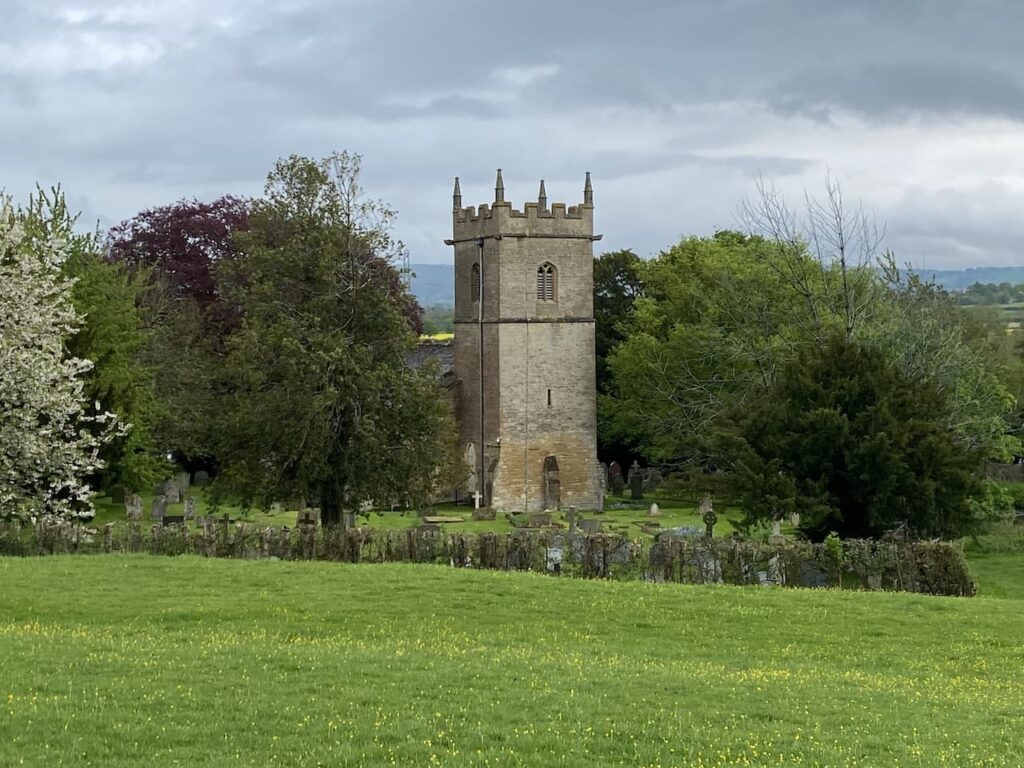 From the church I pass the village cross and then retrace my route back to Rails End CL. This little loop has covered just over three miles and has been a good introduction to the area. Time now to plan a longer walk for tomorrow.
You can view this  3 mile walk on OS Maps and download the GPX File here.
To follow this walk, you will need Ordnance Survey Explorer Map – 190 – Malvern Hills & Bredon Hill
6th May 2023
© Two Dogs and an Awning (2023)
All information on this site is provided free of charge and in good faith and no liability is accepted in respect of damage, loss or injury which might result from it. To the best of my knowledge the routes are entirely on public rights of way or within areas that are open for public access.
Walking can be hazardous and is done entirely at your own risk. It is your responsibility to check your route and navigate using a map and compass.