After yesterday's traumas walking the cliff tops I am keen to find a less hazardous walk for todays outing.  Just down the hill from where we are staying at Hillhead is Kingswear and it is a great place to start a walk up the Dart Valley.

We park at the top of the town and walk down the hill besides the B3205 and then pick up a footpath on the right that takes us over the railway lines.
We walk through the marina boatyard with the railway line on our right, continuing on the path sandwiched between the edge of the river and the railway line.  To our left on the hill overlooking Dartmouth is the Britannia Royal Naval College.
Apparently Dartmouth has been the centre of Royal Naval training since 1863 it is the base for training Royal Naval Officers.  Initially the hulk of HMS Britannia was used as a training base and later HMS Hindostan was added to provide more space.  It was then decided to build a permanent base.  King Edward VII laid the foundation stone in March 1902 and the construction was completed in 1905.  It is a fine building designed by Sir Aston Webb.
We continue along the footpath briefly joining the road (A379) after passing the slipway to the Dartmouth Higher Ferry.  As we climb the hill we see the ferry crossing below us.
A couple of hundred yards along, just after the public conveniences we take a path on our right that climbs steeply up hill.  At the top we turn left along a path skirting behind a property that has had the full grand design treatment.  Carrying on along a driveway we are greeted by a sign warning us to walk on the right side to avoid falling pine cones.  Years ago when we first met Lynnie gave me the tale of Chicken-Licken (I had not previously heard of it), the story tells how Chicken-Licken thought the sky had fallen in when an acorn had fallen on her head.
I quickly usher Lynnie to the safe side of the drive.  After yesterdays concern about being locked up for for pushing her off a cliff I am desperate to avoid the incorrect accusation that I have attacked her with a Pine Cone!
Soon the drive passes over the A379 and there is another warning sign, this time the danger is basking Adders.  Besides heights I am not keen on bitey things, top of the list, (it is a long list), come Adders.  The idea they are sunning themselves in preparation to sink their fangs into my well-toned calves fills me with dread.  My stick comes off my rucksack and I proceed with caution.  Bear Grylls could learn a thing or two about survival from me!  Along the way we encounter a few basking twigs and I have a close encounter with a basking dog turd in a sunny spot in the middle of the path but thankfully manage to avoid confrontation with a deadly snake.
Our route briefly goes inland to skirt around an inlet and then continues above the river estuary with the railway line below us.  We find a suitable log to sit on for our picnic and watch vessels travelling up and down the River Dart below us.  It is a cracking spot and at times like this we really appreciate how fortunate we are to be travelling around the UK and experiencing such moments.
Refreshed we follow the path turning right to climb Oakham Hill; it is a ferocious climb the sort we have come to expect during any walk in Devon.  Although brief we can feel the lactic acid building up in our leg muscles. It will be good training for when we reach the Brecon Beacons in May.
After leveling out the route leads down to a lane and then a path leads to open pastureland with cracking views back down the Dart Estuary.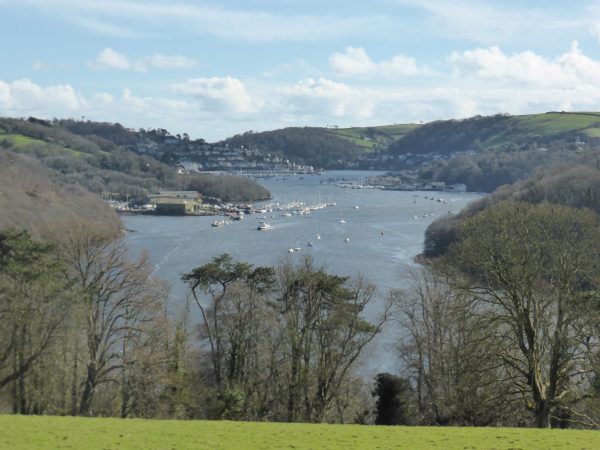 From here we pass around the grounds of Greenway, this estate has a rich history.  It was the birthplace of Sir Humphrey Gilbert, an explorer who was a favourite of Queen Elizabeth I. He established the colony of Newfoundland whilst trying to establish the North West Passage; he is credited with starting cod fishing in Newfoundland and bringing back cod liver oil.  After climbing up Oakham Hill I need some to ease my knees.
Greenway was also one of Agatha Christie's many homes.  We follow the footpath to join a track down to the Greenway to Dittisham Ferry.  The ferryman is waiting for passengers and we are soon aboard.  Freddy's are not good in the air or on water, for some this would be a brief adventure for me it is a major exercise not dissimilar to a round the world expedition.  We head out across the river and I am somewhat disappointed that there is not a flotilla following our journey or a welcoming party on shore.  Meanwhile Dexter and Crosby seem to think this is a fine way to travel.
There is a pub at Dittisham, but unfortunately no champagne welcome for me, so we climb the road out of the village turning left at a junction to follow the Dart Valley Trail, this soon has us turning right up a track and then going left uphill across the edge of pastureland with fine views back over the estuary.
After climbing a succession of stiles we reach a tarmac lane and turn left and follow this towards Fire Beacon Hill.
It is easy to walk past such places without fully appreciating their history.  In this case the beacon mound dates back to the 16th century although the fire basket is far more recent, it stands where the beacon was originally placed.
We continue on the tarmac lane passing Bosomzeal and then follow the footpath signs across a couple of fields before joining a track that starts with a gradual descent then goes more steeply through Hole Copse to reach some boatyards.  We stop briefly on the bridge to ready ourselves for another ferocious climb.
We are now on a tarmac road, which makes the walking easier but doesn't reduce the gradient.  It takes us to the top of Dartmouth, close to the A379, rather than walk besides the busy road we follow minor roads and lanes to descend towards the river.
I cannot recall ever stopping in Dartmouth.  I know we drove through it years ago with Ben and Lolly, but have no recollection of wandering about.  It is an attractive town packed with interesting buildings.  We are tempted to wander about but as it still gets dark relatively early we decide to head for the ferry.
You might have thought that being on a car carrying ferry I would be more comfortable, but when I was nipper I was never keen on crossing the River Itchen via the floating bridge between Southampton and Woolston.  I also recall being traumatised when my parents announced we were going on holiday to the Isle of Wight involving a ferry trip!  On this ferry I position myself with one hand on the life belt and signal to the skipper that we are all set to sail.  (It is hard to believe that my paternal Grandfather, Great Grandfather and Great-Great Grandfather were all merchant seamen and my maternal Great Grandfather was a harbour master and his father was a tugboat owner in Plymouth!)
On the far side it takes a while for me to recover my land legs, but when they are functioning properly we walk up the pavement besides the B3205.  Our walk has covered just over nine miles and is a walk that will live in the memory for a long time.  It has all the right ingredients; cracking weather, moderately challenging terrain, good company and a taste of adventure.  The only thing missing for Lynnie was an ice cream!
More heavy winds are forecast for tonight so it is back to the Coachman to batten down the hatches and double peg the awning!
22nd March 2017
[To follow our walk you will need Ordnance Survey Outdoor Explorer Map OL20 – South Devon.]
© Two Dogs and an Awning (2017)