Four years ago I did an interesting walk from the delightfully named Nutcombe Bottom to Withycombe Common and on my return went close to the site of the tallest tree in England. However I decided not to visit the tree because I thought I would save it for a day when Lynnie was walking with me. Today we are going to combine the visit to the tree with a variation on my previous walk in this area.
Today's walk starts just south of Dunster in the car park at Nutcombe Bottom, (OS Grid Ref: SU977423). We start by heading south through Nutcombe Bottom and gradually ascend into Hats Wood.
There are a network of tracks and paths in the woods but we keep heading south crossing a couple of tracks to reach Broadwood Plantation where the track sweeps in a south-easterly direction to reach a crossing of tracks. Here we go to the left and head east on a track that follows the contour line around a hill.
We stay with this track as it sweeps around Longcombe Hill and then heads south towards Long Wood. I recall from the last time I was walking here that one of the features of walking in these woods is the wood carvings created from old tree stumps.
This is another track where paths lead off to either side, but we stick with it going towards the south until we reach a crossroads of tracks where we turn left and go east towards Withycombe Common.
Emerging from the trees we keep going east to reach a point where six paths meet on the edge of Withycombe Common. Here we take the broad stony track heading up onto the Common.
Reaching the brow of the hill we leave the track to walk the few yards to reach the Withycombe Common OS trip pillar. I have previously bagged this trig but it is the first time Lynnie has been up here so much to Crosby annoyance we stop for the obligatory trig picture.
There are far reaching views along the Somerset coastline as we start to descend towards Rodhuish Common.
At a crossing of tracks on the edge of Rodhuish Common we keep heading east to follow a muddy path across the common. It looks like this path has been churned up by a number of horses, making it hard going for two legged creatures.
At the edge of the common we head towards a gate and join a track heading towards Rodhuish Cross.
On joining a minor road we turn right and continue to Rodhuish Cross where we turn right again and then at a fork go left to follow the lane to reach the delightful, small 15th century church of St Bartholomew.
This small church is equally attractive inside as it is from the outside. After a brief internal visit we settle down on a bench besides the church to eat our lunch.
Refreshed we continue south along the road and follow it as it bends around Style's Farm. There is a sign advertising their ice cream, this is not an ice cream Lynnie has knowingly tasted. So she makes a note to try it the next time we spot somewhere selling it.
At the next junction we take the lane on the left (Sandrocks Lane) to head north. As the path descends towards Withycombe there are good views across the Bristol Channel.
At a junction we turn left and continue downhill into Withycombe. After crossing a footbridge besides a ford we turn right to reach St Nicholas' Church.
We take a look inside the church and are drawn to the effigy of a woman lying in a window. Either side of the effigy are elaborately carved turrets and the effigy is holding a box across her chest. I later read that this is thought to signify that only her heart is buried in the location.
From the church we take the left fork to join Withycombe Lane and follow this out of the village and then as we near the outskirts of Carhampton we take a drove on the left (Hill Lane) and follow this towards Withycombe Hill.
At a junction of tracks we continue straight on still heading up Withycombe Hill, it is a long steady haul.
As the path starts to level we reach open access land. Here we follow a track with open heathland too our left and a plantation to our right.
On reaching Withycombe Hill Gate we take a path to the left heading towards Bat's Castle.
We are now heading west. It is cracking winter's afternoon, a chill in the air is compensated by bright skies with a bit of warmth from the sun. The path leads to the ramparts of the Iron Age hillfort at Bat's Castle.
The path passes through the centre of the hillfort and then descends before rising again to reach Gallox Hill where we encounter Exmoor ponies grazing beside the path.
The path descends to a gate where we turn left and follow a clear path descending through coniferous trees.
We continue through the trees and then reach a track which leads to a parking area for the Tall Tree Trail. Here we take the Trail path on the left which follows the stream.
The trees in this section of woodland are mainly Douglas Firs planted in the 1870s.
Fortunately we have chosen a very quiet afternoon to visit this spot. I imagine it would be packed in the tourist season or school holidays, but today we have the place almost to ourselves. On a day like this it is a special place.
The tallest of the trees in this woodland is a Douglas Fir which reportedly is 197 feet tall. It is easy to identify because it is the only tree with a wooden surround. It also lays claim to being the tallest tree in England.
The only problem when trying to photograph a tall tree is the angle you need take the picture, consequently making the tree look pretty average in size.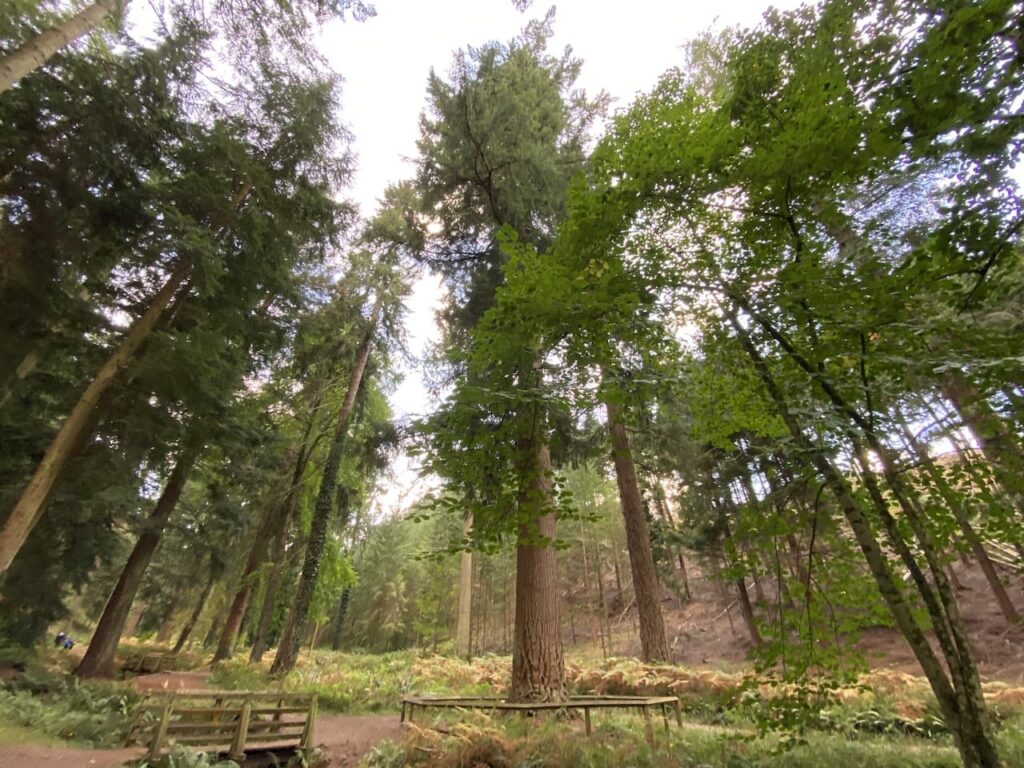 Returning to the Tall Tree car park we turn left and follow a path leading back to our starting point in Nutcombe Bottom car park. It has been a cracking walk covering just over eleven miles.
You can view this 11 mile walk on OS Maps and download the GPX File Here 
To follow my walk you will need Ordnance Survey Explorer Leisure – OL9 – Exmoor
27th October 2021
© Two Dogs and an Awning (2021)
All information on this site is provided free of charge and in good faith and no liability is accepted in respect of damage, loss or injury which might result from it.  To the best of my knowledge the routes are entirely on public rights of way or within areas that are open for public access.
Walking can be hazardous and is done entirely at your own risk.  It is your responsibility to check your route and navigate using a map and compass.