Today I am heading back onto Cranborne Chase with two of my walking buddies, Mandy and Ged. Over the last year we have walked regularly together and explored parts of the local area I have not previously walked. We start our walk from the car park of All Saints Church in Broad Chalk, which is busy as there is an event on, but we get confirmation it is okay to leave the car.
From the car park we turn right onto the minor road and after fifty yards take a footpath on the left that leads across fields with the River Ebble to our left.
On joining a minor road we turn left and then almost immediately take a footpath on the right continuing across fields to reach Knighton Mill. After passing the mill we join a minor road and head east. As the road sweeps to the left we continue straight on to join a track and then very quickly the path goes along the edge of arable fields.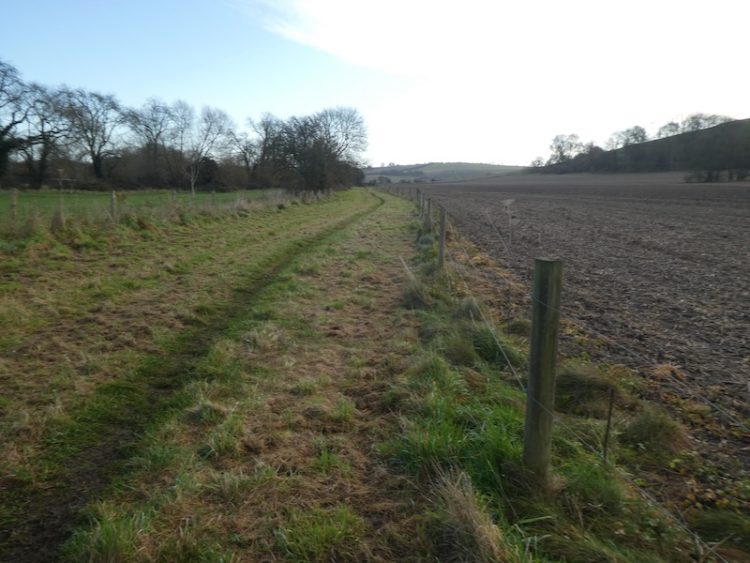 As we continue I spot an old piece of farm machinery discarded in the corner of a field. It appears to be a cutter of some sort made by a company called Bamlett. Later I discover it is a grass cutter made by AC Bamlett in Thirsk. It is difficult to determine if it was horse or tractor drawn but it must be around 100 years old. It is a pity to see it rusting away rather than restored and displayed in an agricultural museum.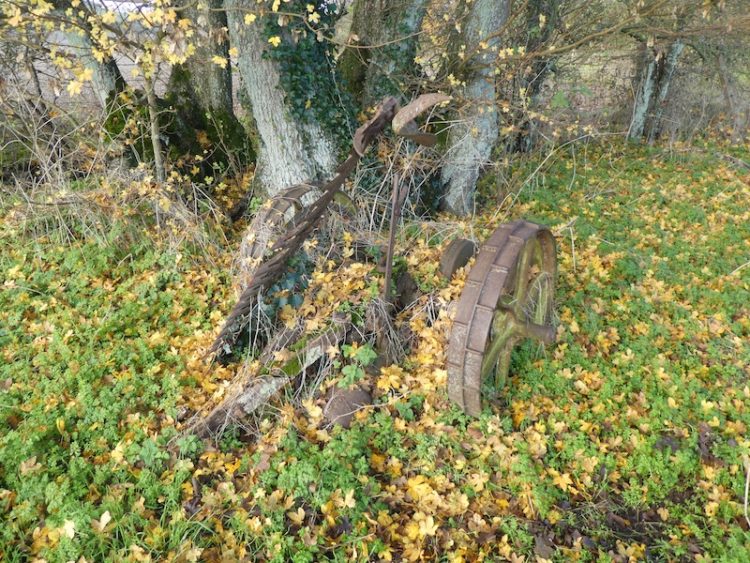 On reaching the edge of the hamlet of Croucheston we go through a gate and pass farm buildings to join a minor road. We proceed through the village in an easterly direction until we reach a T-Junction with Croucheston Drove, here we turn right and walk south. At a junction of tracks besides a barn we turn left and start a long gradual ascent. In the distance to our left we can see the 17th century dovecote at Faulston House in Bishopstone .
At a junction of tracks we keep straight on, pausing to take in the stunning view. Over the last year I have walked on Cranborne Chase more often than anytime in the past. I am not sure why I haven't spent a lot more time here, especially as it is so close to home and very quiet.
Continuing to head south towards the Ox Drove we keep an eye out for the OS Trig Pillar at Pale Ash, initially we walk by it, but then after a bit of searching find it lurking in the hedgerow. This is the 188th trig pillar I have bagged.
After bagging the trig pillar we reach the Ox Drove and turn right along this ancient byway. Approaching Knighton High Wood the track is impassable because of deep puddles, so we take a path on the right to join Croucheston Drove and then after a couple of hundred yards take a footpath on the left leading across a field to rejoin the Ox Drove beyond the western side of Knighton High Wood, At a junction of paths we turn left and follow a track towards Knighton Wood Farm. Just as we reach the woods we take a path on the right running just inside the woodland.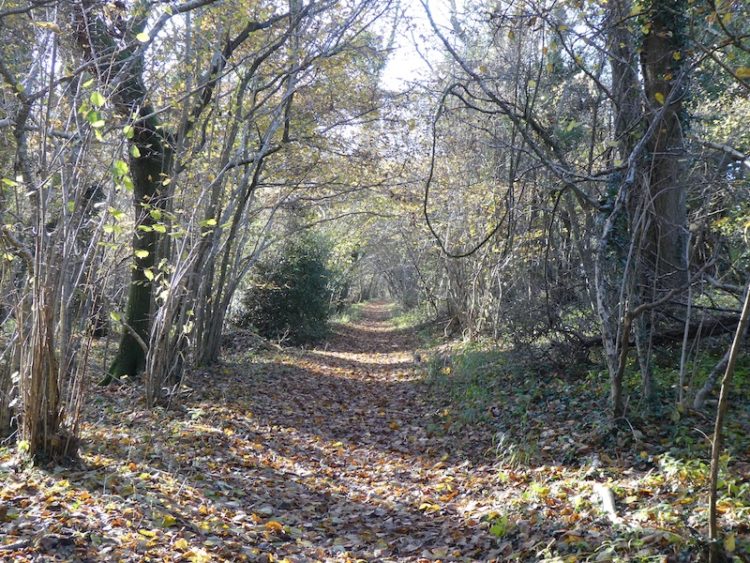 The path leaves the woodland and follows a tree-lined track to reach a minor road. We cross and go through a parking area at Vitrell Gate to enter the Woodland Trust access land of Vernditch Chase.
We follow a track southwesterly through the woodland to reach a footpath. Here we turn right and continue through trees to pass the hard to define Kitt's Grave. Local folklore is unclear of the origin of the person buried here, however it is widely thought to be either a young girl or a romany woman who had taken her own life. Therefore she could not be buried on consecrated ground and with no parish willing to claim her she was buried at the meeting point of three local parish boundaries. However, it could also be a long barrow, so it is a case of picking whichever tale you prefer.
The path now follows a hedge-lined route to reach a minor road at Cutler's Corner. We turn left and follow the road to a crossing of tracks. The road turns to the left, but we continue straight on in a westerly direction. As we approach barns we spot what looks like a grass runway and then our suspicions are confirmed by the light aircraft being stored in the barn.
We cross another road and follow the path through fields around Middle Chase farm and then enter the edge of Stonedown Wood. We follow a path northwesterly along the edge of the woodland to go through Dank Wood Corner and then out onto a track leading to a minor road, the Ox Drove.
Turning right on the road we take a footpath on the left after a couple of hundred yards, however after crossing a couple of stiles with gaps for Ged's large dog Moss to pass through we suddenly reach fenced stiles. Moss is a very big Weimaraner and too heavy to lift over stiles, so we retrace our steps to Ox Drove and turn left and follow it heading east. At a road junction we continue heading east on the Ox Drove and follow it for just over two miles to reach a minor road at Hut Farmhouse.
Here we turn left and walk besides the road until we reach Knowle Hill trig pillar which is located to the right hand side of the road on the edge of a field.
After bagging my 189th trig pillar we turn around and walk back along the road for 150 yards to reach a bridleway on the right. With the light fading we head down Knowle Hill to reach a crossing of tracks. Here we turn right and follow a track to pass Field Barn. Soon after at a fork in the track we go right and follow this track as it descends to reach South Street in Broad Chalke.
We turn right and walk through the village to reach a footpath on the left, this runs besides All Saints church and heads steadily downhill to reach our starting point. Our walk has covered 15.5 miles and despite some muddy tracks, to be expected in late November, we have had a thoroughly enjoyable day out with some stunning views.
To follow my walk you will need Ordnance Survey Explorer Map OL 130 Salisbury & Stonehenge and OL 118 Shaftesbury & Cranbourne Chase
You can view this walk on OS Maps and download the GPX File Here
Additional Information
For more information on this walk including car parking, amenities, refreshments and detailed walking directions visit my associated Walking Moonraker website.
29th November 2019
© Two Dogs and an Awning (2019)
All information on this site is provided free of charge and in good faith and no liability is accepted in respect of damage, loss or injury which might result from it. To the best of my knowledge the routes are entirely on public rights of way or within areas that are open for public access.
Walking can be hazardous and is done entirely at your own risk. It is your responsibility to check your route and navigate using a map and compass.