After all their walking yesterday neither dog wants to get up. Crosby totally failed in his alarm duties and we all over sleep. As I grab the leads Dexter gives me his best 'you must be joking' look. But reluctantly tags along as Crosby and I stretch out whilst walking around a couple of fields. A relaxing morning is called for.
Lynnie's back is still playing up. So early afternoon we go to West Bay to walk the promenade to see if she can cope with anything further. The signs are positive so it's another look at the map 'make sure you find a flat easy walk and not too far' are my instructions.
Last year we did a cracking walk from Abbotsbury, which is just eight miles up the coast. But that involved a bit of a climb to start with, so that is ruled out. Instead we go back to Bradstock (parking in the National Trust car park free, again courtesy of Lolly and Toby). We start our wander by climbing the side of Bind Barrow this soon takes us to the coastal path. This cliff path is just about okay for a Fred, although the drop is reasonably significant we are twenty yards, or more, in land and I can focus on the things to my left and avoid thinking about what is to my right!
On the cliff top there is a chap sitting with his paraglider. I have often seen these in the air but have never seen one take off. I assumed that there was a smooth process as it lifted into the air. What we witnessed was something akin to my struggles with the awning and I was afraid we were just about to witness a tragedy as he lurched to the edge of the cliff. Then he was in the air and drifting high above us.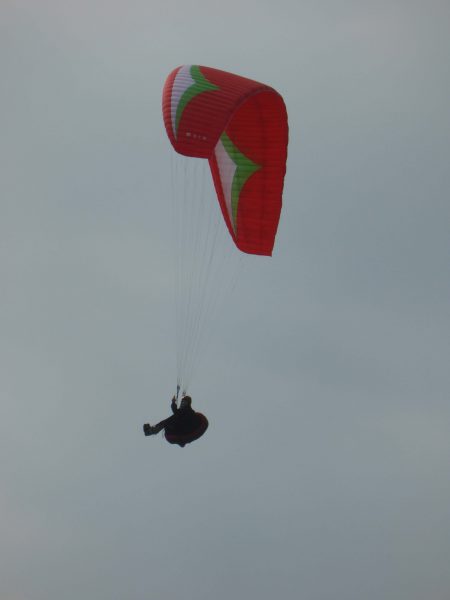 We skirt around another static caravan park. I was unaware that there were so many static caravans in the world. Were I commercially minded I would probably buy shares in a static van company!
Down to Chesil beach, we are at its furthest point west and the pebbles are like petit pois. Lyn tells me that the old Dorset smugglers could tell what part of the beach they had landed on by the size of the pebble. Walking on shingle is not easy so we are pleased to spot a path that runs parallel to the beach but slightly inland.
Lyn's back is holding out so we stride out behind Burton Mere with its abundance of birdsong and onto the nature reserve. Last year on our walk from Abbotsbury we had ice cream at the café at West Bexington, the memory has been Lyn's key motivator, today she is disappointed the café is closed. By now the pebbles are sized like broad beans.
We walk up through the village and take the Swyre Road. On reaching Swyre we pass the pub and war memorial then turn seawards down New Lane following it until we enter fields and then rejoin the coastal path and head back to our car. The fancy new app tells me that we have walked 7 miles, Lyn has coped, just, and says her back feels better for the walk, but she wished you could have been rewarded with an ice cream.
To view this mile walk on OS Maps and download the GPX File Here
To follow our walk you will need Ordnance Survey Outdoor Leisure Explorer Map 15 – Purbeck & South Dorset
Additional Information
For more information on this walk including car parking, amenities, refreshments and detailed walking directions visit my associated Walking Moonraker website.
25th April 2014
© Two Dogs and an Awning (2014)
All information on this site is provided free of charge and in good faith and no liability is accepted in respect of damage, loss or injury which might result from it. To the best of my knowledge the routes are entirely on public rights of way or within areas that are open for public access.
Walking can be hazardous and is done entirely at your own risk. It is your responsibility to check your route and navigate using a map and compass.