Today we are going to take a walk from Chard and head up to Ilminster to bag a trig point on Herne Hill. It is just a short drive from Hill Farm CL to the Car park at the southern end of the reservoir which is off Touches Lane (TAS20 1HU).
Leaving the car park we follow the path going north west to a minor road and cross to Chard Reservoir and continue on the path heading north east across the grassy area which is in the process of being made into hay.
The path turns to the left and reaches trees besides the reservoir and we continue north with glimpses of the water between the trees.
This reservoir was originally built in 1839 to provide water for the Chard Canal but these days it is a local nature reserve managed by South Somerset District Council and covers ninety-one acres. During World War II it was opened as Chard Lido and swimming and boating was allowed.
These days neither of these pastimes are allowed and later I read on the Chard Reservoir website this is because of the poor water quality due to a number of sewer overflow outlets from the town being discharged into the water. I struggle with the concept that it is still permissible for water companies to discharge sewage into the water system.
The reservoir's time as the water supply for the canal was short lived, by 1866 the Chard Canal was replaced by a railway line. However, the reservoir was retained as a sporting estate for fishing and duck shooting. The path reaches the site of an old boathouse, which is thought to have been built as part of the sporting estate. I am never sure why an activity which involves shooting birds is called sport and chunter on to Lynnie about this as we continue on to reach a minor road.
We now stay with this country lane as it heads north east to pass Chaffcombe Gate Farm with its barns converted to homes.
After passing the farm the road becomes Cricket Lane and heads steeply uphill. We continue straight on at a junction pausing briefly to admire a splendid dead tree in a field.
We continue on to reach Cricket Cross where we turn left to head north towards Cricket Malherbie.
We stop to have a look at the impressive Church of St Mary Magdalene, apparently rebuilt in 1855 on the site of a 12th century church. In the churchyard we meet a chap out walking his neighbours dog and spend a pleasant five minutes passing the time of day with him.
Leaving the church we continue to head north on the lane and stay with it to reach a crossroads. The map has this marked as Mary Hunt's Grave, we spend a few minutes trying to locate the grave, but later discover it has long since disappeared.
In the past crossroads were often the site of public punishments or for the burial of people barred from being buried in consecrated ground because of their crimes. Apparently local folklore has a number of explanations as to why Mary Hunt was buried here, one suggests she may have killed one of her children and another that she may have taken her own life.
We take a footpath from the crossroads that goes through bushes to reach the edge of a farmyard. Following the path around the yard we reach a field of sweetcorn and manage to get through to cross a stream and then enter a field of pasture. We spot evidence of cattle, but it is not until we are halfway across the field that we see a large herd congregated at our point of exit. It only takes us a few seconds to weigh up our options. With Crosby we try to avoid cattle if at all possible, so we turnaround and retrace our route to the crossroads and Mary Hunt's Grave.
Back at the crossroads we turn right, heading northeast along the lane to reach a junction where we turn right and follow the road for 450 yards to join a footpath on the left close to the Ilminster town sign. We now follow this path along the edge of a field occupied by a flock of geese.
Then we head across fields through a series of unusual gates. I cannot recall passing through anything like them before.
At a junction of paths we turn left to join a track heading steadily uphill towards Herne Hill.
We now follow a path than soon leads along the southern edge of the trees to reach Herne Hill trig pillar. This is the 216th trig pillar I have bagged.
We follow an attractive path through the trees. There are a network of paths, but as strangers in these parts we decide to stick to the route of the footpath and at a junction of paths on the map we turn right to descend the hill.
Leaving the woods we follow a path around the edge of fields, following the footpath into Ilminster by a Health Centre. We turn right along the pavement besides Canal Way to pass a playing field.
At a junction we turn left besides a petrol station and follow Ditton Street into the town centre and stop to look at the Market House which was built around 1813.
In North Street besides the Market Square I spot a sign on The George Hotel. This is an old building built in the mid 17th century with refurbishments over the next two centuries. When a new turnpike was opened in 1809, which went from Honiton through Ilminster, on the route between London and Exeter, the hotel became a popular stop off point. In 1819, on their way to Sidmouth, The Duke and Duchess of Kent stopped here with the infant Princess Victoria, later to become Queen Victoria, apparently it was the first time she had ever stayed in a hotel.
We leave the Market Square along Silver Street heading west to pass the church of St Mary which is also known as the Minster. Originally built in the 15th century it has had a number of refurbishments, the last being in 1902.
We follow Silver Street into West Street and then continue heading out of the town on the B3168, Station Road. After passing a petrol station we reach a roundabout where we turn left passing a Harvester before reaching a second roundabout. Here we turn right into Canal Way. Soon we take a footpath on the left and follow this to a junction of paths where we turn right to head away from the town.
We are on the route of the old Chard Canal. This canal ran for 13.5 miles between Chard and the Bridgewater and Taunton Canal at Creech St Michael. The canal opened in 1841 but went into receivership in 1853 and was purchased by a new Chard Railway company in 1860 who closed it in 1868.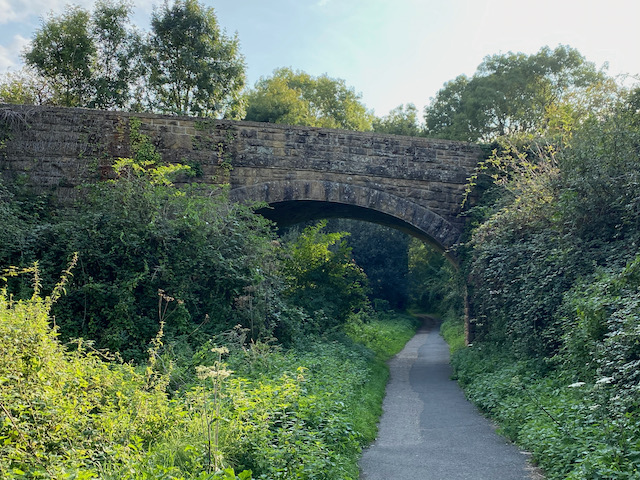 The London & South Western Railway purchased the Chard Railway in 1861 and then it was bought by the Bristol & Exeter Railway who opened the line in November 1866, it ran for a hundred years before closing in 1966. We are now at Donyatt Halt which was constructed in 1928 with its small shelter and poignant tale of Doreen a seven year old evacuated from London to Somerset in 1939.
A little further along we reach the Stop Line Defences that were erected during World War II to create a barrier in the event of an invasion by the German's.
The route we are on is also Cycle Way 33 and is popular with walkers, joggers and cyclists. We stay with way-markers as the route turns to the left and then right along a short section of minor road before going along another track to join a minor road at Peasmarch Farm. As we near the main road we turn left to follow the footpath along the cycle way and soon rejoin the route of the old railway line.
We stay with the cycle way as it continues on to pass the western side of Chard Reservoir. Reaching a minor road at the southern end of the reservoir we turn left still on the National Cycle Way. After a few hundred yards the cycle way turns right towards Chard, however, we stay on the lane until we reach an entrance to the Nature Reserve on the left.
We now follow a path through the southern edge of the nature reserve to reach a point where we head back to our starting point in the car park.
Our historic walk in this interesting part of Somerset has covered 12 miles. Time to head back to the caravan and plan tomorrow's outing.
You can view this 12 mile walk on OS Maps and download the GPX file here
To follow my walk you will need Ordnance Survey Explorer Map 116 Lyme Regis & Bridport, and 128 Taunton & Blackdown Hills
10th September 2020
© Two Dogs and an Awning (2020)
All information on this site is provided free of charge and in good faith and no liability is accepted in respect of damage, loss or injury which might result from it.  To the best of my knowledge the routes are entirely on public rights of way or within areas that are open for public access.
Walking can be hazardous and is done entirely at your own risk.  It is your responsibility to check your route and navigate using a map and compass.