Nearing the banks of the River Tweed on my early morning walk around the grounds of Paxton House, I spied eight Goosanders on the water. The first time I knowingly saw these birds was on our previous visit here in 2014. They are amazing to see on the river as they swim with most of their body underwater. They have a great appetite for fish so are not friends of the salmon fishermen.
Around the corner there are eight herons, to see eight of these magnificent birds together is something special (although not for the fishermen). This early morning walk is a real treat.

It is now a week since I walked up a hill. My knees are still giving me trouble, but they feel up to something not too challenging. Studying the map I see we are not too far from the Cheviot Hills. My eye is immediately drawn to The Cheviot, this is a bit of a monster for an old fellow with dodgy knees, standing at 2,673 feet high it is probably a big ask for me at the moment. I will have to tackle it another day!
Close to The Cheviot is Hedgehope Hill, a mere 2,342 feet high. I am sure my knees can get me up there, although I have concerns about them getting me back down!
Our drive takes us through Wooler. This looks an interesting place, well worthy of a wander, but we have our minds set on finding the location for our walk. After travelling on some very minor roads we reach our starting point; close to Carey Burn Bridge. The gorse is in flower as we look up the valley from the bridge, it makes a wonderful sight and means that it must be the kissing season.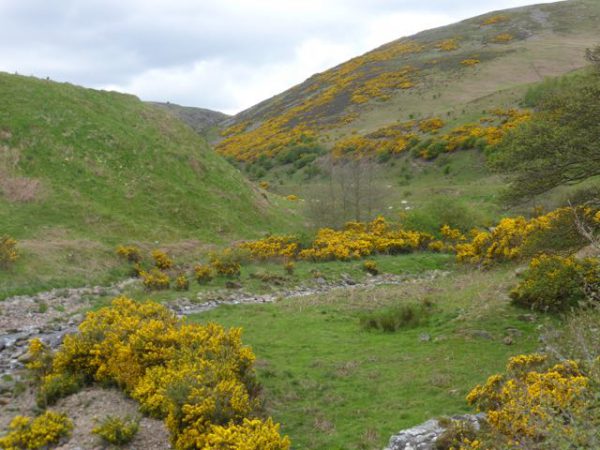 We set off along the tarmac road. One part of the previous sentence is correct, it is tarmac, but it does not feel like a road. The occasional car passes and then a flash of red goes by. It would appear that Lewis Hamilton moonlights as a postie!
This is pleasant walking, the sun is shining and we are on a gradual incline, but the sort you hardly notice. The Harthope Burn trickles alongside us and as we walk we get glimpses of Hedgehope Hill high above us. Our plan is to walk up and approach it from the other side; with a bit of luck we will catch it by surprise whilst it is crouching down!
The tarmac route ends close to Langleeford and the path now gets closer to the Burn, we follow a well-worn route. Sections are boggy and we comment on how you would not want to be doing this walk after a wet spell.
This becomes tiresome and we are pleased when the opportunity to climb up onto Comb Fell comes, this is a steep climb but we are rewarded with expansive views.
Our route follows the fence line towards Hedgehope Hill, it does not look any smaller from this direction and some sections are decidedly boggy on the peat moorland. We agree this is definitely not a place to be following heavy rainfall..
The one thing that Lynnie really does not like when climbing a hill is a downhill section to then climb back up. This is even less popular when she can see from a distance the valley before the climb. This is exactly the view we now have! I stride on with the dogs hoping that eventually we will be reunited at the summit.
Getting to the top is a good blow, but the view from there is worth every step. There is so much "out" out there.
As usual in such places we are totally alone and cannot see another person in any direction.
The climb up was steep, but the route down is even steeper. This is a real test for my knees. We are heading toward Long Crags, the site of an old hill fort.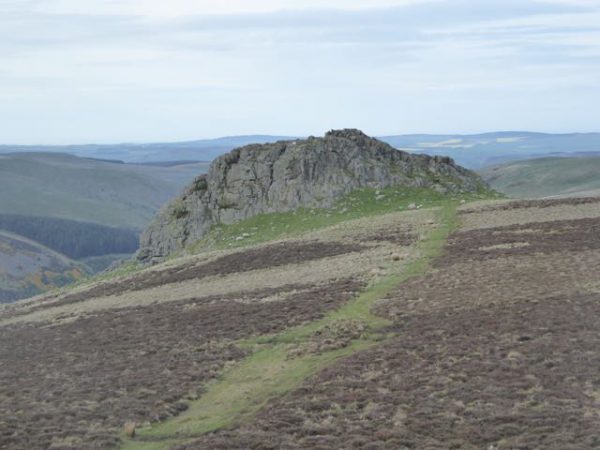 Our route continues along the ridge to Langlee Crags and soon after we pick up a track heading towards Carey Burn Bridge. The relatively level walking is very welcome for my knee. The route is clearly marked and easy to follow, which is no bad thing because we suddenly realise that time is getting on a bit and the weather closing in behind us looks threatening.
After crossing a couple of stiles we join a path that runs above Coldgate Water. This is downhill and rough terrain, not what I need at all! It is very welcome when we reach the footbridge crossing the river and find ourselves on level ground returning to the car.
I think I will be avoiding hills for a few days. My knee is giving me serious gyp, though the pain has been well worth it today. This has been a cracking walk covering twelve and a half miles; we are more than ready to get back to Paxton House for a bite to eat and a bit of a rest.
18th May 2016
[To follow this walk you will need Ordnance Survey Outdoor Leisure Map OL16 –The Cheviot Hills]
© Two Dogs and an Awning (2016)