A few years ago Lynnie and I walked a section of the Leeds and Liverpool canal from Gargrave to East Marton returning to Gargrave on a section of the Pennine Way. Today we are going to walk besides the canal in the opposite direction from Gargrave to Skipton. We have driven besides part of the route but never walked along the towpath.
The starting point for our walk from Gargrave is a small parking area in Church Lane, besides a recreation ground (Grid Ref: SD933539). We start by walking into the recreation area and following a path besides the River Aire towards Gargrave Bridge.
After crossing the bridge we cross the A65 and pass besides the Dalesman Cafe to join West Street. This is the route of the Pennine Way as it goes through the village . We stay with West Street past a car parking area and follow a sign to the Leeds and Liverpool Canal.
It is only a short distance to reach the canal where we turn right before crossing Highland Bridge (no.170) and head towards Skipton.
We soon reach another bridge besides Low Warehouse.
The towpath leaves Gargrave passing under another bridge and continuing on by a lock before going under the A65. We then head out into open countryside to reach Highgate Swing Bridge.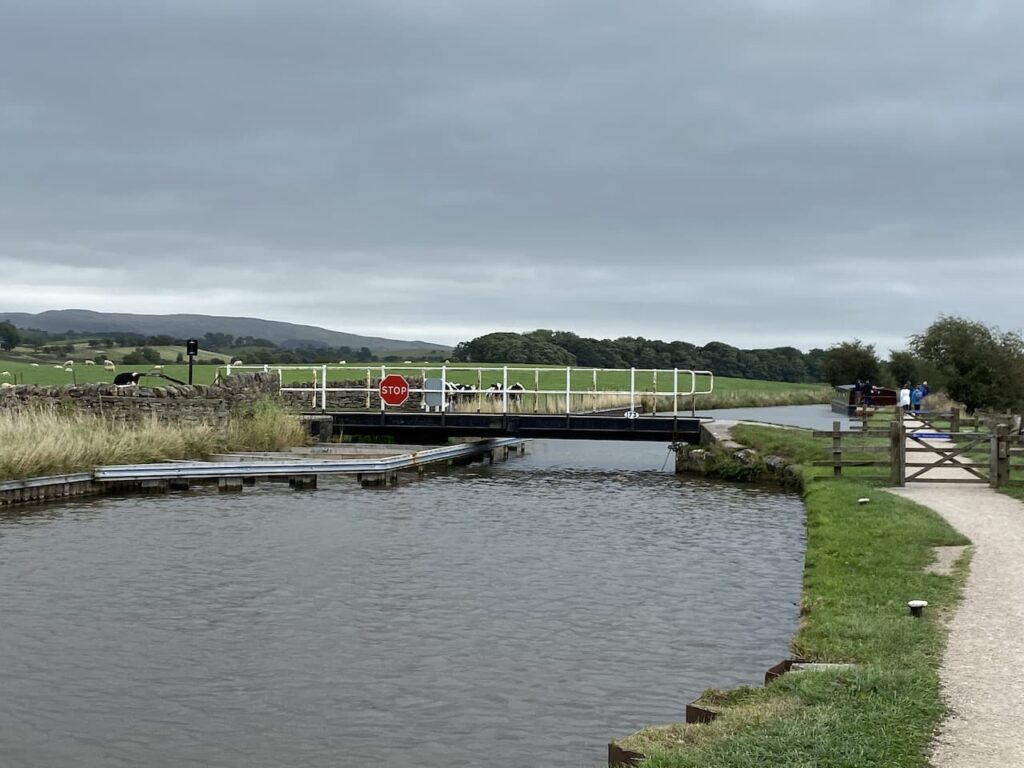 At 127 miles long the Leeds and Liverpool is the longest canal built as a single waterway. Work first commenced on its construction in 1770 just north of Liverpool at Halsall. Whilst at the Yorkshire end work was soon started to create a link between Bingley and Skipton, this section was the first to open in 1773. It was in 1775 that the section we are now walking on opened when Skipton was linked to Gargrave.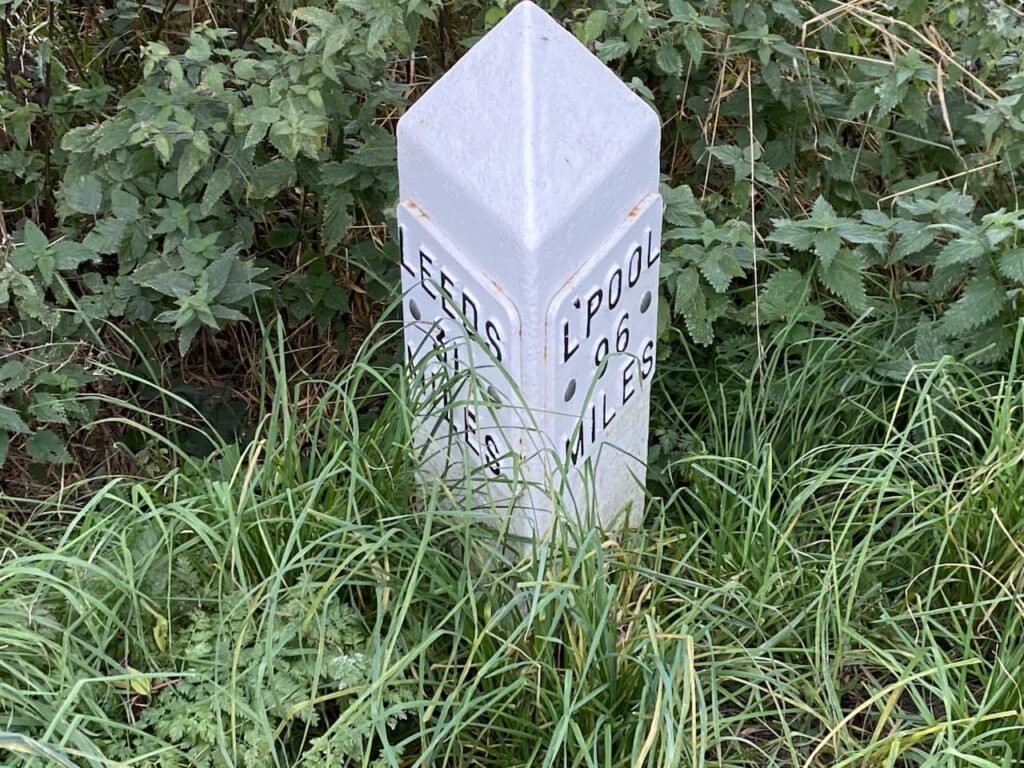 After a few miles of walking through the countryside we pass under the A59 and then the path soon has a short section between the canal and the A6069.
We then go under the A629 to reach the outskirts of Skipton.
I always find it interesting walking through towns on a canal towpath. The historic routes form part of people's day to day travel, be it walking to school, work or to the local shops, so are just like pavements besides the road, but far more tranquil.
As we reach the heart of Skipton the Spring Bank Canal, also known as the Thanet Canal joins the Leeds & Liverpool Canal. This is a short branch which was built in 1797 for Lord Thanet who lived in Skipton Castle. He wanted to transport limestone from his quarries behind the castle for transportation to Leeds. A half mile section was constructed with a loading wharf which was connected to the quarries via a tramway.
Now in Skipton we decide to have a wander around and leave the canal and cross the Belmont Bridge and then turn left in to Catch Street and continue on to cross the Spring Bank Canal where we turn left through a car park to reach a statue of the famous Yorkshire and England cricketer Fred Trueman.
Trueman is recognised as one of the world's best fast bowlers and his pace and menacing approach led him to be known known as 'Fiery Fred' . He was the first bowler to reach 300 test wickets and in total took 307 wickets in sixty seven tests. His England career ended in 1965, but he continued to play first class cricket for Yorkshire until 1968. From 1974 until 1999 he was part of the BBC Radio Test Match Special team and worked alongside the two best ever cricket commentators Brian Johnson and John Arlott.
This statue by Yorkshire born sculpture Graham Ibbeson was unveiled in 2010 . We have seen many statues on our walks, many have been poor representations of the individual, an exception being the excellent Eric Morecambe statue in Morecambe, also by Ibbeson. This one does a wonderful job of recreating the power and ferocity of Fred. If I had seen him running in to bowl at me I would have sought refuge behind the square leg umpire!
We now have a mooch about the town and end up outside of the large Holy Trinity Church at the top end of the High Street. This church was built in the 1300's and extended in the 15th century. After being damaged in the English Civil war repair work was carried out. It has been struck by lightning twice, in 1853 and 1925, each time repairs were needed.
Next door to the church is the gatehouse to Skipton Castle. During the English Civil war this was the last Royalist stronghold in the north of England and was laid siege by Cromwell's forces for three years before surrender was negotiated in December 1645. I cannot recall visiting the castle, we haven't enough time today but will make a point of going inside on a future trip.
We decide not to spend too long in Skipton as we still need to walk the four and a half miles back to Gargrave. Instead we make our way back to the canal to start our return trip. Lynnie's hopes are raised when she spots an Ice Cream barge close to Belmont Bridge, but sadly for her it is closed.
As we leave Skipton the towpath is busy with school children returning home, but it is not too long before we have walked through the urban area and are back in the countryside.
I am not usually keen on retracing our steps when we are out walking, but today it is interesting as it gives a different perspective on the area we are walking through.
As we approach Thorlby swing bridge the cattle in the field on the opposite side suddenly take an interest in us and line up to watch us pass. We are not keen on inquisitive cattle so are grateful for the water between us.
After passing under the A65 and walking up to pass a lock we stop to look at the derelict farm buildings between the canal and main road at Holme Bridge. I have driven across Holme Bridge many times, but not previously spotted these buildings. Perhaps it's because I am usually towing the caravan and hoping I don't meet a lorry on the bridge.
We stay with the canal until we reach Highland Bridge (No.170). Before heading back into town we stop on the bridge to view the lock. In total there are ninety one locks on the main Leeds & Liverpool canal including the famous Five Rise Locks at Bingley.
We now head back through Gargrave and cross Gargrave Bridge and continue along until we reach Church Street. Here we turn left and stop to look at St Andrew's Church. This church was built in 1521 and restored in 1852.
From the church we only have a short distance to our starting point. It has been an interesting walk covering twelve miles and has had less than 100 feet of ascent. Just the sort of longer walk Lynnie likes!
You can view this 12 mile walk on OS Maps and download the GPX File Here
To follow this walk you will need Ordnance Survey Outdoor Leisure Map OL2 – Yorkshire Dales – Western Area
23rd September 2021
© Two Dogs and an Awning (2021)
All information on this site is provided free of charge and in good faith and no liability is accepted in respect of damage, loss or injury which might result from it.  To the best of my knowledge the routes are entirely on public rights of way or within areas that are open for public access.
Walking can be hazardous and is done entirely at your own risk.  It is your responsibility to check your route and navigate using a map and compass.