For a couple of years visiting the Ordnance Survey Trig Pillar at Great Knoutberry Hill has been in my sights. I am not sure why it has eluded me for so long, but today I finally plan to add it my list of trigs bagged. Today I am with my walking buddy Mandy. We walk a lot together at home in Wiltshire but have not done much in the Dales but a couple of days ago we completed the Yorkshire Three Peaks.
The forecast today is a bit bleak with rain and low cloud. So we head off with a plan for a sixteen mile walk with the option of cutting it short if the conditions are not good. The starting point for our walk is a parking area besides the Dent Head Viaduct (Grid Ref: SD777844).
We set off down the road towards Cowgill and Dent. We soon pass Bridge End Cottage, continuing down the lane a Red Squirrel runs across the road in front of us. It is years since I saw a Red Squirrel in England, I have encountered them in Scotland but today's sighting is a rare treat. We then pass a milestone indicating we are eleven miles from Sedburgh.
The lane we are walking along is close to the River Dee, at times we have been high above the river but as we continue towards Stone House Bridge the river is beside the road.
On reaching Stone House Bridge we turn right, leaving the road to pass cottages, one of which has a notice warning drivers to slow for Red Squirrels. In the Dentdale and Sedburgh area there is an initiative to encourage Red Squirrels through developing the habitat and feeding whilst at the same time reducing the Grey Squirrel population.
We are now on Arten Gill Lane and follow this as it goes through a gate and joins an ancient track heading towards the Arten Gill Viaduct.
As we walk up the lane, even with poor visibility, the viaduct dominates the view. It is a stunning bit of engineering and is listed as bridge number 84 on the Settle to Carlisle Railway. Work on its construction started in May 1870 and was completed in July 1875. The unstable nature of the ground in the gill meant that some of the piers are rooted to a depth of 55 feet into the ground.
The viaduct is 660 feet long and 117 feet high and stands 1,100 feet above sea level. Parts of the structure are constructed with Dent Marble which was quarried from the Arten Gill beneath it. In these parts the Ribblehead Viaduct is the iconic view that tourists seek, if this was more accessible it would be equally popular.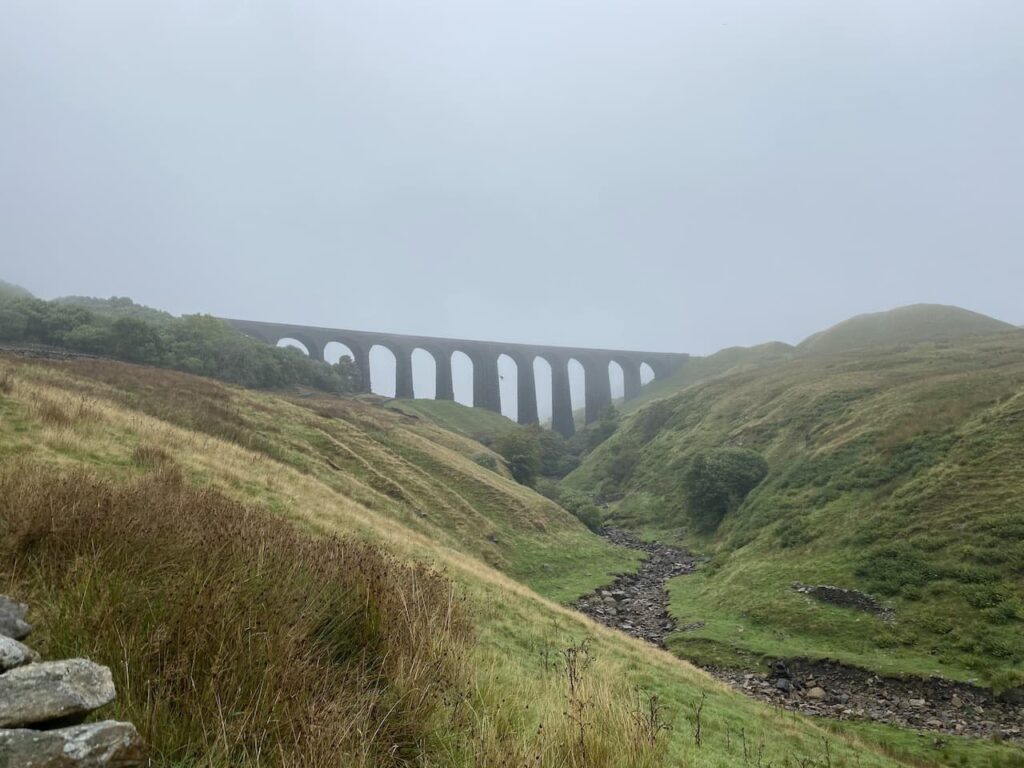 We continue gradually ascending and the weather continues to close in on us. I am sure we are missing out on some stunning views of Arten Gill, but our focus is on keeping the driving rain from finding gaps in our waterproofs.
At a junction of paths we turn left continuing on the Pennine Bridleway as it heads north and then quickly east along Dent Fell. The now flat route goes through a succession of gates.
The Pennine Bridleway sweeps towards the north and as we pass Green Bank we take a path on the right which follows a fence line and ascends Pikes Edge on Great Knoutberry Hill.
It is bleak walking up this hill, we are exposed to the elements with no cover and even with the recent dry weather the moor is boggy in parts. Staying with the fence line we reach the trig pillar on Great Knoutberry Hill. This is the 273rd trig I have bagged.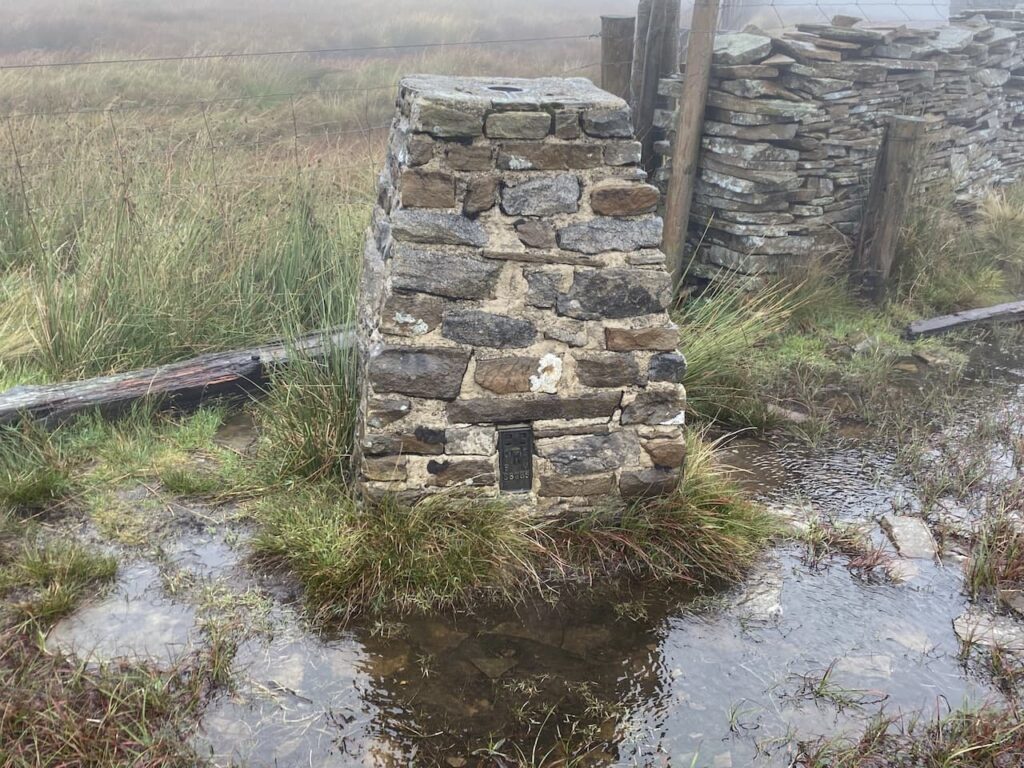 From the trig we keep with the line of a dry stone wall as it descends from the hill in a south easterly direction. It is clear from the worn path that there are frequent visitors here and I later read that the views are spectacular, I'll have to take their word for it as we can hardly see a thing.
The path leads us downhill passing the disused Cross Pits Colliery and then we cross a wall stile to join a track where we turn right and follow this to the junction of paths we were at earlier at the top of Arten Gill. This time we turn left on the Pennine Bridleway and follow this route as it takes us south through Swineley Cowm. There is no letting up with the weather and we check the map and compass to ensure we are on the right route.
Eventually the Pennine Bridleway route leads us to a minor road here we turn right leaving the Pennine Bridleway to head back along the road towards Dent Head Viaduct.
As we walk along the road we discuss the merits of following our original planned route, which would take us down to Ribblehead Viaduct from a path we soon reach on the left. We would then walk back across Blea Moor following the route of the Blea Moor Tunnel. It is a short discussion, we both agree there are significant benefits from continuing along the road and getting out of the rain as soon as possible.
The route is easy to follow as the road leads back to Dent Head Viaduct. Along the way the weather clears sufficiently for us to get a good view of the viaduct. Construction started on this viaduct in 1869 and was competed in 1875. Work was hampered by the constant rain and snow, in 1872 it is said that 92 inches of rain fell on Dent Head instead of the usual 68 inches. I think we have had a few fall on us today!
Back at the car we have two wet dogs to dry off and soaking waterproofs to remove. As we head back towards Settle from our nine mile walk we hear reports on the radio of impending fuel shortages, not good news when both Mandy and I have to tow caravans in the next few days. Fortunately as we pass through Ingleton I am able to get enough fuel into my almost empty tank to get me to the Peak District next week.
You can view this 9 mile walk on OS Maps and download the GPX File Here
To follow this walk you will need Ordnance Survey Outdoor Leisure Map OL2 – Yorkshire Dales – Western Area
24th September 2021
© Two Dogs and an Awning (2021)
All information on this site is provided free of charge and in good faith and no liability is accepted in respect of damage, loss or injury which might result from it.  To the best of my knowledge the routes are entirely on public rights of way or within areas that are open for public access.
Walking can be hazardous and is done entirely at your own risk.  It is your responsibility to check your route and navigate using a map and compass.