Despite living so close to the New Forest it is an area I rarely walk. Since the occurrence of a few cases of Alabama Rot affecting dogs in the forest I have been cautious about taking our dogs there. Also I don't like visiting when it is busy in peak holiday season, however, in November without the dogs it is a good place to go.
Today I am walking with my friends Mandy and Ged and our starting point is just south of Nomansland in the car park at Pipers Wait (Grid Ref: SU249165).
Leaving the car park we cross the road and head west across open ground towards woodland.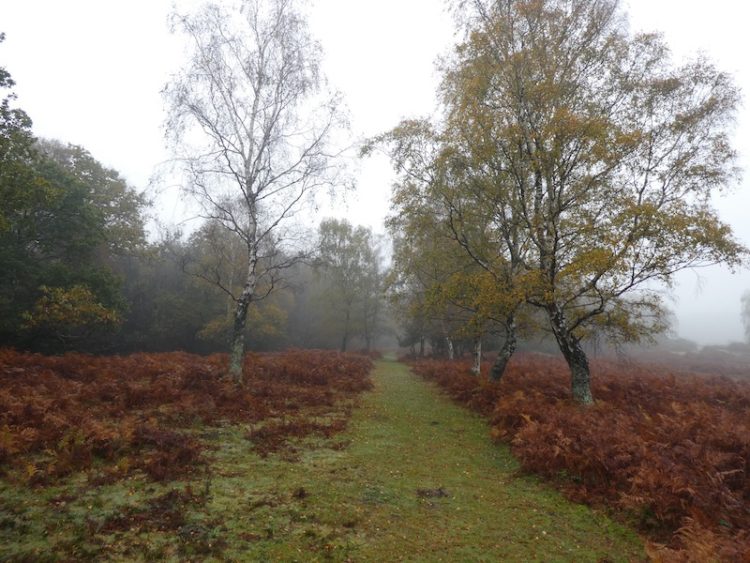 At the edge of Franchises Wood we turn left and follow the fence line, soon we are crossing soggy ground, trying to ensure firm footing to avoid a boot full of mud.
Our route runs parallel to the B3078 and then the B3080. We pass Hope Cottage and continue along besides the woodland boundary to reach the Ordnance Survey trig pillar at Pound Bottom, this is the 183rd I have bagged.
From the trig point we continue along parallel to the B3080 for another 350 metres before crossing the road to join a path heading south across Rushy Flat. This path leads to the B3078, Roger Penny Way. After crossing the road we continue south across open ground heading steadily downhill through the edge of Black Gutter Bottom.
Our route then climbs to reach a firmer path where we turn right and head southwesterly, our initial joy of getting on firm ground is short lived when we reach a flooded area of track requiring a slight detour to keep our feet dry.
At a fork in the track we go right and follow a track marked on the map as Leaden Hall. From here we can just about make out the line of Cranborne Chase in the distance. The visibility so far has not been good, but it is gradually beginning to clear.
At a junction of paths at Little Cockley Plain we go right and then at the next junction take a left to head downhill through Great Cockley Plain.
After skirting a copse we continue to a brook running through Must Thorns Bottom. In the summer this would not present much of an obstacle, but after the recent heavy rainfall it takes a while for us to identify a suitable spot to traverse without getting wet feet.
We now head towards Pitts Wood Inclosure; inclosures, or enclosures, were parts of the forest fenced to keep out the Commoners' animals to enable the young trees to grow. When the trees matured the enclosures were open again, (known as thrown out).
The practice of inclosures was created by the 1698 Act for the Increase and Preservation of Timber in the New Forest. The purpose was to give plantations protection, thereby, ensuring a future supply of timber required for Royal Navy shipbuilding.
Pitts Wood Inclosure was inclosed in 1775, and thrown out in 1815 before being re-inclosed in 1909.
Our route keeps out of the woodland; instead we follow a path around the boundary of the inclosure initially going south before heading east to join another path heading south to a cycle path going across Hampton Ridge where we turn right.
We stay with this track ignoring paths leading off to the right and left until we spot the Ordnance Survey trig point just off the track (Grid Ref: SU185135), this is my 184th trig.
Returning to the cycle way we head towards Windmill Hill. At a junction of paths near a minor road we go left and then almost immediately right to follow a path to the viewpoint besides Abbots Well car park.
We continue in a southwesterly direction across Hyde Common and then descend to a minor road, here we cross and take a path running besides a cottage to reach another minor road where we turn left and then negotiate a way around a ford. At a T-junction we take a track opposite and go southeasterly to reach access land and then turn left along a driveway and then turn right and head south skirting Dorridge Hill.
There are a network of tracks and paths here; we go southwesterly towards Ibsley Common and then cross to reach the Ordnance Survey trig pillar close to Whitefield Plantation. This is number 185 for me.
After stopping for lunch on the bench by the plantation we head off again in a northeasterly direction. This is another area with a network of paths, we keep to a northeasterly bearing until we reach a path heading right over Dockens Water onto Black Heath.
On reaching a gravel cycle way we turn left, following it through Black Barrow to Woodford Bottom. We take a left to cross Dockens Water again and head uphill on a path towards the western edge of Hasley Inclosure.
At a fork in the path we turn right and then continue on a path parallel to the southern side of the inclosure.
We join a track near the eastern entrance to the inclosure and follow it across Hallickshole Hill. We stay with this track as it forks left and then rises to reach a gate into Sloden Inclosure.
At a junction in the track we turn right, this route weaves its way through the trees to reach a gate leading onto Fritham Plain.
Now we follow a clear track northeasterly across Fritham Plain. To either side there is a lot of water lying so we are grateful for the firm ground of the path.
After passing a parking area we cross a green. To our right is the Royal Oak pub, it is a long time since I last visited this tiny pub and unfortunately, given the failing light, there is no opportunity to pop in today but I make a note to return in the Spring.
Crossing the minor road we continue on a track leading through the eastern edge of Howen Bushes.
Emerging from the trees we turn to the right and follow a faint path to cross a minor road and then turn left to walk parallel with the road across Longcross Plain to reach our fourth OS trig pillar of the day, giving me a total of 186.
Our route is now straightforward we continue parallel to the road, crossing the B3078 and continuing north besides the minor road along the edge of Black Bush Plain to reach our starting point at Pipers Wait car park.
The walk has covered just over seventeen and a half miles and has explored parts of the New Forest I have not previously visited. Despite the wet ground conditions we have managed to stay dry and avoided too much mud.
You can view this 17.5 mile walk on OS Maps and download the GPX File Here
[To follow this walk you will need Ordnance Survey Explorer Map OL22 – New Forest]
Additional Information
For more information on this walk including car parking, amenities, refreshments and detailed walking directions visit my associated Walking Moonraker website.
1st November 2019
© Two Dogs and an Awning (2019)

All information on this site is provided free of charge and in good faith and no liability is accepted in respect of damage, loss or injury which might result from it. To the best of my knowledge the routes are entirely on public rights of way or within areas that are open for public access.
Walking can be hazardous and is done entirely at your own risk. It is your responsibility to check your route and navigate using a map and compass.