After six nights at home we are off again, this time on a two week tour that will take in North Devon, Cornwall and Somerset. Our first stop is Seabreeze CL just outside of Appledore. This is a site we previously visited soon after it first opened and we have been looking forward to revisiting.

We arrived yesterday and were soon set up and then spent a very pleasant hour wandering around Northam Burrows Country Park. This is a familiar bit of the countryside, Lynnie has relatives locally so over the years we have visited here a number of times. I know that high on her list of priorities will be sampling some Hockings Ice Cream. So in planning todays walk I make sure we will pass one of their vans.
The Northam Burrows Country Park is right next to Seabreeze CL and that is where we are starting our walk today. Leaving the CL we turn left and then take the next left to follow the lane onto the Burrows. We are soon admiring the view back towards Appledore.
There is a network of paths across the Burrows, but we stick to the route of the coastal path running close to the estuary.  The tide is out and the dogs are very keen to get onto the beach to chase after a tennis ball.
It is a breezy afternoon and Crosby appears to be happy to stand and let the wind catch his ears.
With the sun breaking through the clouds and the tide out this is a cracking place to wander, there are a few others enjoying the afternoon, but it is pretty quiet as we head towards Westward Ho!
The wind has created some good waves for the para-surfers. This looks a fun sport, but not one that I am likely to take up. I have never been keen on the water and think I am past taking up a sport that looks so challenging. I will stick to walking!
We know that on the seafront at Westward Ho! there will be a Hocking's Ice Cream van. Hocking's is one of Lynnie's favourite ice creams so she soon has her pocket money out, going for the full works, additional clotted cream and a flake!
We continue along the coastal path heading towards Kipling Tor. Lynnie's mother lived in Bideford as a young woman and this was one of her favourite spots. So on reaching the benches overlooking the bay we sit and look out at the view, which has probably changed little in the intervening years.
Resuming our walk we wander back down into Westward Ho! and re-enter the Country Park. This time we keep to the southern edge of the park. This involves crossing a couple of inlets full of water, Lynnie is soon demonstrating her tightrope walking skills.
Arriving back at Seabreeze CL we have covered seven miles, it is amazing how far you can walk without realising it. It has been a cracking afternoon and to round off the day we are treated to a stunning sunset. Let's hope it is a sign of another good day tomorrow.
To view this route on OS Maps Click Here
To follow our walk you will need Ordnance Survey Outdoor Explorer Map 139 -Bideford, Ilfracombe & Barnstaple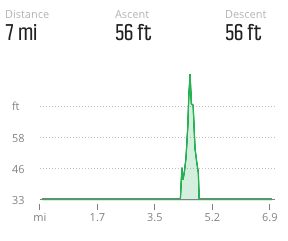 29th September 2017
© Two Dogs and an Awning (2017)