It is our last full day at Tirmynach Farm CL and I am keen to get back onto the Black Mountains.  Lynnie has different plans and wishes to wander around the bookshops of Hay-on-Wye.  I suspect her real motive is to make a couple of visits to Shepherds to sample several flavours of their ice cream.

We don't often head in different directions whilst away; but it usually occurs when I have plans for a twenty-mile plus walk as on today's agenda.  I drive to the small car park at Gospel Pass.  This is perfectly placed between Lord Hereford's Knob and Hay Buff, both of which I will be visiting during the course of the walk.
I leave the car park and climb towards the peak of Lord Hereford's Knob, stopping halfway up to turn back and look at Hay Buff.
The easy option would be to pop over there on reaching the summit of Lord Hereford's Knob, but it is a stunning day and I am looking forward to the long trek.  I am soon at the peak of Lord Hereford's Knob or Twmpa as it is known in Welsh.  This point is 2,260 feet above sea level a great viewpoint to the valley below.
The views are stunning as I walk along the ridge towards the trig point at Rhos Dirion.  When we were here a couple of days ago there was a hailstorm blowing in our faces so it was not easy to fully appreciate the view!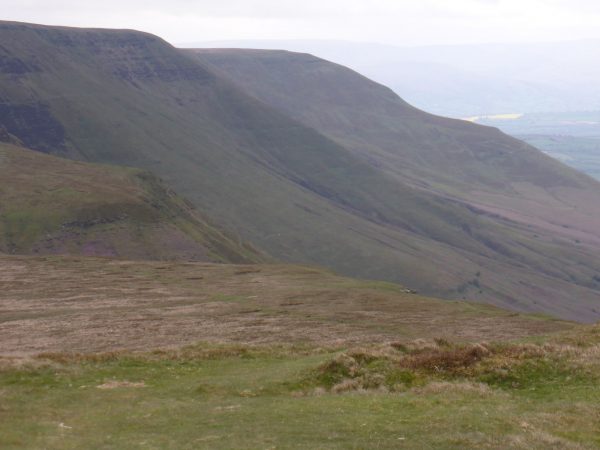 At the trig point Dexter and Crosby make it perfectly clear they do not want their picture taken.  They have already got that one in their album!  We are now 2,339 feet above sea level.
From the trig point we turn to take the path leading south easterly along the ridge.  There are a series of cairns along this ridge to guide folk in poor weather conditions, they are not needed today, I can see for miles.  The ground is incredibly dry and again I wonder what I would do if a fire took hold on this open land, with the steady breeze it would cover the ground incredibly quickly.  It is not worth worrying about, but when I get back I will have to check the advice on such matters (it is best to be prepared)!
Having passed the cairn at Twyn Talycefn the next cairn is above the Grwyne Fawr Reservoir; on reaching the series of cairns at a crossing of paths I can see the reservoir below.
Next up along my route is the Chwarel y Fan; at 2,228 feet this is the highest point along this ridge.  To my right are the indistinct signs of an old quarry.
From here I continue along the ridge towards Bal-Mawr.  Lynnie and I walked this section of the ridge last July, but we were heading in the opposite direction, so today I get a totally different perspective as I stride along.
Before too long I am at Bal-Mawr, about six miles along the ridge from Rhos Dirion and  another trig point that the dogs already have in their album so they cannot be enticed to pose.
The immediate descent from Bal-Mawr is relatively steep requiring sure footwork and then I follow the path to the pile of stones at Bal-Bach.  To me this is a well-constructed cairn, but the OS Map refers to it as a Pile of Stones.
I carry on, wondering when a Pile of Stones becomes a Cairn, or is it a case of when does a Cairn become a Pile of Stones.  Life is full of mysteries!  My path is clearly defined as it heads down Cwm Bwchel, since we were last here there has been work done to ensure the path does not spread.  I descend towards Llanthony and views of the priory soon emerge.
The final section is through a series of new gates that have replaced the stiles; making life a lot easier with the dogs.
Once in Llanthony I head towards the priory and sit at a picnic bench in the car park for a well-earned rest and a bite to eat.  The priory is thought to date from around 1118 when a group of forty Monks from England founded it.  The locals did not take kindly to the incomers from over the border and they soon departed, but following funding from Hugh de Lacey in around 1186 and also from Pope Clement III building work continued and it was completed in 1217.
Refreshed I resume my walk by following the signs for the Brecon Beacons Way as it heads towards Hatterrall Hill, this initially takes me past the back of the priory.
Then climbs gradually, but continually, as it traverses the side of the hill.
At the top, at a junction of paths, I meet a group of half a dozen walkers.  These are the first people I have seen since I left the car, close to twelve miles ago.  We exchange pleasantries and then I stop to look towards Hatterrall Hill.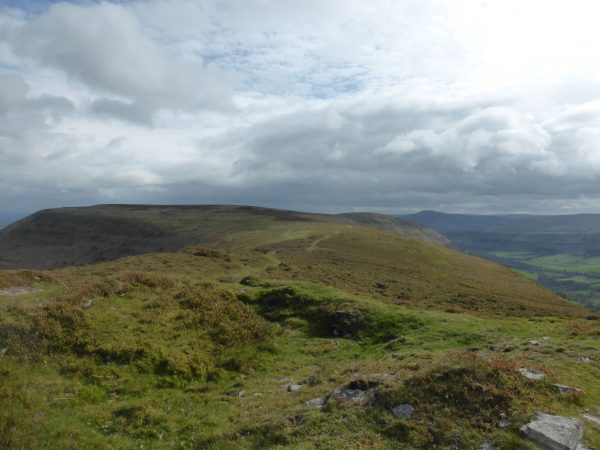 It is a place I will have to visit in the future.  I still have a fair distance to walk back along the ridge and there is no time to hang around, as the light will be fading by the end of my journey.  So I stride on following the Offa's Dyke Path in a northwesterly direction.
This is a cracking ridge to walk along with the occasional trig point to spot along the way.  The first is above LLanthony.  Dexter and Crosby have already ticked all of these off!
The next is at North Daren, this one having a far more substantial base.
The landscape is absolutely deserted which is fine on a day like today, but in inclement weather might be a bit scary.
The route is easy to follow but on reaching a series of cairns peppered across a desolate area the threatening rain suddenly arrives.  I have just enough time to get the waterproofs on before it sets in.  It is no more than heavy drizzle but the wind is driving it into my face making it hard going.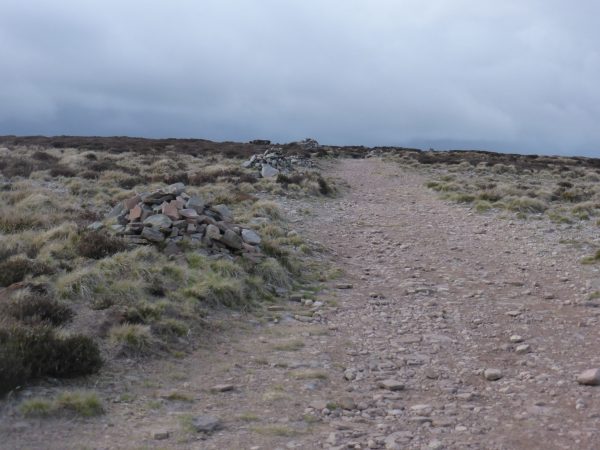 The path now stretches out in front of me for what seems like miles, with the distinctive white trig point at Hay Buff standing out in the distance.
Eventually we reach Hay Buff, I wave to Lynnie in the distance back at the caravan site seven miles away on the other side of Hay-on-Wye, but I am not sure she will be able to see me!
As I walk along the ridge, admiring the view, a shaft of sunlight emerges through the cloud lighting up a section of the valley below.  It is an awesome sight.
Turning the corner to head down towards the Gospel Pass road the car comes into view.  I am pleased to have made it with about half an hour of daylight to spare, but walking the last eight miles at pace have taken a toll on my knees.  The walk has covered close to twenty miles and has been exhilarating.
This is cracking countryside and it will be a pity to leave it when we move to our next destination tomorrow.  Now it is time to head back to the Coachman, Lynnie has been left to her own devices and I am interested to see how many books she has bought and how many Ice Creams she will admit to consuming!
27th April 2017
[To follow our walk you will need Ordnance Survey Outdoor Leisure Map OL13 – Brecon Beacons National Park Eastern Area]
© Two Dogs and an Awning (2017)