After a month at home, the longest time we have spent in our house since the end of January, we are back on the road.  Yesterday we travelled a couple of hundred miles to stop overnight at Poolsbrook Country Park Caravan Club Site, a perfect location to break the journey and we had a very enjoyable stroll around the Poolsbrook Nature reserve in the evening.

The dogs and I were out early this morning for another turn around the lakes in the nature reserve and then we make an early start.  It is going to be a hot day and we have two hundred miles travel to our next pitch at Paxton House, close to Berwick-upon-Tweed.
Despite it being mostly motorway and dual carriageway, the journey still takes us over five hours, which includes a break and a lengthy delay on the A1.  It is therefore with some relief that we arrive at Paxton House and get set up.
This really is a cracking site.  We first stayed here in 2014 when it was a CL and limited to five pitches, when we returned last year it had left the Caravan Club network and increased the pitches to fifteen.  There is so much space that this is not an issue.  I have written extensively about Paxton House and grounds in the past, so will not this time.
In the early evening we wander around the grounds.
Since we first came here parts of the woodland have been cleared and now there is an abundance of foxgloves.
When here last year I spotted a Red Squirrel, a Pine Martin and an Otter.  Lynnie thinks that I only need to see a Mountain Lion or Puma to complete the set!
Our walk takes us through the woods and down to the banks of the River Tweed, the fishing boats are loaded with nets for salmon fishing.  In 2014 we spent hours watching the fishermen working the river.
It was fascinating, they use the tower to watch the river and their trained eyes are able to determine when Salmon are making their way up.
We stand and watch the river, but to me the surface looks the same.  There are obviously Salmon about, we see one going for a fly.  But I don't know how you can tell how many are on their way up the river.
Further along the river we can see the chain bridge leading to the Honey Farm, we are sure to be making a trip there in the next few days.  I do like a bit of Heather Honey!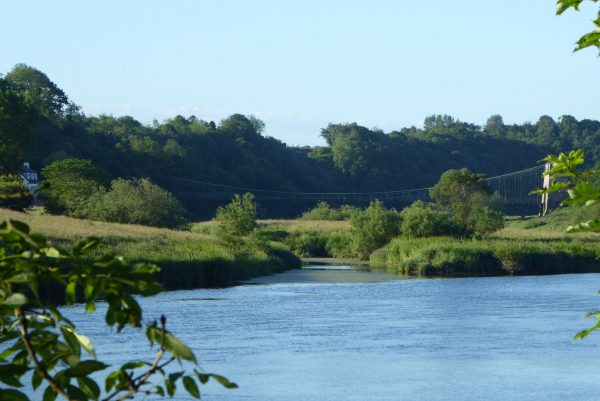 It is very good to be back here, we are only stopping for a few days but will make the most of it.
17th June 2017
[To follow this walk you will need Ordnance Survey Explorer Map 346 – Berwick-upon-Tweed]
© Two Dogs and an Awning (2017)