For various reasons I have delayed making plans for our caravan travel this year which makes me feel a bit twitchy. I like to have things in the diary and know where we are going to travel during the year. I find making last minute bookings stressful and there is invariably limited availability on the more popular CL's. Since the growth of CL Bookings, an initiative set up by a group of CL owners booking is a bit easier and increasingly it is my first point of reference when looking for a site.
A few years ago we had an unfortunate incident on a CL in early April. There had been heavy rain and whilst trying to pitch we got stuck in soft ground. After plenty of chastisement from the CL owner we were pulled out by tractor. Ever since when booking trips at this time of the year we ensure there is hard standing available.
Goodleigh Hill CL near Pershore is, therefore, perfect for a winter trip. Easy access, fully serviced hard standing pitches and some great walking locally. So I was pleased to find Emily and Matthew, the site owners, had availability at short notice. We have been here a couple of time before so it did not take long to get set up and then lace up the boots for a quick walk.
Leaving the site by the pedestrian access Lynnie and I walk down to the road and then turn left heading uphill into Pensham Hill. As the road levels out we take a footpath on the right beside a post box. The path follows a driveway and then goes through a gate to enter a field.
This is the route of the Wychavon Way, a forty mile long distance route between Droitwich Spa and Broadway. We go through the field with the hedge to our right to reach a kissing gate. To our left there is a fine view of Bredon Hill. We walked up there on a previous visit and another jaunt up the hill is on my list of walks for this week.
We now follow a clear path across fields heading towards Home Farm in Pensham. The path leads to a minor road where we turn left and walk through the village. At a junction of roads we continue straight on.
At the end of the lane we turn left, still on the route of the Wychavon Way and follow the farm track which passes glasshouses at Sandilands.
After passing a barn which is being converted into a home we reach a junction of paths. Here we continue straight on, leaving the Wychavon Way, and head towards Pensham Fields Farm.
The agriculture in this area is mainly vegetables and besides the path there are a number of irrigation taps used with the network of pipes to water the fields.
The track leads through properties to reach barns in the farmyard. There are no way-markers but the OS map clearly shows that we turn left after the first barn and then go between barns. It always surprises me that farmers don't erect clear signage when they have footpaths leading through farmyards.
Leaving the barns the track sweeps to the left and then to the right and continues between fields towards trees in the distance.
At the trees we turn left on a track which soon turns into a road heading towards Pensham Hill.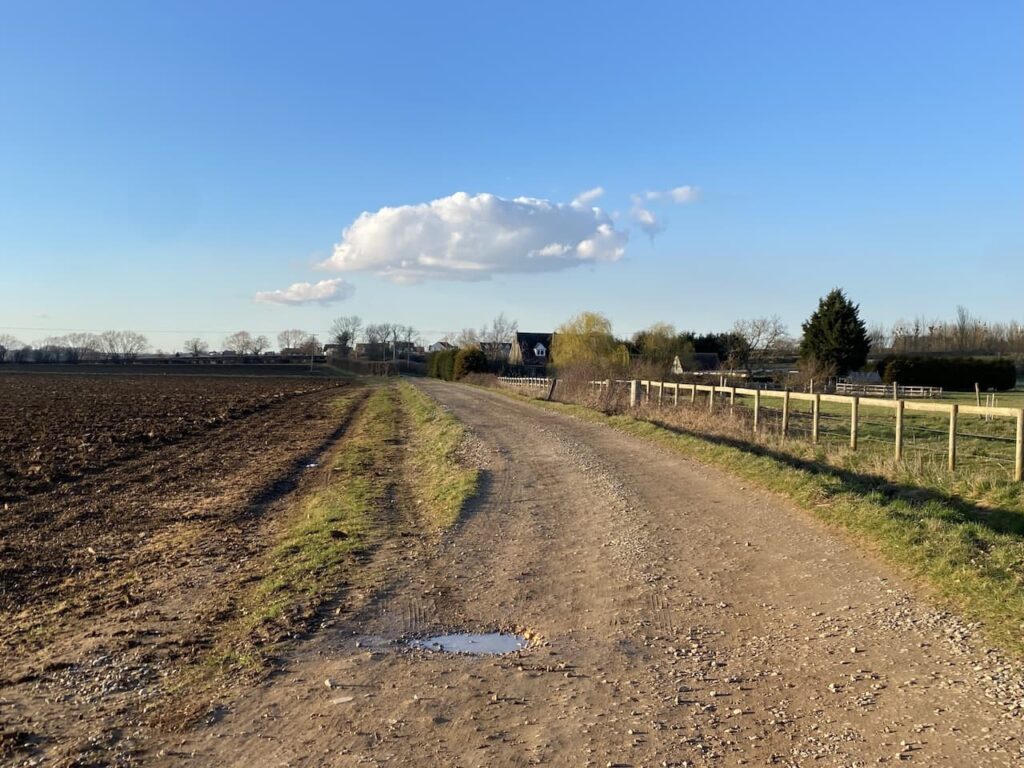 In Pensham Hill we turn right and follow the road through the village until we reach the path back into Goodleigh Hill CL. This little stroll has covered three miles and has given us a chance to stretch the legs after our car journey. The forecast for tomorrow shows snow so I may have to adjust my plans for walking on the Malvern Hills.
You can view this 3 mile walk on OS Maps and download the GPX File Here
To follow our walk, you will need Ordnance Survey Explorer Map – 190 – Malvern Hills & Bredon Hill
7th March 2023
© Two Dogs and an Awning (2023)
All information on this site is provided free of charge and in good faith and no liability is accepted in respect of damage, loss or injury which might result from it. To the best of my knowledge the routes are entirely on public rights of way or within areas that are open for public access.
Walking can be hazardous and is done entirely at your own risk. It is your responsibility to check your route and navigate using a map and compass.