My short trip to Minehead is almost over, I head home tomorrow so today is my last chance to get out on Exmoor for a while. It is another bright morning when I take Crosby out for his early morning walk and the forecast is set fair so ideal for a walk on the moor.
I have decided to head west along the A39 towards Lynmouth to start my walk at the County Gate car park. I have a rough idea of a route in mind, but plan to just wander where the mood takes me rather than sticking religiously to a pre-planned route. I refer to days like this as jamming about and it is my favourite way of walking.
It is the first time I have used the County Gate car park. It sits beside the A39 so is very easy to locate and it has a number of paths leading from it so is a great spot for walkers. I start my walk by going through a gate and taking the path that heads south towards Malmsmead.
Initially the path goes along the top of the hill offering fine views to the west as I look down towards Brendon.
This is open access land but the steep sides of the valley mean that access would be pretty limited. The path soon starts its sharp descent towards Malmsmead.
At a junction of paths I turn right towards Oare Water and then cross the river on a footbridge.
After crossing the river I follow the footpath up to the minor road where I turn right and wander back down into Malmsmead and the 17th century Malmsmead Bridge that crosses Badgworthy Water.
After crossing the bridge I pass the shop and cafe, which is currently closed whilst being refurbished and then turn left along the minor road signposted to Fellingscott, Slocombeslade and Tippacott. As the road sweeps to the right I follow a footpath sign through a gate to join a track signposted to Badgworthy Valley.
After crossing a ford the path goes through a series of gates and then becomes a sunken track beside pasture fields. Since I was last here a fence has been erected along the edge of the field so it is now possible to walk along the track without encountering cattle.
The track leads to a gate which I go through and continue along the side of the river.
I have walked along this path a number of times and it always surprises me how quiet it is. I expect in the holiday season it is packed, but today I appear to be the only person out.
Continuing along the path I reach a plaque to Richard Doddridge Blackmore the author of Lorna Doone. This book, first published in 1869, was one of Lynnie's mother's favourite books. The story was set in this valley in the 17th century and tells the tale of the love between John Ridd and Lorna Doone and culminates with the villainous Carver Doone sinking into a bog.
The path now follows the river through Badgworthy Wood.
The sun is out and in the shelter of the combe it is pleasantly warm and perfect conditions for walking.
At a junction of paths I decide to stop and appreciate the tranquility. I can hear nothing but birdsong and it is a wonderful spot to just sit and enjoy the pleasure of being out on such a cracking day.
Resuming my walk I follow a path going west towards Badgworthy Lees and walk through the site of a medieval village.
It is here that the Doone's were said to have lived. Whilst Blackmore's story is fiction it is based on historical characters. An exiled Scottish clan, the Doones, were known to live on this part of Exmoor in the 1600's.
The route now heads up onto the moor. This is a clear path that crosses a ford at Badgworthy Lees.
On the horizon I see sheep running about and a figure walking along the fence line. The path takes me towards a gate and as I get closer I recognise the dog running to me as Jack, known on social media as Exmoor Jack. His owner Sarah spotted me coming over the moor and has stopped to greet me.
Sarah and I have followed each other on social media for a number of years and back in October 2020 met over a cup of tea at Periwinkle Cottage Tea Rooms in Selworthy.
Today's meeting is a chance encounter, it is just by luck we both happened to be walking in this part of Exmoor at the same time. Seeing me in the distance Sarah zoomed in with her camera and recognised Crosby so decided to wait for us.
We now walk together on the track heading west over Brendon Common.
Although Sarah and I have only met face to face once before we know a lot about each other's activities through social media. Walking along it is like chatting to an old friend.
Just before we start to descend to Lankcombe Ford our ways part. But first we stop and chat in the sunshine in the middle of the moor. Sarah's knowledge of the moor is extensive and when I tell her where I am heading she suggests a slight change which will take me on a path I have not previously walked.
We agree that the next time I am in these parts we should arrange to get out for a few hours walking together. Social media gets a lot of bad press, but I have to say the handful of people I have met through it have all been really nice.
Heading off again I descend to cross a steam a Lankcombe Ford and then take a track to the left heading uphill to join a broad track leading across the moor.
At a fork in the track I go to the right and follow a narrower path through the heather to reach Dry Bridge where I take an uphill path in a northerly direction.
This path leads me to Shilstone Hill Ordnance Survey trig pillar. I have bagged this trig a number of times, but Crosby still grabs the opportunity to have his picture taken.
At this point I had intended to go left towards Farley Water Farm. However Sarah has suggested I take the path to the north which leads to Shilstone and then down to Rockford. It is not a route I have walked so I follow Sarah's advice and follow the path descending towards Shilstone.
The final section is a steep descent into Shilstone.
At the bottom of the valley I ford a stream and then follow the way-markers through the collection of homes in this small hamlet. After the cottage on the left I leave the farm driveway and take a footpath on the left into a field.
After passing a fence line the path descends to a stile. It is relatively low on the field side but it is a big drop down the far side. I encourage Crosby to wait but he jumps over and is surprised by how far he has leapt down.
I have now joined a road, Gratton Lane, I go left and descend to cross a stream and then take a path on the right to Rockford. This path soon descends steeply besides a stream.
It has been a pretty dry week so there is not a lot of water flowing down through the rocks. I imagine after a prolonged period of rain it would be spectacular walking down this path with waterfalls to the side.
I pass a water mill, searching on the internet later I could find no history of this mill which is surprising because things like this are usually recorded.
On reaching a road I turn left to follow it towards Rockford. Just as I enter the village I take a footpath on the right which crosses the East Lyn River at Rockford Bridge.
On the opposite bank I turn right on a footpath forming part of the Coleridge Way. This fifty-one mile trail goes from Nether Stowey to Lynmouth.
After climbing above the river the route descends to join an ancient track.
The track leads down to a cobbled path beside the river. When the water level is low this is not an issue, but after a period of heavy rain I imagine it might be a bit tricky keeping your feet dry.
The footpath soon goes by Countisbury Mill; this old watermill has been restored for bed and breakfast accommodation. The driveway leads to a minor road soon passing an old packhorse bridge and continuing on the road bridge over the river. I don't cross the bridge but instead keep with the Coleridge Way on the road towards Porlock.
The road climbs gradually passing Hall Farm and then I take a footpath on the right leading steeply uphill.
I have walked along this path a few times and on each occasion it has been a cracking day.
As I stroll along admiring the view I realise I have now walked close to nine miles and I haven't seen another person apart from Sarah in the middle of the moor.
Nearing Ashton Farm I go through gates and over a footbridge and then at a fork in the path I leave the Coleridge Way to follow a path going uphill by the fence line.
This path leads me close to the A39, but just before reaching the road I turn right on a bridleway heading back towards County Gate. From here there are great views across to South Wales and also back over much of the route I have walked. The bridleway takes me back to my starting point in the County Gate car park.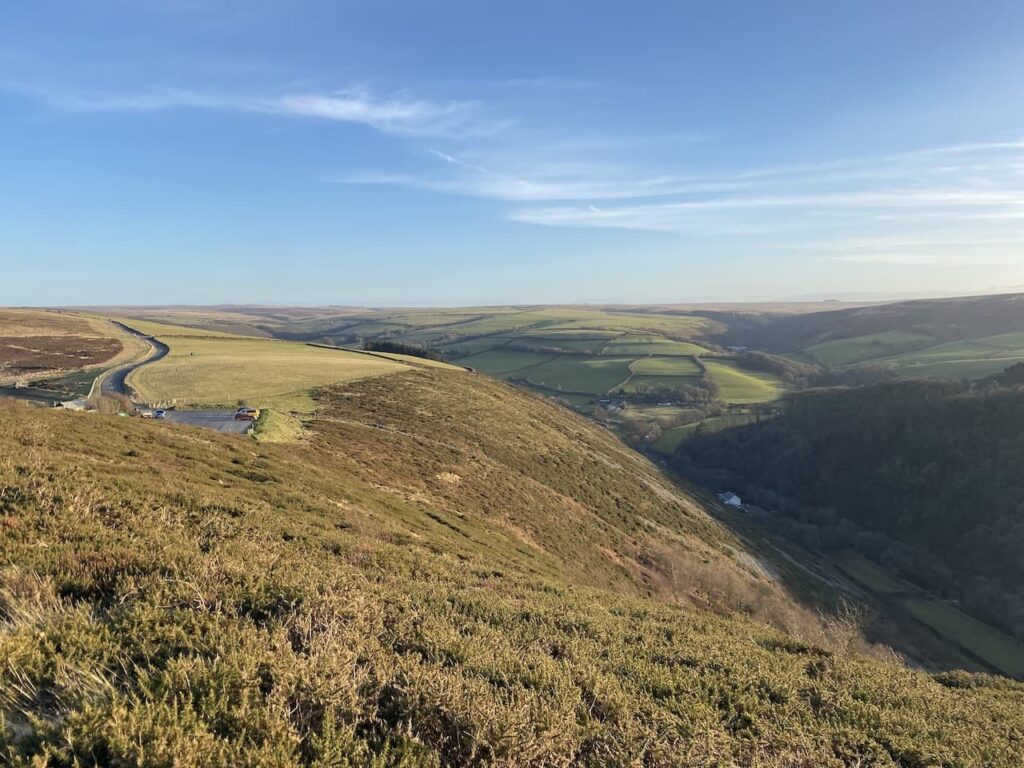 This has been a wonderful walk to round off a cracking few days. Now it's time to head back and start my preparations for my return home tomorrow.
You can view this 10.7 mile walk on OS Maps and download the GPX File Here
To follow my walk, you will need Ordnance Survey Explorer Map OL9 – Exmoor
9th February 2023
© Two Dogs and an Awning (2023)
All information on this site is provided free of charge and in good faith and no liability is accepted in respect of damage, loss or injury which might result from it. To the best of my knowledge the routes are entirely on public rights of way or within areas that are open for public access.
Walking can be hazardous and is done entirely at your own risk. It is your responsibility to check your route and navigate using a map and compass.