It is the last day of my trip away and it starts off with a wet morning. So it is early afternoon before I decide to venture out with Crosby for a walk and head for the Quantock Hills, one of my favourite locations for walking.  I start my walk from the car park at Dead Woman's Ditch (Grid Ref ST161381).

Crossing the road I enter the woodland of Robin Upright's Hill and follow an eroded path downhill towards Lady's Combe.
As I head down the path a deer watches me carefully.
After joining Lady's Combe I keep going downhill to ford the streams at the confluence of Frog Combe, Lady's Combe and Holford Combe.  This is a familiar spot and today I decide to take the path directly in front of me traversing Holford Combe.
This is a steady ascent through the trees leading to open moorland around Higher Hare Knapp.  I stay on the path that skirts around the summit of the hill and crosses a broad grassy track.
On reaching another junction of paths I turn right heading towards Lower Hare Knapp and then at a crossing of paths turn left towards Somerton Combe. In front of me is a cracking view.
My route now leads into the trees of Somerton Combe and then rapidly descends.
I ford the stream running through the Combe and turn right to reach the junction of Somerton Combe, Slaughterhouse Combe, Lady's Edge and Hodder's Combe.
I take the path leading through Lady's Edge to reach Sheppard's Combe.
This is a cracking combe ascending gradually to reach Bicknoller Post.
There looks to be another storm heading my way so I decide to take the easy option from here and follow the broad stony path south-easterly to Halsway Post.
At Halsway Post I fork left staying on the stony track.  There is now a stunning rainbow over Frog Combe.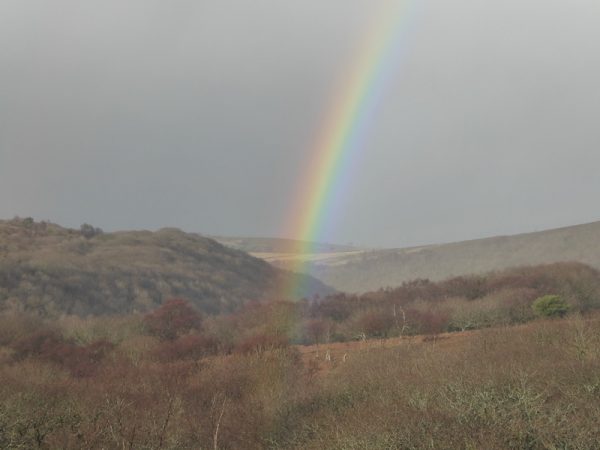 Fortunately I seem to be missing the worst of storm that has blown along the Bristol Channel and remain reasonably dry.
At a fork in the path I take a right to head through the round parking area close to Wilmot's Pond and then cross the minor road, turning left to follow the pathway back to Dead Woman's Ditch.
My brisk walk has covered close to six miles and some how I have managed to stay dry, which is remarkable given the storms that have been blowing around this afternoon.  It is now time to return to the caravan and pack up for the trip home tomorrow.
To view this 6 mile walk on OS Maps Click Here
To follow our walk you will need Ordnance Survey Outdoor Explorer 140 – Quantock Hills and Bridgewater
4th March 2019
© Two Dogs and an Awning (2019)