After a couple of weeks at home we are away again, this time for a short stay in the Cotswolds. The spell at home has given us the opportunity to make progress on the work we are having done to our house, but it is always good to hitch up the van and head off again.
We chose the Cotswolds for this trip because we like to find new areas to explore on our travels and the south west corner of the Cotswolds is not a place we have walked before, we did visit Tetbury on our honeymoon thirty-nine years ago, but in those days walking did not feature in our plans.
Our pitch for this stay is on Burnt Ash Farm CL, located on the outskirts of Minchinhampton. It is very easy to access with no narrow lanes and soon after our arrival we are warmly greeted by Adrian the owner. As soon as we are pitched and the awning is up I am lacing up my walking shoes and heading out for a short stroll from the site.
Our previous caravan trip to Scotland and the Peak District was cut short by my picking up an ankle injury. I have had some treatment on it and can now walk shortish distances with slight pain, this is an improvement on the severe pain that was stopping me walking anything further than a mile. I have been advised to wear trainers for a month to assist in the recovery. I own numerous pairs of walking boots, but did not have a pair of trainers so had to endure an hour trying to identify some that would be comfortable enough to walk in.
Needless to say two weeks after purchasing them the trainers look about six months old. I think they were designed for leisure wear, not trudging around the countryside. However if it means my leg gets better quicker I am willing to sacrifice a bit of credibility in the walking fraternity.
I leave the caravan site by the footpath which runs beside the ménage and then heads across paddocks to join another footpath close to the road. Here I stay in the field and turn right to walk along the edge of the field with the wall on the left.
After crossing a stone stile I continue into another field and keep walking with the wall on my left hand side.
After crossing another stone stile the footpath forks. I take the right fork to head through a meadow towards a gate.
After crossing a stile over the gate I join a track and turn left. The track soon opens out onto a small common.
I am soon across the common and carry on into Minchinhampton along a quiet residential street. This road leads to the Cirencester Road where I turn left and then quickly reach a crossroads where I turn left and head into Minchinhampton town centre.
Like many Cotswold towns Minchinhampton was built up around the wool market and it has a fine Market House with cattle barriers in the lower part.
I continue down the High Street and then turn right and pass the butchers and fish and chip shop and continue along the road heading west out of the town.
At a fork in the road I keep right and then take the next right into Dr Brown's Road and follow this heading steadily uphill to reach Minchinhampton Common where I turn right to walk across the common.
This is only a small part of the common which covers 580 acres of open access land which is grazed by cattle and has a couple of golf courses crossing it. It is a pleasant evening so on spotting the church spire in the distance I decide to head across the common to have a closer look at the unusual structure.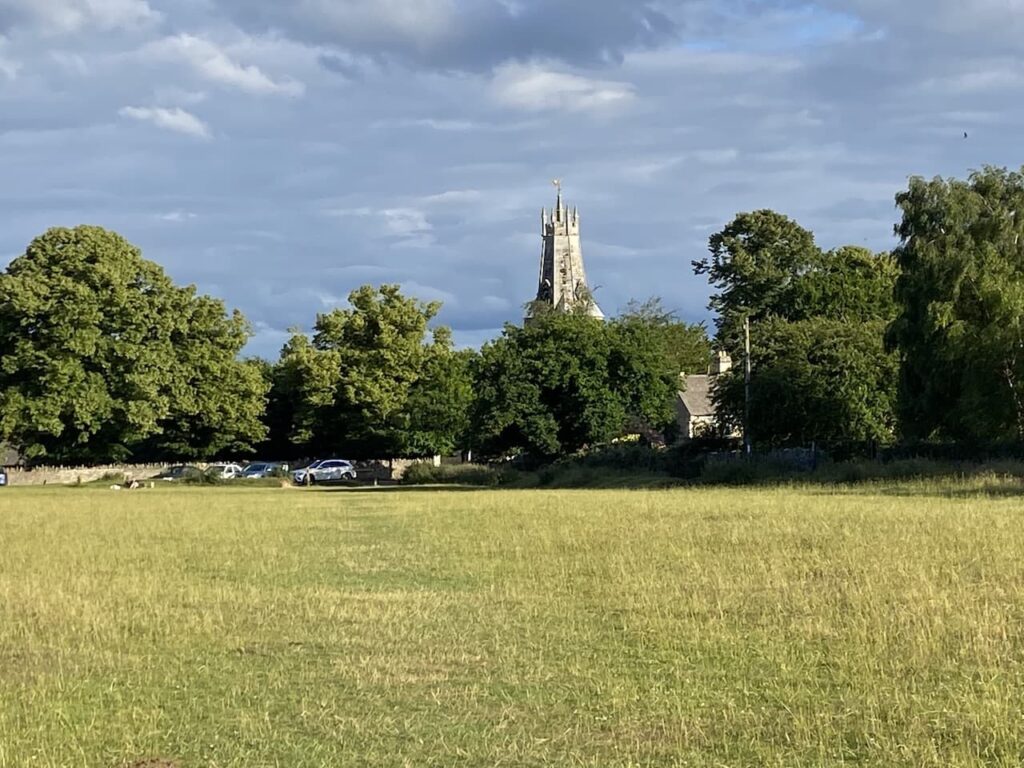 Apparently the original spire of Holy Trinity church was pulled down in 1563 because the arches in the nave were failing under its weight. The stub of the pair was retained and surmounted with a coronet structure.
I stay on the common and turn to the left to walk back in a north easterly direction to reach the crossroads on the Cirencester Road.
From here I retrace my route back to the caravan through the town and along the road to reach the small common and then cross the stiles.
The stone stiles across the walls between fields are an interesting feature for Crosby. He hopped over them at the start of our walk, but has now decided he would prefer to be lifted over.
Back at the caravan my walk has covered just over three miles. So far so good, my ankle feels okay. It has been a pleasant walk to acquaint myself with part of the local area.
I think tomorrow will see us venturing a bit further.
You can view this 3.5 mile walk on OS Maps and download the GPX File Here
To follow our walk you will need Ordnance Survey Outdoor Explorer – 168 Stroud, Tetbury & Malmesbury
1st July 2022
© Two Dogs and an Awning (2022)
All information on this site is provided free of charge and in good faith and no liability is accepted in respect of damage, loss or injury which might result from it. To the best of my knowledge the routes are entirely on public rights of way or within areas that are open for public access.
Walking can be hazardous and is done entirely at your own risk. It is your responsibility to check your route and navigate using a map and compass.