Our much anticipated trip to the Scottish Borders has not lived up to expectation. Our introduction to the area was a stunning walk in the Eildon Hills. We then had a good walk planned around Galashiels, but we had to abort our planned route as I was struggling with my left leg. The final mile of our three mile walk was a slow limp back to the car. The following day we attempted a short walk to Smailholm Tower, but it was clear after half a mile my leg was not going to hold up to any walking.
Therefore, for the last four days we have not ventured far from the caravan whilst I rest up. I am not good sat still for any length of time, walking is a major part of my overall well-being so I have been like a caged tiger itching to get out. However, I know that rest is required and even when I start walking it will be short walks for a while.
We have decided the most sensible thing to do is cut short our planned trip and head back home. I will then be able to get some physio and recuperate in the hope of being fit enough to do some walking on our planned trip to the Cotswolds in early July.
Before we head home we decide to pop to Kelso for a short walk around the town. It is a place we have not previously visited and somewhere I had thought we would do a few longer walks from during our stay. The starting point for our walk is a free car park in East Bowmont Street.
From the car park we walk into the main market square and stop to look at the fine Town Hall, this was built in 1816 by public subscription, apparently the majority of the funds came from the 5th Duke of Roxburghe who also allowed it to be built on his land. The 8th Duke of Roxburghe transferred ownership of the building to the burgh council in 1902.
We leave the square by the south east corner and walk along Bridge Street and soon pass the entrance to the Ednam House Hotel, this Georgian house was designed in 1761 by James Nisbet for James Dickson. Apparently Dickson was a native of Kelso, who left the town as a young man following allegations of vandalising a well. He made his fortune in North America, principally as naval agent in Havana during the British campaign in Cuba, and then returned to Kelso and commissioned Nisbet to build a fine house for him.
We continue past the remains of Kelso Abbey and then go by the War Memorial to reach Rennie's bridge. An earlier bridge over the River Tweed was opened in 1754 and replaced a ferry service over the river. An arch of the bridge collapsed in 1756 killing six people. After repair the bridge was then hit by a storm in 1797 and collapsed. The famous Scottish engineer John Rennie was then commissioned to build a new bridge and this was competed in 1803.
As we cross the bridge there is a fine view over the River Tweed towards Floors Castle which was built for the 1st Duke of Roxburghe in 1721 and has remained in his family ever since.
Apparently this was the first bridge that Rennie built, he went on to build the first Waterloo Bridge, at the time it was called the Strand Bridge in London. He was also the engineer responsible for a range of projects including a number of canals one of which was the Kennet and Avon.
On the far end of the bridge, on either side of the road are two lamps that originally stood on Rennie's Waterloo Bridge, these were relocated after that bridge was demolished in 1930.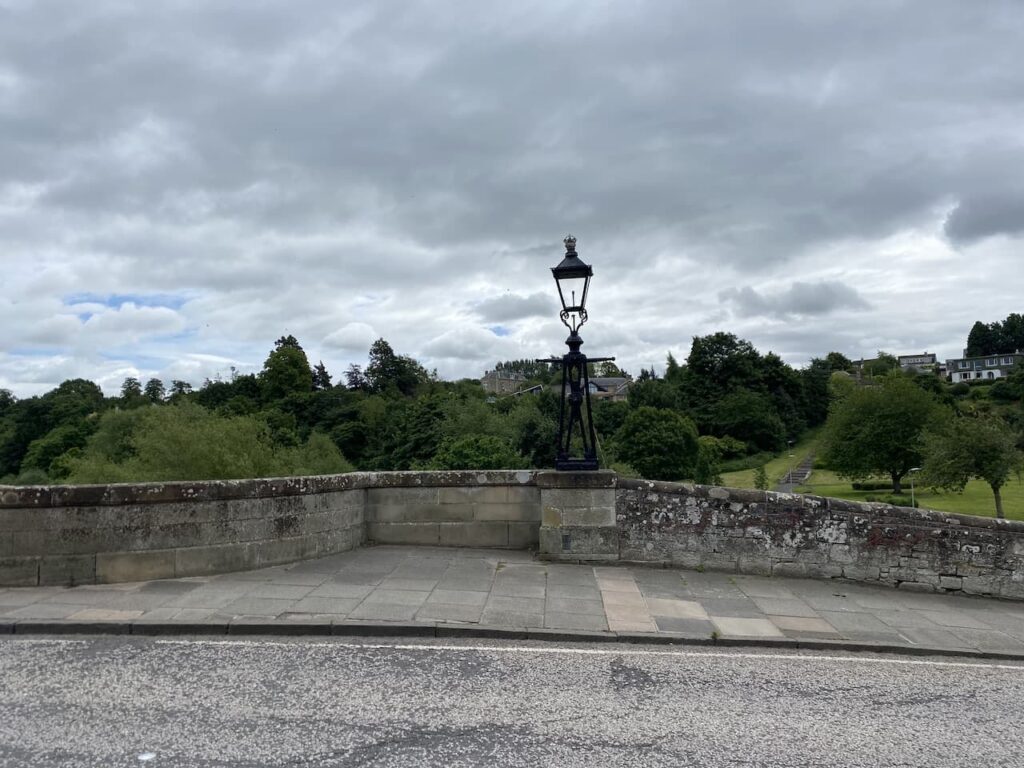 Just after passing the lamps we turn left, down the steps, into Bridgend Park and go through the park and up steps to the Millennium Viewpoint from where we get views back across the town.
We now continue uphill along the pavement, passing the petrol station and post box on our left and then turn left onto Sprouston Road. After 200 yards we reach a gate lodge on your left and turn left into the driveway and immediately left again to join a footpath into the woodland.
We now walk down the steps to the River Tweed.
After a short spell besides the river we go up steps to reach a small park at the edge of the housing in Pinnaclehill Park and continue to reach a road where we turn left onto the pavement and turn right and then after 50 yards go left and walk up to a main road. Here we turn left and go downhill for 400 yards and then take a footpath on the right before reaching Hunter bridge.
The path leads up towards a road where we turn left and head across the Hunter Bridge which carries the A698 across the Tweed and was built in 1998 as part of the by-pass of Kelso. It is named after Councillor Tom Hunter.
After crossing the bridge we turn left on steps leading down to a minor road and then turn left to take a path besides the river.
We continue until we reach Rennie's Bridge. From this angle the grandeur of the bridge can be better appreciated.
We now walk up to rejoin Bridge Street and turn right to head back towards the town and stop at the War memorial to view Kelso Abbey. The Abbey was founded in 1128 by King David I. It was ultimately sacked by the Earl of Hertford, under orders from Henry VIII in 1545.
We now wander back into the town centre and return to the car. Our short walk has covered just three miles. It has been really interesting and fortunately has not caused any reaction in my leg. Whilst I am tempted to walk further the sensible option, as stressed by Lynnie, is to call a halt to our walking for today and rest my leg so hopefully tomorrow I can continue my rehabilitation.
You can view this 3 mile walk on OS Maps and download the GPX File Here
To follow my walk, you will need Ordnance Survey Maps: OS Explorer Map – 339 – Kelso, Coldstream & lower Tweed Valley
13th June 2022
© Two Dogs and an Awning (2022)
All information on this site is provided free of charge and in good faith and no liability is accepted in respect of damage, loss or injury which might result from it. To the best of my knowledge the routes are entirely on public rights of way or within areas that are open for public access.
Walking can be hazardous and is done entirely at your own risk. It is your responsibility to check your route and navigate using a map and compass.