After a busy two and half weeks at home we are back on the road.  It took some adjusting to live back in our house following our recent seven and a half week trip away in the Coachman.

We are lucky to have great neighbours looking after things whilst we are away, but that still left plenty of gardening to catch up with and I had several work meetings to fit in.  I am fortunate to be able to juggle work with our travel.  However, this year it has proved more of a challenge and I think it is time that I started to think about winding down on the work.
The real pleasure of being at home is catching up with friends and we have certainly done that this time.  We were home whilst the village carnival was on and our special friends Maurice, Jane and Carlos visited for the weekend along with Laura and Toby.  We had a wonderful gathering the night before the carnival and an unforgettable carnival thanks to the energy, enthusiasm and hilarious entertainment of Maurice, (who I am sure won't mind me sharing, is ninety-one years old!).
It is just over a week since the carnival and we still have moments when Maurice's antics (plus that of his support act, Bob, my 87 year old father) have us in stitches.  Truly unbelievable!
Earlier in the year when listing places to visit we came up with a few new locations, it is an attraction of our lifestyle that we are always seeking to visit new areas.  We could easily fill a year returning to favourite sites, but that would just feel like a holiday, whereas this is, for us, a way of life.
When I meet people who ask me what I do I used to tell them about my work.  Now I tend to say I am a caravanning blogger.  It does lead to far more interesting conversations!
At eight nights, this trip is going to be a relatively short one.   We are heading for a part of the country we have not previously visited.  Our destination is Ashley Farm CL at Grafton, which is a mile or so south of Hereford.  It is a pleasant journey and we are soon on site.  We are surprised to be the only people here at this time of year.
After a few hours travelling and then watching us set up the dogs are ready for a walk.  When we arrive anywhere the dogs usually hop out to stretch their legs and then jump back into the car boot to lie down whilst enjoying a great vantage point to take in their new surroundings and watch us pitching the awning.  I am sure Dexter is waiting for us to make a mistake, he has that knowing look easily translated into "You've got it wrong again Dad!"
This time everything goes smoothly and we are soon out for a wander to familiarise ourselves with our new surroundings.  Leaving the site at Ashley Farm we stroll down to the lane and turn right and then within a few hundred yards turn right again to follow a tarmac lane.  After passing under the railway line we carry straight on until we meet a minor road that we cross to go through a gate on the other side and join a footpath along another farm track passing through Spring Grove.
In the distance we can see the Black Mountains and start to discuss which day we will drive across to explore the hills.
After passing Hayleasow Wood we quickly reach the A465.  We briefly consider crossing and wandering into Clehonger to visit the local pub for a sharpner, but decide it would be more sensible to continue our walk so turn left.  The verge besides the main road is very wide and we able to walk along without any concerns about the traffic.
After a quarter of a mile we turn left again this time along a path that leads towards Merryhill Barn, as we reach buildings the path leads onto a farm track.  It is early evening and the weather is cracking.  To our left we get glimpses of Hereford Cathedral in the distance.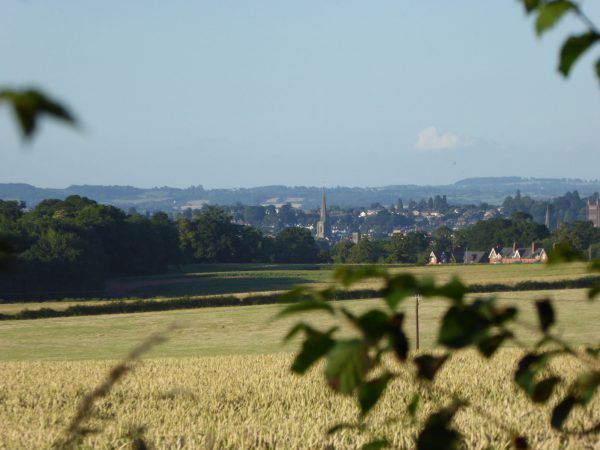 On reaching a minor road we turn right and after a couple of hundred yards cross the road, with caution, on a bend to join a footpath on the opposite side. The wheat in the field is showing signs of turning and with full sun forecast over the next week it should not be too long before we start to see the beginning of  harvest.
After crossing two fields we reach the track that leads back under the railway line and on to Ashley Farm CL.  Our little wander has covered three and a half miles, enough for us all to stretch our legs after the earlier journey.  We have already seen enough to know that we should enjoy our stay in this area.
To view this walk on OS Maps Click Here
To follow this walk you will need Ordnance Survey Explorer Map 189 –Hereford & Ross-on-Wye
18th July 2016
© Two Dogs and an Awning (2016)