Following yesterday's circuitous car excursion onto Exmoor I am keen not to use the car today.  We will be heading home tomorrow; as unfortunately we have come to the end of our short break.  But we cannot leave without having a wander on the Blackdown Hills to visit the Wellington Monument.

We decide to walk from the site, so start by walking into Wellington, passing the fine parish church on the way.
In Wellington we turn left at the main crossroads and walk up the road passing the Green Dragon, during our stay I have popped in here a couple of times and the service has been warm and friendly and the beer cold and refreshing.
Just after passing the entrance to Wellington School we turn right along a tarmac lane, at the end turning left to join a footpath heading south which, we follow out of town to cross the busy A38 before entering a field of tall reed.
The path is well marked as it follows alongside paddocks before crossing a lane to carry on south with the Monument high on the Hill in front of us.
After going under the M5 we cross another couple of fields and then a minor road to join Beacon Lane in front of us.  This has a gradual incline which becomes steeper after Beacon Hill Farm.  The path is now decidedly boggy, we know that we should be heading up hill, but it is so slippery there is a risk of sliding back down.  This is not a time for chivalry, if I stop to help Lyn I could end up face down in mud! Anyway she is better in these conditions than me and is like a mountain goat as she finds a suitable route.
After passing through a gate into woodland we soon arrive at steps leading up to the base of the monument.  It is busy with children and dog walkers so we don't linger.  We have been here before and I have previously blogged about the building of this monument commemorating the Duke of Wellington.  Apparently it is now in a terrible state of repair and a popular information website suggests that it is in imminent danger of falling down.  I am not sure that any one has told the JCB driver who has left his machine under the monument; perhaps he fancies a new one on the insurance!
The National Trust, owners of the monument and surrounding area, suggest it will cost around £4m to restore and are due to launch an appeal and seek funding from the Heritage Lottery Fund.  We are members of the National Trust, and £4m sounds a lot of money.  However, put into context they had an income of over £550m in their last accounts and unrestricted reserves of almost £230m. So are not entirely strapped for cash!
We leave the monument by taking a path heading west, this soon enters a beech copse and we follow the line of the field on our left, at the end of the copse the path turns to the right and descends, it is also very muddy here so slow going again.
Taking a gate on our left and then immediately through another on our right we join Park Lane leading past Park Farm and under the motorway.  At a junction we turn right and then after a hundred yards pick up a footpath on the left that leads across a couple of fields.  Crossing one of these fields over twenty years ago I had a traumatic encounter with a herd of young bears.  Fortunately, my then dog Baggins and I were able to avoid injury, but it was so worrying that I had to stop at the Green Dragon for a "nerve settler" at the end of the walk!
We join a lane and turn left, at a crossroads we head straight over towards Nowers Farm, the water towers and church at Rockwell Green are clearly visible in front of us.
In the village of Rockwell Green we go straight across the crossroads and take a lane on the left leading to the two fine water towers. The redbrick tower is the older of the two and was built in the late 1800's.
Its concrete neighbour was built in the 1930's.
A couple of years ago these two buildings were sold at auction for a reported £60k, twice the reserve.  At present there are no signs of ongoing work, hopefully one day they will be renovated and put to good use.
We head back to the crossroads and turn left to Wellington.  Along the way we discuss grand design projects and conclude that whilst we would find it interesting to live in a converted industrial property we would not take on such a project from scratch.  We are too risk adverse.
Entering Wellington we soon pass the Wellesley Cinema, this opened on 12th July 1937, apparently showing Shirley Temple in "Dimples".  Over the years it has had various owners and spells of closure, and in the 1950's a stage.  It holds 472 people and is one of the few remaining 1930's single screen cinemas.
A bit further along is Lloyds Bank, not such a remarkable sight on a High Street, but on reflection I suppose it may not be too long before High Street banks are consigned to history.  Interestingly this bank was where Thomas Fox started the Fox, Fowler and Company bank in 1787.  Apparently banking was an additional activity to add to Fox's main activity of sheep farming and wool making.
The bank started in the family home in Wellington and soon expanded through out the local area. Thomas Fox's bank was the last in England to issue its own bank notes which it did until 1921 when it merged with Lloyds Bank, the notes remained legal tender until 1964.  There are said to be only nine notes left in circulation, it would be good to find one stuck in the back of a draw somewhere!
We consider having a further mooch around Wellington, but are keen to get back for a cup of tea and get sorted for an early start in the morning.  Our walk has covered just over seven and a half miles.  I now have some serious boot cleaning to do, thus avoiding taking a couple of hundredweight of Somerset soil home with us!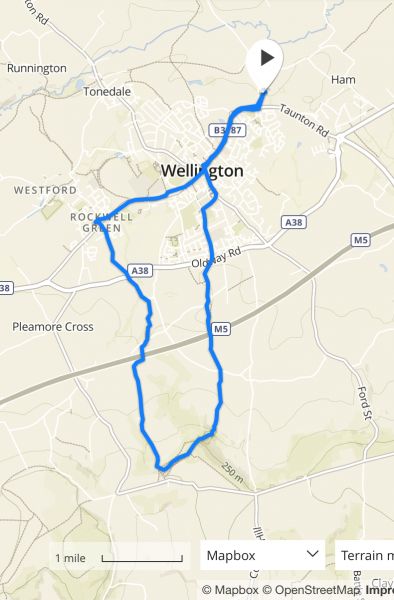 18th February 2017
[To follow our walk you will need Ordnance Survey Outdoor Leisure Map 128 – Taunton & Blackdown Hills.]
© Two Dogs and an Awning (2017)