Occasionally when on our travels we get a day when we awake to the sound of rain drumming on the roof of the caravan. It normally means that Crosby is reluctant to get up, he doesn't mind getting wet if it starts raining whilst we are out, but is very reluctant to head out when it is heaving down. After some gentle coaxing we head out for a brief walk up the lane, but at the first opportunity Crosby is turning for home and pulling on the lead to get back into the dry.
There is an old proverb that says rain before seven, fine by eleven. However, this fails to be true today and the rain shows no let up. Eventually it reaches the stage where both man and dog need to go out and stretch their legs. It's alright for me, I have a decent set of waterproofs and soon have these on. Meanwhile Crosby looks at me with a level of consternation, he does not want me to go without him, but equally he doesn't fancy getting wet. Eventually the bond with his master, and a firm tug on his lead, is enough to cajole him. Lynnie feels much the same as Crosby about heading off in driving rain, but obviously the bond is not so great as she puts the kettle on for more tea and settles down with her book.
I have decided to walk from the caravan and leave Moor Farm CL turning left down the lane and at the road junction take the first turning on the left to head along Pasture Lane. This is a road with grass growing in the middle so I know I am unlikely to encounter much traffic.
Just before the entrance to High Stool Farm we attract the interest of a cow in a field. Walking on my own I am not too perturbed by cattle, however when I have Crosby with me I much prefer to have a wall or fence between me and bovines.
The lane passes the entrances to High Stool Farm and Town Head Farm and then reaches a junction where I turn left into Green Lane and follow this to a crossroads. My route is straight ahead but first I stop to look at the Ordnance Survey benchmark which is cut into a rock forming part of a dry stone wall.
Bagging benchmarks has been a feature of my walks since the first Covid lockdown, they make an interesting feature to look out for on a walk and for folk like me who are fascinated by maps they are an indicator of how the local area was mapped in the past.
After going straight over at the crossroads I continue uphill on Green Lane, this section is another with grass growing in the middle.
Green Lane leads to a junction where I turn right into Moor lane and then after a couple of hundred yards turn left onto a track (Sough Lane).
The track ends with gates at a crossing of footpaths. Here I turn right and cross a wall stile before continuing along the path with the drystone wall to my left.
The path crosses a number of fields some where the wall still stands, others where it has fallen.
The sixth field I enter has a gate on the left. Here I take a brief diversion from the footpath and go through the gate and cross the stubble to visit the Ordnance Survey trig pillar at Sough Top. This is the 278th trig I have bagged.
After bagging the trig I retrace my steps across the field and go through the gate to rejoin the footpath and turn left to follow the footpath east, soon passing Sough Top reservoir which provides water to Taddington.
After two more fields the path starts to descend towards a road. In front of me is view of Taddington.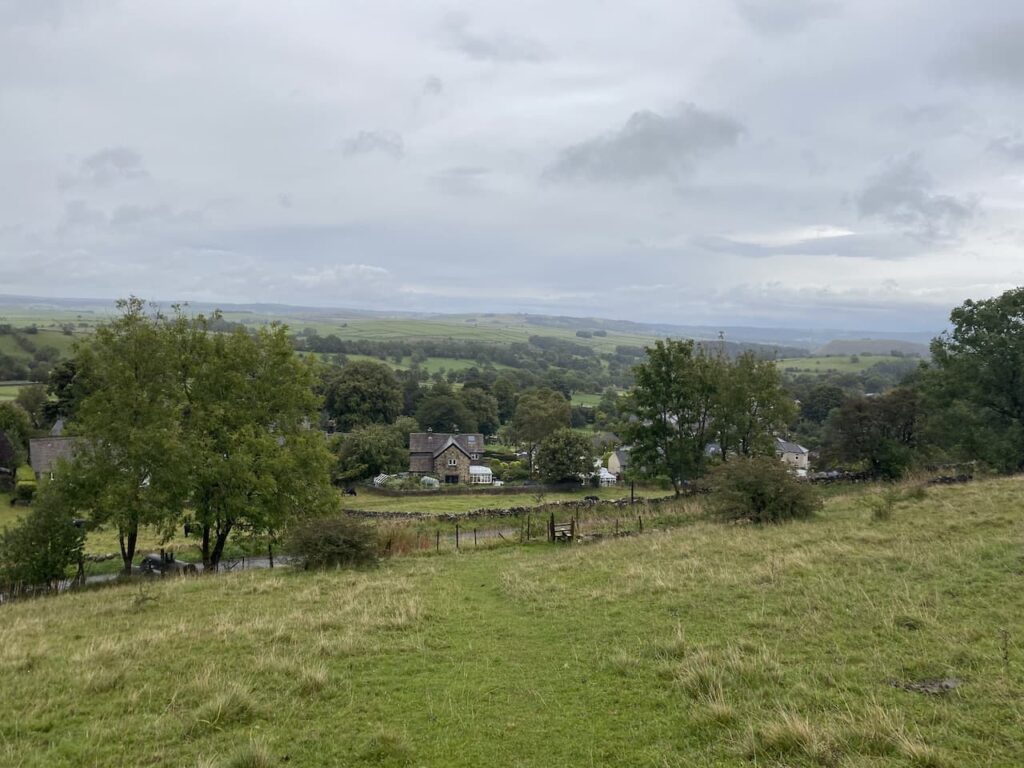 A few years ago we stayed at the Blackwell Hall CL which is just on the other side of Taddington. I had not appreciated until now that it is so close to where we are currently staying.
After crossing a stile I reach Slipperlow Lane and turn right heading uphill to reach a junction with Moor Lane where I turn left following it to a junction with a road called The Jarnett, It had been my intention to take a footpath at this junction and head across fields to Flagg, however, the light is beginning to fade and although I have a head torch in my bag the prospect of walking through fields of cattle shining a torch with Crosby beside me is not attractive. So instead I turn right and follow the road downhill. Soon on my right I spot a dew pond in the field.
My route is now straightforward as I follow the road into Flagg and in the village turn left just before reaching the bus shelter and the Methodist Chapel. The road I am now on is Mycock Lane, it is now dark and pouring with rain so I am grateful for the torch in my ruck sack. I continue along this lane, as it bends right becoming Moor Lane, until I reach the crossroads where I had earlier turned into Pasture Lane. I walk the short distance back up Stonebench Lane to return to Moor Farm CL.
Back at the caravan my walk has covered just over 7 miles and now I must dry Crosby off before I can sort myself out. Hopefully we will get a dry day tomorrow!
You can view this 7 mile walk on OS Maps and download the GPX File Here
To follow this walk you will need Ordnance Survey Explorer Leisure – OL24 – The Peak District, White Peak
30th September 2021
© Two Dogs and an Awning (2021)
All information on this site is provided free of charge and in good faith and no liability is accepted in respect of damage, loss or injury which might result from it.  To the best of my knowledge the routes are entirely on public rights of way or within areas that are open for public access.
Walking can be hazardous and is done entirely at your own risk.  It is your responsibility to check your route and navigate using a map and compass.