It feels like it has been raining ever since our arrival in Settle, apart from the odd break it has been lashing down, but this does not deter us from heading out walking again today.  In fact we are hoping the wet weather will give us the opportunity to see water flowing into Hull Pot, a sight we have never seen.

Our starting point is the Dales National Park car park in Horton-in-Ribblesdale.  Leaving the car park we turn left to cross the bridge and then as the road bends to the left we take a right turn to pass the front of the Crown Hotel.   From here we join the Pennine Way as it heads uphill along a stony track. Away to our left in the distance is Ingleborough.
To our right Pen-y-ghent is clear.  I have no chance of persuading Lynnie up there today, especially after our escapade on Ingleborough a few days ago,  but it does look inviting.
We soon reach Sell Gill pot hole, which has plenty of water flowing into it from the beck.  I do not fancy potholing in any weather, but it must be hazardous in the current rainy conditions.
We continue along the track to a junction of paths, the Pennine Way continues straight on, as does the route for the Three Peaks Walk, but we turn right to follow the Three Peaks path over Sell Gill Hill and then Whitber Hill.
After descending down the steps of Whitber Hill we reach a crossing of paths and turn left to follow the grassy path to Hull Pot.  We have been here a number of times and yet it never ceases to surprise me when it suddenly appears in front of me.  It is always an amazing sight but today it is spectacular, we are in luck, water is cascading into the pot.
After spending time just enjoying the solitude of this spot, and picking up litter that some mindless individuals have left strewn about the place, we turn around and head back along the grassy track.  It is a cracking afternoon and I broach the possibility of going up Pen-y-ghent.  To my great surprise Lynnie agrees we should as we have never ascended from this side.  However, she is adamant that we are not descending on the steep side!
The sun comes out and for the first time in days and we are pleasantly warm as we make the long gradual climb.  As we near the top the wind starts to blow and we are quickly putting on layers.  This is a cracking climb with great views behind us.
Since I was here in May last year work has been done to keep people on the path as they near the summit.  This route gets a lot of traffic and the old path had spread considerably and was eroding away the surrounding moorland.  At the summit we stop to admire the view and take the obligatory trig point shot.
Having reached the top we need to agree a route down.  Lynnie was adamant that she was not going down the steep side, but now agrees to take a look before reviewing her decision.  Without the dogs this would be no problem, but with them it is more challenging.  However, we decide to give it a go, as the path is quiet today with no one about to come up it.
After the initial clamber it becomes easier, though slow going.  The well-worn rocks are slippery from the rain and we want to avoid a slip and an injury.  But we are soon over the hardest section and able to look back with relief.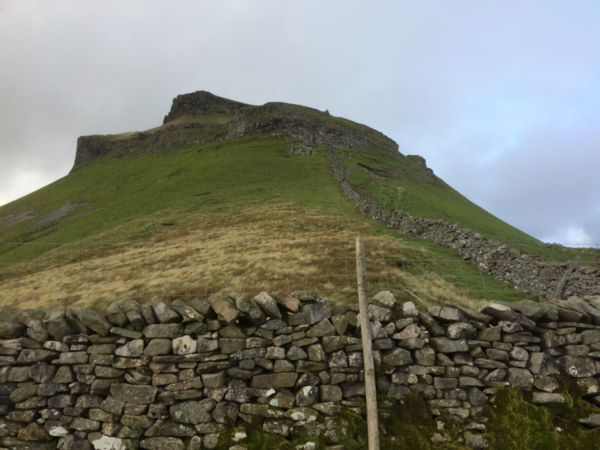 At the junction of paths we turn right through the gate and then follow the clear path as it heads down toward Horton-in-Ribblesdale.
The route is well marked and easy downhill going to a tarmac lane where we turn right to enter the village and return to the car.  It has been a cracking walk, another where we set off with no fixed plan apart from visiting Hull Pot; this is my favourite type of walking.  We have covered close to seven miles, and there have been some pretty steep sections.
To view this walk in OS Maps Click Here
To follow our walk you will need Ordnance Survey Outdoor Leisure Map OL2 – Yorkshire Dales – Western Area
8th September 2017
© Two Dogs and an Awning (2017)