After five nights at Hall Croft CL we have moved on to Brigholme Farm in Giggleswick, just the other side of the River Ribble from Settle.  This is a CL we have stayed on many times and the trip up from Ilkley does not take us long, so I am soon lacing up my boots to head out for a walk with Crosby.

Leaving Brigholme Farm CL I turn right and head into Settle and leave the centre of town by Constitution Hill soon joining the walled footpath as it heads steadily uphill on the route of the Pennine Bridleway.
Passing through a gate we stay on the bridleway as it continues below Blua Crags.
From here there are views of Langcliffe High Mill, a packaging company now uses this former paper mill.
As I continue along the bridleway I enjoy far-reaching views.
After passing through a gate there is a stunning view of Langcliffe Quarry with Pen-y-ghent behind it.  In the next few days I will be venturing up onto that peak.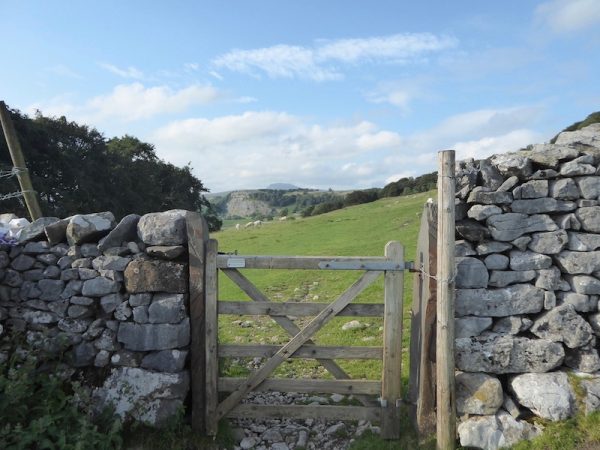 As the main path veers uphill to the right I take a path heading downhill to go through a gate and then continue to descend into Langcliffe.
This is an attractive Dales village. I follow the road passing the village green to reach the War Memorial, which stands in a water fountain.  Apparently the water fountain is Victorian but after World War I it was decided to convert it into a Memorial to the eleven local men who died in the conflict.  It was unveiled in July 1920 and then in 1955 the names of four local men killed during World War II were added.
Later reading the background to those named on the memorial it is a reminder that those who lost their lives were not destined to be soldiers, these men included a Bank Clerk, Policeman, Paper mill worker, Quarrymen and a Head Teacher and their ages were between 20 and 35.
I continue through the village to reach the B6479 where I turn left along Highway, a narrow tarmac lane leading back into Settle at the top of Constitution Hill.  From Settle I retrace my steps back to Brigholme Farm.
My walk has covered four miles on a familiar route, now its time to plan a longer walk for tomorrow.
To view this 4 mile walk on OS Maps Click Here
To follow my walk you will need Ordnance Survey Outdoor Leisure Map OL2  – Yorkshire Dales – Southern & Western Area

11th July 2019
© Two Dogs and an Awning (2019)