Today I am going to walk direct from the caravan site.  Domo CL is ideally located for easy access to some interesting walks and I plan to explore some of the tracks and lanes in the local area.

Leaving the site I head to the southern end of the Old Racecourse to join the Offa's Dyke Path heading south.  The first section is through a dark wooded area but the path soon runs besides fields and then reaches a junction of paths at a clearing, here I get a chance to enjoy the stunning views to the west.
Offa's Dyke Path is well-marked and easy to follow. So continuing through trees I ignore all the footpaths and tracks leading off.  It does need a level of concentration to spot the way-markers in some areas where there are path crossings, but it is relatively straightforward.
The path eventually descends quickly to reach a driveway leading to a minor road at Tyn-y-coed.  I turn right over a bridge, we've not walked far but Crosby knows from our previous walks in this area that there is refreshing water in the stream so we stop so he can have a drink and paddle.
Refreshed we head off again along the minor road, soon taking a turning up a road on the left (still on the Offa's Dyke path).  This road heads steeply uphill to a T-junction. I had planned to continue on the Offa's Dyke path which heads from here through fields of pasture, but the field is full of cattle, and if there is an option, I prefer not to walk through cattle with Crosby.  So I turn right to walk along the road for a few hundred yards passing a farm and then turning left along a country lane.
At a junction I keep right and continue along a lane to reach a T junction where I turn left on a lane signposted towards Oswestry, within a couple of hundred yards I take a footpath on the right leading into the village of Trefonen.  I know from my previous visit here that this lane "The Gutter" served the local mining community and linked collieries around the village.
The lane emerges into an area of housing and then at the end of the road I turn right along Bellan Lane heading west away from the centre of the village.
I stay on this lane as it sweeps to the right joining Dallas Lane and then at a junction turn left along Little London Lane.  When the tarmac lane finishes the route continues along a track.
On reaching a house the track turns right following footpath signs and heading steadily uphill.
On reaching a minor road I turn right.  It is a warm afternoon so I stop in a gateway to give Crosby a drink whilst I admire the view.
The route now follows this minor road as it heads north after a while it starts to descend to a road junction.
At the junction I turn left and walk uphill on the road, after ignoring a junction on the right I continue on until I reach another junction and turn right heading towards Pentre Gaer and Rhydycroesau. After a few minutes I ignore a junction on the right and continue along the lane for a couple of miles towards Rhydycroesau.
Nearing Rhydycroesau I come to a Bronze Age Standing Stone in a field on my right at Cynynion.  It is always interesting to come across such stones on my walks, unlike Trig Points I don't hunt them out, but I am always pleased to see one.
I carry on to reach Rhydycroesau and cross the road by the village hall.  Apparently this was the village school before being converted into a community hall. This is very much border country between England and Wales and is emphasised by the fact that the border runs through this village with some residents living in Shropshire and others living in Montgomeryshire, Powys.
I head uphill on the lane and then turn right along another narrow lane which heads steadily downhill to reach Llawnt. On reaching the B4580 I turn left and cross the river on an old stone bridge.
After crossing the bridge I turn left to leave the B4580 following a lane towards Selattyn and Llechrydau.  Soon this road starts to head steadily uphill becoming steeper after passing a farm.
At a junction I turn right to follow a minor road signposted to the Old Racecourse and Oswestry.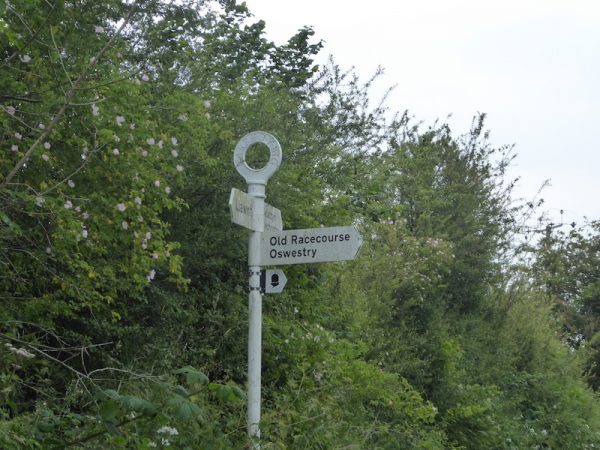 I am now back on the Offa's Dyke trail and stay with this to reach the Old Racecourse.  After spending much of the afternoon walking on tarmac, albeit very quiet country lanes, it is pleasant to be walking on the grass of the racecourse.
After crossing the B4580 I head back to Domo CL where Lynnie and Dexter are waiting patiently.   My walk has covered just over nine miles, there has been a bit too much walking on roads for my liking, but it is still good to get out and clock up some miles.
To follow this 9 mile walk on OS maps Click Here
To follow my walk you will need Ordnance Survey Explorer Map 240 – Oswestry

29th June 2019
© Two Dogs and an Awning (2019)