Today I am returning to the Quantock Hills, one of my favourite locations for walking, and starting my walk from the car park at Dead Woman's Ditch (Grid Ref ST161381).
Usually when walking from here I head north towards Dowsborough Hillfort, but today I head south and after a few hundred yards reach a path by a row of beech trees where I turn left to walk in an easterly direction.
Following a network of paths I soon reach a gate that leads to a forestry track into Seven Wells Wood.
This woodland was a regular walking spot when I lived in Taunton, but it is a while since I was last here.  The tree cover provides a bit of respite from today's cold wind.
Staying on the main forestry track I ignore paths leading off to the right and left, as I head steadily downhill towards Adscombe Farm.  As I near the gate to Adscombe Farm I turn left to follow a forestry track back through Ashley Combe.  This is an attractive area of mixed woodland.
At a junction of paths I turn right and then head through Rectory Wood and then as I approach the edge of the woodland turn left on a path leading up the side of the trees, with pasture on my right.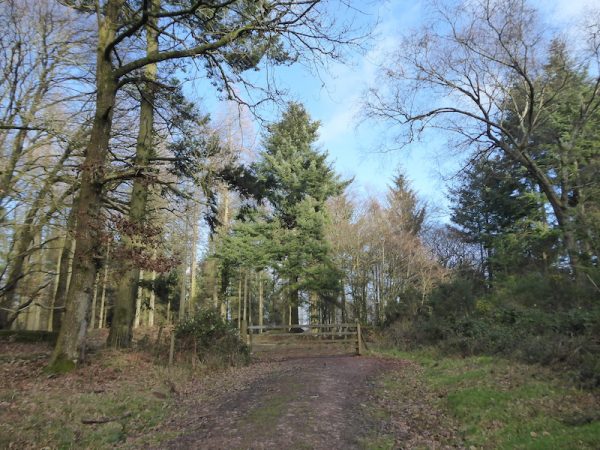 At a junction of paths I continue straight on soon crossing a minor road to follow a clear footpath leading through trees.
After crossing another minor road I start heading steadily uphill to Dowsborough Hillfort.
After admiring the view from the Hillfort I follow the clear path in front of me heading north over Woodlands Hill.
After going by the cairn on the summit of the hill I continue downhill into the trees passing a pond to reach a gate by a minor road.
Through the gate I turn left to walk along the lane into Holford where I turn right at the triangle and then take the next left to pass the Bowling Green.  As the road sweeps to the right I take a stony track heading uphill besides the dog pound.
The track heads steadily uphill, going through a gate and continuing on up.
As I reach the edge of moorland I turn left to follow an even steeper path up towards some fir trees on the horizon.  It is a good test of the legs going up this steep slope, on reaching the trees I stop to read the inscription of the plaque.  The trees were planted to commemorate the men and women of Holford and Kilve who served in the Second World War.
The route now continues steadily up Longstone Hill and there are fine views in all directions.
This is an exposed spot which is not too bad in good weather, but with a cold January wind I am pleased to have an extra layer in the rucksack.  There are a few paths up on this hill I take the one that heads towards Bicknoller Post.
On reaching the post I take the broad stony track which heads in a southerly direction towards Halsway Post.
At Halsway Post I take the left fork following a clear track as it goes below Black Hill and then continues on to reach Dead Woman's Ditch.
As I get back to the car the light is fading.  Walking on these hills at this time of year is exhilarating, however there are only a few hours of daylight to squeeze the miles into. Today's walk has covered just over nine and a half very enjoyable miles.
To view this 9.5 mile walk on OS Maps Click Here
To follow this walk you will need Ordnance Survey Outdoor Leisure Map OL140 – Quantock Hills & Bridgewater

27th January 2019
© Two Dogs and an Awning (2019)