After two days on Langcliffe Park Caravan Site we are moving to the Brigholme Farm CL site in Giggleswick for a week. Our preference is for small sites and we rarely stay on big commercial ones. Having said that Langcliffe Park suited us perfectly and we will definitely stay again if there is no vacancy on a smaller site in the area. So we make our shortest ever move between sites (less than three miles).

We are soon set up on our pitch and it is time for a walk. Lynnie has decided that a wander around Settle and a trip to Booth's is on her agenda so I head off with the boys for a jaunt.
From the site I turn right and soon cross Penny Bridge over the Ribble. Then it is a right turn to follow the road around under the railway bridge. At the cross roads I go straight over into Ingfield Lane and then at the bottom fork right around the newly developed retirement housing complex. It is with some alarm that I discover that I have reached the age where I qualify to live in such a complex!
Getting older is an odd thing, for example now when I go to the barber he spends time trimming ears and eyebrows! When that started I cannot recall, but now it is a matter of routine. What next I wonder?
In a few hundred yards we reach Brockholme Lane on the right and follow this delightful track all the way along until we reach a cross roads of paths with a modern barn on the right.
Turning left I head up the lane to Lodge Farm, through the farm gate I turn left and at a fork in the track take the right option. The views back across Settle and over to Ingleborough are cracking. I walk up through the plantation and follow the walled track, through a gate and then straight ahead to keep Black's Plantation on my right.
At the junction of Mitchell Lane and Lambert's Lane I fork right into Lambert's Lane and follow this walled track, enjoying stunning views.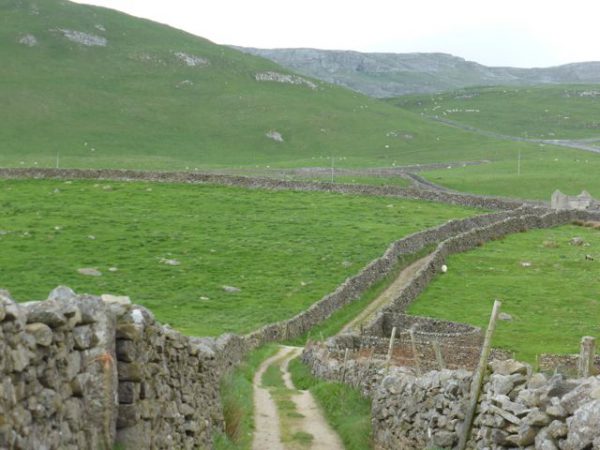 Reaching a road it is a right turn and then shortly a left on to Stockdale Lane. In a few hundred yards at the bend it is over a ladder stile to follow the path as it gradually climbs up alongside the wall. This is a path that I have not walked previously, mainly due to the presence of bears, but today there is no evidence that bears have been in the vicinity.
After a few hundred yards there is a lime kiln on my left (Freddy's do like lime kilns!) and then it is around Sugar Loaf Hill to be confronted with one of my favourite views in the Dales, the spectacular escarpment of Warrendale Knotts and Attermire Scar. It gets even better walking towards it crossing a couple more fields.
From here our route is under Attermire Scar, passing Victoria Cave and then through a kissing gate before descending onto a tarmac lane and following it downhill through a gate towards Langcliffe. Stopping on route to take a picture of a lamb just for Lynnie.
After going through another gate there is a brief section downhill on the road before taking the Pennine Bridleway route on the left and following this across a couple of fields below Blua Crags all the way back to Settle.
It has been a stunning jam about, as always I am amazed that I have not encountered anyone else. They don't know what they are missing!
25th May 2015
[To follow our walk you will need Ordnance Survey Outdoor Leisure Map OL2 – Yorkshire Dales – Western Area]
© Two Dogs and an Awning (2015)