Whilst walking the last couple of days I have had frequent views of Sugar Loaf or Pen Y Fal as it is known in Welsh.  Today is a cracking day with good visibility so ideal for venturing to the top of this prominent mountain.

The starting point for my walk is the National Trust car park just south of Forest Coal Pit (Grid Reference SP292200).
I follow the path from the car park to reach a gate and enter the access land surrounding Sugar Loaf and turn left along a bracken-lined path.
As I reach a junction of paths I turn right and meet a chap heading downhill on a mountain bike, he warns me that he has just seen an adder sunning itself a bit further up the path.  I am not keen on adders so keep a watchful eye on the path.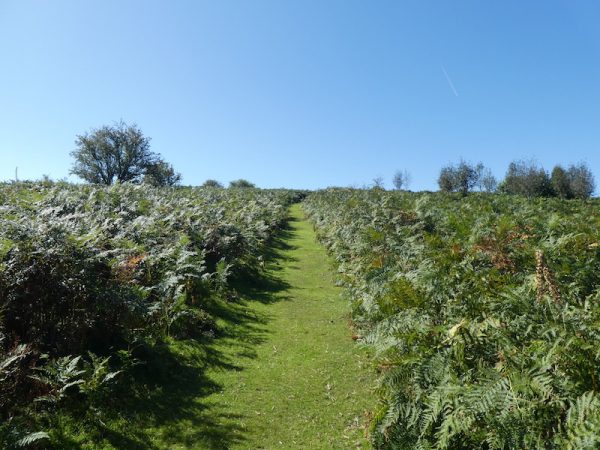 At the next junction of paths I turn left and follow the path as it continues uphill besides a stone wall.  To my left Skirrid Fawr the mountain I visited a couple of days ago comes into view.
At a fork in the path I go right to continue uphill on a distinct path towards the summit of Sugar Loaf.
This is a long gradual ascent and as I near the summit I take a look back at Skirrid Fawr.
Once at the top on the ridge I wander along to the Ordnance Survey trig point, the 164th I have bagged.
The views from here are stunning and I stop for a while to take it all in.
From the summit I take a clear grassy path heading west.
As I wander along I am treated to a cracking view of the Brecon Beacons, there is hardly a cloud in the sky and the visibility is excellent.
The path continues to head downhill through the bracken as I near a boundary wall I turn right to follow a path down to a gate near Gob-pwllau.
Following the way markers I am soon walking along a tree lined track, still heading downhill.
This track turns into a tarmac lane and continues downhill to a road junction where I turn left.
I now have a section on this single-track country lane, on reaching a crossroads I go straight over and continue downhill.  I then ignore two turnings on the right and stay on the road until I reach Hall Farm.  The footpath follows the driveway of Hall Farm and then continues uphill on a tarmac drive.  This soon turns into a stony track and I pass a cottage and can now see Sugar Loaf directly in front of me.
I leave the track at a way marker "Way to hill" and follow this path through trees .
Emerging from the trees the path is well marked and is easy to follow as it turns to the right and follows a fence line through pasture fields to reach a gate onto the access land.
I follow a path which gradually ascends to a junction of tracks, here I turn right and cross a ford and keep on the path in front of me.  At a fork in the path I go left?.  This is a short sharp steep ascent. To reach a crossing of paths where I turn left again and start the long steady haul towards the summit of Sugar Loaf.
It is unusual for me to visit the same trig point twice in one day, but the views from the top of Sugar Loaf earlier were so spectacular it seemed too good an opportunity to miss.
It is now a lot quieter than a few hours ago and I can really appreciate the views.
My route from the summit is to return down the path I walked up earlier on my way from the car park.
It is a cracking afternoon and pleasant walking conditions. I am a lot quicker going back down towards the car than I was going up.
I have walked close to ten miles and having reached the summit of Sugar Loaf twice I have ascended close to 3,000 feet. I know I am going to have to bring Lynnie here on a future visit to this area.
You can view this 10 mile walk on OS Maps and download the GPX File Here (Subscription to OS Maps Required)
To follow my walk you will need Ordnance Survey Explorer Map OL13 – Brecon Beacons National Park Eastern Area
13th September 2019
© Two Dogs and an Awning (2019)