Our walk yesterday gave us a taste of the area, but I am itching to get up onto the Black Mountains.   Our distant view of Hay Buff from the Coachman is stunning, so it comes as no surprise to Lynnie when I suggest we should head there today.

I have calculated that it is well within striking range from Tirmynach Farm CL, although I have been careful to keep the map out of Lynnie's sight just in case she reaches a different conclusion.  We leave the site via the footpath crossing fields to reach the B4351 and follow this towards Hay-on-Wye.  After crossing the River Wye we turn right and go through Hay towards the Tourist Information Centre.
From the Tourist Information Centre we cross the road and head down through the car park opposite and pick up the Offa's Dyke Path.  We follow the path by the edge of a couple of fields and then come to a footbridge, which apparently is a Kissing Bridge, we have been through numerous Kissing Gates on our travels and always mark the occasion in the appropriate fashion, at times to the amusement of folk walking towards us!  But I cannot recall previously visiting a Kissing Bridge.  Lynnie is a lucky girl!
The path now continues across another couple of fields before reaching a minor road, we turn left and within a short distance right to enter another field.  There are bears lurking in the top corner of this field but our route is along the edge of the field with trees on our right and then across a footbridge (no kissing this time) we then pass through another field.
After crossing a lane the path carries on up, this is a bit of a climb and Lynnie is lagging behind.  I am not sure if memories of the Kissing Bridge are leaving her weak at the knees, or whether she is out of practice on climbs!  We stop to admire the view back over Hay whilst Lynnie recovers her breath.
We reach another lane and turn left and soon meet a couple walking in the opposite direction.  They are very taken with the dogs and we stop to chat and share tales of walking sections of Offa's Dyke.  We carry on past Cadwgan Farm and then join open moorland with views of Hay Buff in front of us.
It is time for lunch and we stop at one of the disused quarries on the moor, it is a pleasant spot out of the wind.  Refreshed we continue and soon reach a minor road where we turn right and after about a quarter of a mile take a left to follow Offa's Dyke Path as it traverses Hay Buff.  There is a more direct route to the top in front of us, but that is crowded with folk walking up from the car park below the hill.
This route is a steady climb; unusually Lynnie has decided to walk with Crosby, perhaps in the hope that he will pull her up the hill!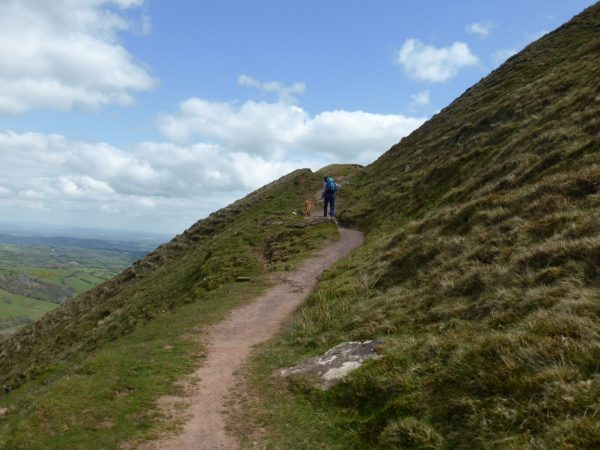 I carry on behind with Dexter, he is the sort of dog that has to stop every few hundred yards to leave his mark, or pick up some tasty delight that a sheep has left for him.  So one minute he is lagging behind and the next he is pulling away to reach something disgusting to consume.
We soon reach the top of the climb and walk across to the path that runs along the top of the ridge.  Here we turn right and walk to the trig point at Hay Buff.
This is a stunning spot, when we were here last July we had half an eye on the storms clouds coming in from the west, today we can just admire the view.  It is a real cracker.
We continue south westerly along the path that follows the edge of the ridge, stopping frequently to take pictures.  It is so stunning that even Crosby wants to sit and admire the view.
We turn to the south and take in the view down the Gospel Pass this is glorious countryside!
Now our path heads downhill to reach the Gospel Path road, we turn right and follow the road for about a mile and a half to the car park below Hay Buff.  We continue straight on following the road across open moorland then descend to pass by Cockalofty, here there is a Round Barrow shown on the map as Twyn y Beddau which apparently means Mound of Braves.
Passing through the gate by a cattle grid we bump into the couple we met earlier close to Cadwgan Farm, they have been in Hay-0n-Wye for lunch whilst we have been trekking over the end of the Black Mountains!  We have another interesting chat and bid them success with their next stage of Offa's Dyke.
The road sweeps around to the right and we intend joining a footpath here, but I cannot spot the way.  Having walked ten miles I can't be too arsed to look for it especially as the lane we are on is very quiet, Lynnie is complaining of a painful knee and we are walking against the clock to get back into Hay before Shepherds Ice Cream Parlour closes.
So we continue on the road for a mile and on meeting the Offa's Dyke Path we retrace our steps from earlier, turning right on the footpath to cross fields and the Kissing Bridge (she really is a lucky girl) and in next to no time we are back in Hay.
Lynnie is mightily relieved to find that she has arrived before Shepherds has closed and moves amazingly quickly for a girl who has walked over twelve miles.
Whilst Lynnie savours her Tayberry ice cream I have a look at the Butter Market, apparently William Enoch, a local entrepreneur, erected it in 1833.  It was built to provide a covered market area for the use of local traders and farmers on market days, Thursdays, and replaced a historic open market.
Our route from here is straightforward, back across the River Wye and up the hill to Tirmynach Farm CL.  It has been a good walk; we have covered over thirteen miles including a couple of good climbs.
23rd April 2017
[To follow our walk you will need Ordnance Survey Outdoor Leisure Map 13 – Brecon Beacons]
© Two Dogs and an Awning (2017)