Yesterday was a "rest day," after the exertions of the Three Peaks Challenge I decided it would be sensible not to walk too far.  Instead we ventured out a couple of times with the dogs for short ambles around Giggleswick and Settle.  My legs and knees feel surprisingly good.  When I did the three peaks a couple of years ago I could hardly walk for a few days.

Today we are going to do a variation on one of our favourite walks in this area. It is a walk we first did a few years ago and is one that Lynnie is always happy to repeat.  Our starting point is the Yorkshire Dales Car Park in the attractive dales village of Clapham.
We turn right out of the car park and head towards Clapham village church and keeping it on our left leave the village though the tunnels besides Ingleborough Hall.
Following the track uphill we are soon at a junction of paths where we keep straight on along Thwaite Lane.
We stay on Thwaite Lane right to the end until the track meets a road where we go straight across continuing on a track to reach a second road.  Here we turn left towards Wharfe.
Just after passing the entrance to Wood End Farm we fork left along a lane leading into the delightful hamlet of Wharfe.
At a junction of lanes we continue straight on heading slightly uphill on a track that then heads north westerly away from Wharfe.  We stay on this track as it winds its way below White Stone Scar.
Just before reaching Austwick Beck we fork off to the right to follow another track between dry stonewalls.
After passing through a gate, where the wall on one side has fallen into disrepair, the track continues and swings right to start climbing towards the scar face.  There looks like there is no way through but after a gate a clear path becomes visible and we follow this to the top of Moughton Scars. This is a cracking spot.
Previously from here we have always walked towards Horton-in-Ribblesdale across the limestone pavement, but today we turn left and follow the indistinct path along the top of Moughton Scars.
It is a hot afternoon and we stop to admire the stunning views across Crummack Dale.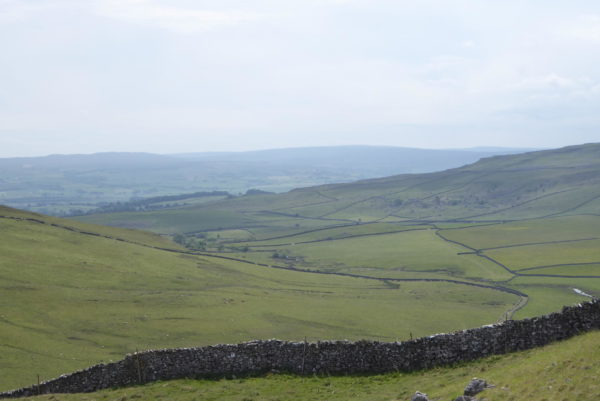 Walking across the limestone pavement requires sure footedness, as this is unforgiving territory. A misplaced foot could end up with a twisted ankle, or even worse.
We have often looked at this scar when walking along the Pennine Bridleway on the other side of Crummack Dale, but have never been here.  It is a stunning bit of landscape!
After passing Beggar's Stile Cairn we head across Thieves Moss.
We now follow the path to join the Pennine Bridleway at Sulber Gate.
From here we turn left to follow the well-marked route across Long Scar.
On reaching the gate to Long Lane we head through.  This lane is aptly named, as we walk we recall walking here almost thirty years ago with Ben and Lolly when they where small.  Midway along this track Lolly threw a proper strop about walking, saying she couldn't go any further, to make things worse Ben found it highly amusing.
On reaching the junction with Thwaite Lane we turn right and head back into Clapham, heading downhill through the tunnels to emerge by the church.
It has been a cracking afternoon; our walk has covered close to ten miles.  We have only bumped into one other couple out walking, which is amazing given the beauty of this bit of countryside.
To view this 10 mile walk on OS Maps Click Here
To follow our walk you will need Ordnance Survey Outdoor Leisure Map OL2 Yorkshire Dales – Southern & Western.
8thJune 2018
© Two Dogs and an Awning (2018)
,