In recent months I have done a couple of walks taking in Barford Down, but I have yet to walk there with Lynnie so today we are going to rectify this by doing a slightly shorter loop from Alderbury than my previous walks.
We start from the car park besides the village hall and recreation playing field in Rectory Road, Alderbury (SP5 3BJ). Leaving the car park we turn right along Rectory Lane to reach a junction of tracks, we turn left and soon pass Rectory Farm before continuing to a fork in the footpath where we go right across the southern edge of meadows.
The path continues besides trees to reach a junction of footpaths where we turn right and follow the fence lined route past Matrons College Farm and then across a disused railway line. Our route is now a path between arable fields to a junction of paths besides a hedge. We turn right and follow the hedge line and then cross the disused railway line again and turn left to walk along besides the railway cutting.
This was the route of the Salisbury and Dorset Junction Railway, an 18-mile stretch that spurred off the Salisbury, Southampton line in Alderbury through Downton and Fordingbridge to West Moors where it connected with the main Southampton to Dorchester line. The line was completed in 1866 and operated until May 1964.
We keep the disused railway to our left until Four Gates, where we turn right along the minor road. At a junction with Witherington Road we turn right going downhill towards Standlynch Farm. Just before the entrance to the farm we take a footpath on the left that heads into woodland.
These woods are part of the Trafalgar Park Estate and after passing through a gate we catch a glimpse of the main house. As you might imagine with a name like Trafalgar this estate has connections with Admiral Horatio Nelson. Following Horatio's death at the Battle of Trafalgar in 1805 his brother Rev William Nelson was created 1st Earl Nelson and apparently lobbied Parliament for an estate in recognition of his brother's service to the nation. Standlynch Park was the location chosen by the Treasury and it was renamed Trafalger Park. Descendants of Horatio Nelson lived here until 1948 when it was sold by the 5th Earl Nelson.
After crossing a field we go through another gate to follow a track through woods. We stay with this path until reaching a concrete path, here we turn left to walk the short distance to the now disused St Mary's and All Angels Church, said to have been founded in 1147 and rebuilt in 1677. It was the private chapel for Standlynch Park and then the Trafalgar Estate and is the last resting place of many of Nelson's relatives. The church closed in 1947 and is not accessible.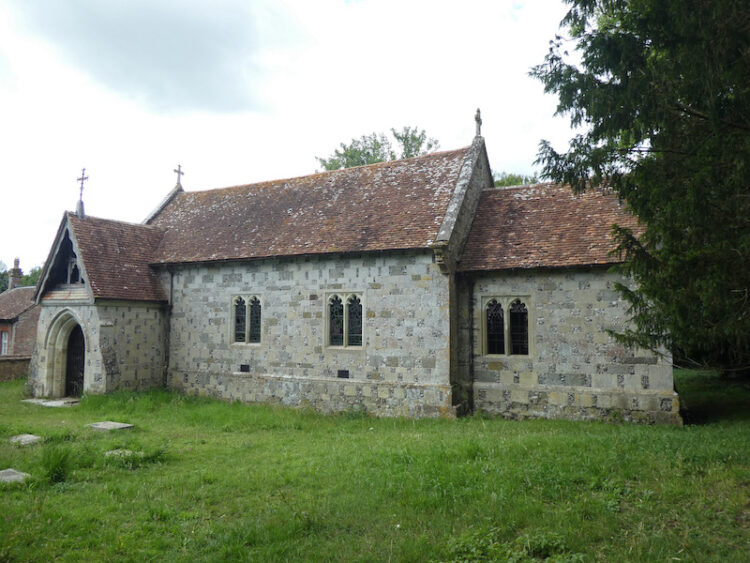 From the churchyard we make a slight detour from our route and turn right and follow the concrete drive downhill to reach the disused Standlynch Mill.
It is the first time Lynnie has been here, we follow the path to cross the River Avon to reach a stunning weir.
After enjoying this beautiful spot we retrace our route up to the church and continue along the track with a fine view of Trafalgar House.
On reaching a minor road we turn right and walk along the road with a brick wall to our right. As the road bends to the right we take a bridleway on the left through the trees at the base of Barford Cliff.
At a minor road we go straight on following the road under a railway bridge and then turn right along a footpath going uphill to a crossing of paths where we turn left taking a path across an arable field.
At another crossing of tracks we go straight over continuing east across a field to reach a kissing gate. Just to the right tucked away in the hedge line is an Ordnance Survey Trig point. I have bagged this trig previously but Lynnie hasn't.
We go through the kissing gate and follow the path along the edge of a field. There are fine views from here.
The path steadily descends to a kissing gate and then to a junction of paths. We turn right climbing uphill besides Langford Lane Wood. At a crossing of paths we turn left and follow the broad track into Cheyney's Wood.
At a junction of tracks close to Privett Farm we turn left and follow a stony farm track that has cracking views from the top of Standlynch Down across to Salisbury.
The farm track leads downhill to a junction with a minor road. We ignore the road and turn right to take a track heading north below the downs. We go through a copse and continue on the track below Witherington Down. The path ascends gradually towards the A36. At a junction of paths, before the main road, we turn left descending besides the edge of a field.
At another junction of paths we turn right going north on a path between fields towards Whaddon. We now return on our outward route crossing the disused railway line and passing Matrons College Farm.
We ignore a footpath on the left and continue to a track, Castle Lane. At a junction of unmade roads we turn left, still on Castle Lane and stay with this track as it continues to the Southampton Road. Here we turn left and follow the pavement back to our starting point at the Village Hall car park. Our walk has covered nine and a half miles on a cracking afternoon.
You can view this 9.5 mile walk on OS Maps and download the GPX File Here
To follow our walk you will need Ordnance Survey Explorer Map OL130 Salisbury & Stonehenge; and OL131 Romsey, Andover & Test Valley
For more information on this walk including car parking, amenities, refreshments and detailed walking directions visit my associated Walking Moonraker website.
6th July 2020
© Two Dogs and an Awning (2020)
All information on this site is provided free of charge and in good faith and no liability is accepted in respect of damage, loss or injury which might result from it. To the best of my knowledge the routes are entirely on public rights of way or within areas that are open for public access.
Walking can be hazardous and is done entirely at your own risk. It is your responsibility to check your route and navigate using a map and compass.