Our trip to Devon has almost come to an end; we have enjoyed a wonderful fortnight and given the time of year have been exceptionally lucky with the weather.  The high winds experienced this week have been challenging and a good test of the new awning, but apart from the odd shower we have contrived to stay dry.   We were due to travel home today, but the forecast is for a warm, sunny day, so we have decided to extend our trip to make the most of the sunshine.

Driving to Totnes, the starting point for our walk, we have clear blue skies but the sunshine is tempered by a cold wind.  We park by the River Dart alongside the rowing club and try to work out how much clothing we need.  Some passerby's are wrapped in fleeces, whilst others are wearing T-shirts.  We cover all bases, wearing enough to feel comfortable, whilst taking an additional layer in the rucksack and saving space to shed a layer or two if needed.
It is years since we paid a brief visit to Totnes, prior to that I visited on a cricket tour but cannot recall much other than a trip to a pub, where for simplicity, we all ordered the same food.  There was a bemused look when our order went in, twenty pints of bitter and twenty steak and chips!
Usually we walk to the town we are visiting rather than drive to it, so we start our walk by going back along the road, passing Totnes Caravan and Motorhome Club site and turning right to follow a road up through a housing estate.  We are looking for the start of a track to Fleet Mill to do a circular walk taking in Berry Pomeroy Castle before heading back to Totnes.
We stop to ask a local for directions, she promptly tells us in a broad Devonian accent the quickest route to the Castle adding that there is a good café there.  I point out we wish to walk a few miles before getting there and she responds as if I have spoken a foreign language.  She asks, "Why would you want to walk any further than you have to?" I was about to explain that we walk for pleasure but realised this is beyond the comprehension of some.
We follow our instinct and keep walking uphill through the estate.  Now, for many years Lynnie has been ribbing me about my sightings of Pumas and big cats.  All of a sudden we both see one in a front garden tree.  It is definitely not a domestic cat and watches us intently as we creep by.  To all you doubters out there, I rest my case!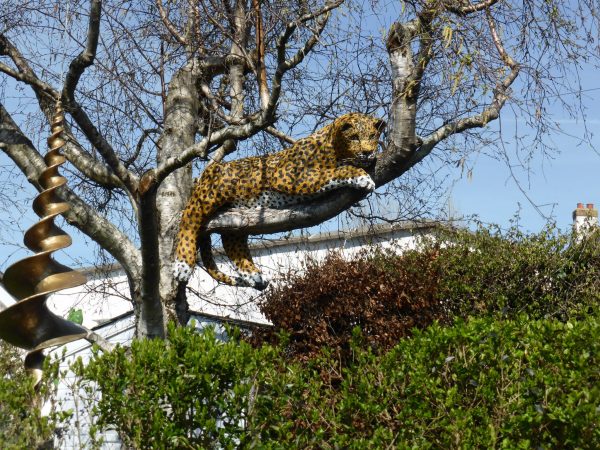 Eventually we reach a minor road where we turn right and at a junction right again passing farm buildings to our right before reaching the start of Fleet Mill Lane, this track descends steadily. The recent wet weather makes this sticky going and the odd section is decidedly muddy.  We pick our way around the worst sections reaching Fleet Mill after about a mile.
Ignoring the lane on our left we continue along the track climbing towards Aish, sheltered from the wind with the sun shining through the trees we soon feel very warm. On reaching a lane we turn left and follow the road towards Longcombe.
In about ten minutes we are in Longcombe where we turn right to follow the lane through Middle Longcombe and then Higher Longcombe before reaching the busy A385, which we cross to join Glazegate Lane, another track with fine views towards Dartmoor.
This is clearly a popular place with fly tippers.  We see fridges, washing machines, a bathroom suite, easy chairs and hoovers, plus other assorted household items.  Why do individuals mindlessly throw their discarded equipment in a hedgerow?  It seems to be a growing trend and whilst not in favour of heavy fines (leading individuals to crime to pay for them) I would welcome the introduction of community service orders making perpetrators pick up litter and sweep streets in brightly coloured overalls.
Whilst mithering on about this we turn the corner to find our path blocked by a huge puddle, our only solution is to climb on the high, narrow, bank.  Lynnie is not so certain, so like a mountain goat I hop up and demonstrate.  After safely reaching the far side I provide all necessary encouragement to get Lynnie safely across (I promise an ice cream later!).
The track leads to a minor road, which soon reaches a B road that we cross to carry straight on along the lane towards Berry Pomeroy Castle.  At the start of the lane is a sign by a stone, reading, "This stone marks the southerly boundary of the Parish of Marldon and commemorates the Beating of the Bounds of the Parish held to celebrate the Millennium on 29th May 2000".
We continue along the road turning right at Hangman's Cross following the road downhill.  At the foot of the hill we take a footpath along a track on the left and very quickly leave this to take another footpath climbing to Berry Pomeroy Castle.
To reach the Castle entrance we have to pass the café that received such rave reviews from the local lady we met at the start of our walk.  Lynnie is torn, she does like a Castle but she also likes a café!  The castle wins!
Berry Pomeroy Castle developed over the years.  The original castle was constructed in the late 15th century by the Pomeroy family.  In 1547 facing financial difficulties the Pomeroy's sold the castle and surrounding lands to Edward Seymour, 1st Duke of Somerset.  In the 1560's a fine mansion was built inside the walls of the castle and was home to the Seymour's for a number of years before they decided to move out and make a new home in Wiltshire.
The ruins are well maintained and it is still possible to see how it was once inhabited in its different reincarnations. English Heritage now maintain it, they claim it is one of the most haunted castles in the country with two resident ghosts.  One of my favourite jokes is the one told by Jethro about Denzel Pemburthy and the ghost, unfortunately I cannot repeat it here but would be pleased to recount it face to face.
Much to Lynnie's surprise and delight I suggest we stop at the café for tea and cake.  It is unusual for us to take refreshments on our walks, but there is nothing to beat a refreshing cup of tea on a warm day.  Today it is accompanied by a shared slice of lemon drizzle cake – I am not entirely certain that we share it 50/50.  Lynnie eats quicker than me!
Refreshed we resume our walk leaving the castle grounds on the footpath we climbed earlier.  At the foot of the hill we turn left onto the footpath along the track.  We are now on the John Musgrave Heritage Trail.
John Musgrave moved to Torquay in 1937 with his mother, his study and career took him away from the area but on retirement he returned and became heavily involved in the South Devon Ramblers Association, he left a legacy to the group enabling them to set up this walk in his name.  It stretches thirty-five miles through South Devon.  This section is particularly attractive as it passes alongside Gatcombe Brook.
We follow the way markers for the trail as it turns right joining a tarmac lane at Netherton and then left to pass Gatcombe Mill before another left, after a quarter of a mile we turn right passing the Mare and Foal Sanctuary.  Continuing along a drove we pass a small settlement of caravans and converted buses and then follow the drove down into Totnes.
Back in the town we decide to wander around, there are no shortage of interesting buildings and shops to look at.  I have the impression that most of the buildings here have an interesting history.
Regular readers will know I am drawn to buildings that are being put to community use.  The Mansion is one such building, the plaque on the wall states it was "Built in 1795, Bought in 1887 by the Foundation governors for King Edward VI Grammar School (founded 1553).  This building now forms part of King Edward VI Community College and is a centre for community education".
At the bottom of the town a monument at a road junction attracts my attention.  This commemorates the explorer John Wills.  Born in Totnes in 1834 William John Wills emigrated to Australia at the age of eighteen accompanied by his seventeen-year-old brother Thomas.  He had a succession of jobs including working on a sheep ranch, as an assistant surgeon to his father (who travelled to Australia to join his sons) and gold miner.
Then in 1860 he joined Robert O'Hara Burke's Victorian Exploring Expedition (later known as the Burke and Wills expedition).  Wills was the surveyor, astronomical and meteorological observer.  The plan of the expedition was to travel across Australia from Victoria in the south to the Gulf of Carpentaria in the north.  Whether through bad luck or poor planning Burke and Wills both perished on 28th June 1861.  Their achievements were so great that a couple of years later their bodies were disinterred and taken to Melbourne where they laid in state for two weeks before being honoured with a state funeral.
We wander along the west bank of the river, a very pleasant spot on a sunny spring afternoon.  As we are going home tomorrow we decide to head back to the site.  Returning to the car we pass a café selling ice cream.  Lynnie thinks now is an excellent time to sample her first of the year, aiming never to disappoint a girl, out comes my wallet.
Todays walk has covered just over eleven miles and has been absolutely stunning it has had all the right ingredients, some good climbs, cracking scenery, a castle, a café, historical interest and an ice cream for Lynnie.
Our two-week tour of Devon has come to an end; reluctantly we have to return home for a week before heading to East Sussex for our next trip.
25th March 2017
[To follow our walk you will need Ordnance Survey Outdoor Explorer Map OL20 – South Devon.]
© Two Dogs and an Awning (2017)